Social Media
44 Must Read Resources on Content Marketing. The term "content marketing" sounds like a hip buzzword to describe the latest marketing craze, but in reality, the concept has been around since the first newsletters came rolling off the presses.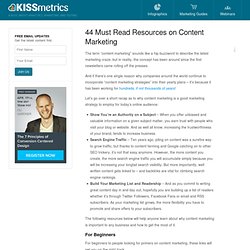 And if there's one single reason why companies around the world continue to incorporate "content marketing strategies" into their yearly plans – it's because it has been working for hundreds, if not thousands of years! Let's go over a short recap as to why content marketing is a good marketing strategy to employ for today's online audience: Show You're an Authority on a Subject – When you offer unbiased and valuable information on a given subject matter, you earn trust with people who visit your blog or website. Top 25 Social Monitoring Tools Worth Trying : Bloggie Talkie. Any business owner or marketing executive knows that a business can be made or broken today by rumors, news and attacks made through social media.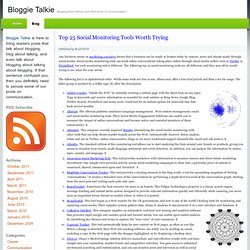 Social media monitoring tools can track online conversations taking place online through social media outlets such as Twitter or Friendfeed, but each monitoring tool is different. The following top 25 social monitoring tools are all different, and they may all be worth trying to see what fits your needs. 25 Best Social Media for Social Good Blogs :: Ventureneer :: Values-driven organizations – nonprofits, social enterprises and socially responsible small businesses – face a special challenge: balancing social good and mission with revenue generation.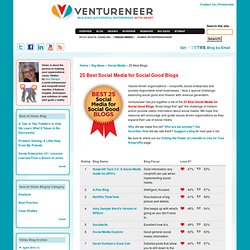 Ventureneer has put together a list of the 25 Best Social Media for Social Good Blogs, those blogs that "get" the challenge of mission and/or provide useful information about social media. We hope this resource will encourage and guide values-driven organizations as they expand their use of social media. 5 Tips for Using Humor in Your Social Media Activities. Can you remember something funny?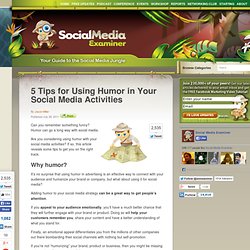 Humor can go a long way with social media. Are you considering using humor with your social media activities? If so, this article reveals some tips to get you on the right track. 20 exemplos criativos de páginas 404. Infelizmente, nem sempre o internauta encontra o que quer quando visita o seu site.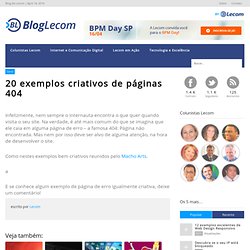 Na verdade, é até mais comum do que se imagina que ele caia em alguma página de erro – a famosa 404: Página não encontrada. Mas nem por isso deve ser alvo de alguma atenção, na hora de desenvolver o site.
The Case for the Virtual Classroom. Online education is often dismissed as a pipeline for expensive degrees of little value and a sponge for veterans' tuition payments.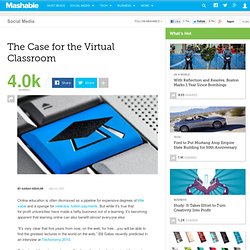 But while it's true that for-profit universities have made a hefty business out of e-learning, it's becoming apparent that learning online can also benefit almost everyone else. "It's very clear that five years from now, on the web, for free…you will be able to find the greatest lectures in the world on the web," Bill Gates recently predicted in an interview at Techonomy 2010. Gates is not the only smart guy pulling for online education to extend the reach, affordability, and even quality of education.
LinkedIn. HOW TO: Implement a Social Good Campaign on Facebook. You want to do good, and you want to use Facebook.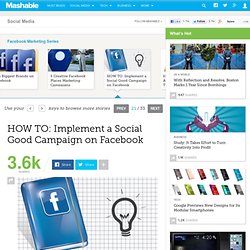 Good choice. Facebook has a couple of things going for it. First off, there are a ton of people that use it — more than 500 million to be precise — so you've already set yourself up to hit the largest social network audience. More over, even people without Facebook accounts are used to visiting landing pages on the site for events and causes, which make the potential reach even larger. Second, Facebook is an informal place to launch serious things. HOW TO: Attract Early Adopters to Your Social Startup. Shane Snow is a technology journalist in New York City.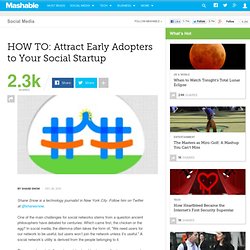 Follow him on Twitter at @shanesnow. One of the main challenges for social networks stems from a question ancient philosophers have debated for centuries: Which came first, the chicken or the egg? In social media, the dilemma often takes the form of, "We need users for our network to be useful, but users won't join the network unless it's useful. " HOW TO: Spread Your Business Footprint Around the Web. This post originally appeared on the American Express OPEN Forum, where Mashable regularly contributes articles about leveraging social media and technology in small business.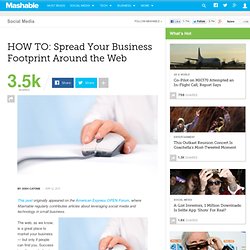 The web, as we know, is a great place to market your business — but only if people can find you. Success in online marketing is contingent upon people being able to locate your web presence. One of the best ways to connect with current and potential customers via the web is to leave your footprint around the Internet and create a trail that leads back to your business. Leaving your business footprint across the web has a number of benefits, including driving traffic back to your site, building brand awareness, establishing trust and boosting your search engine rankings.
Information Is Beautiful | Ideas, issues, knowledge, data - visualized! Top 10 Social Media Presentations  I'm addicted to slideshare and after reading a bunch of re-tweets about the Top 10 Social Media Presentations I thought it might be useful to post them on Digital Buzz!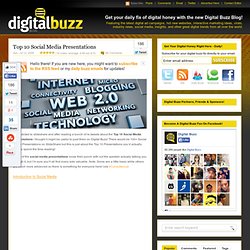 There would be 100+ Social Media Presentations on SlideShare but this is just about the Top 10 Presentations you'd actually want to spend the time reading! Some of the social media presentations loose their punch with out the speaker actually talking you through it, but I'm sure you'll all find every side valuable. Note: Some are a little basic while others are much more advanced so there is something for everyone here! (via eConsultancy) Plus a version of the Obama Strategy from the guys @ viralblog. HOW TO: Use Social Media to Create Better Customer Experiences.
Maria Ogneva is the director of social media at Nimble, a social relationship management solution that transforms your entire community into business opportunity by leveraging the best of customer relationship management, social media and communication tools. You can follow her on Twitter at @themaria or @nimble, or find her musings on the company blog and her personal blog. It's no secret that customer experience is one of the cornerstones of an effective business strategy.
In all honesty, it should have been all along, but many companies chose to hide behind corporate walls and only talk to customers when it was convenient for them instead of when the customer needed them. There's no need to belabor the point that social media has put customers in the driver's seat. 10 Online Strategies for Your Next Product Launch. Beverly Cornell is the marketing and social media director at Mango Languages, a provider of self-study language learning products that teach actual conversation skills and culture, now available in 28 different languages. Learn more at mangolanguages.com. Long gone are the days when announcing a new product was simply a matter of putting together a news release, sending it off over the wire and counting on major news outlets to spread the word. Social Media for Small Businesses: 6 Effective Strategies. Nellie Akalp is CEO of CorpNet.com, her second incorporation filing service based on her strong passion to assist small business owners and entrepreneurs in starting and protecting their business.
She has formed more than 100,000 corporations and LLCs across the U.S. To learn more about Nellie and see how she can help your business get off the ground quickly and affordably, please visit here. Many small business owners I encounter are either too busy for social media, or they don't truly understand Facebook, Foursquare, or Twitter. So they choose to delegate these tools to interns or specialists. This may not always be in the best interest of the company. Social Media for Business. HOW TO: Add Social Sharing Buttons to Your Website. This is a simple plugin to allow you to toggle an element between position: absolute and position: fixed based on the window scroll position. This lets you have an apparently inline element which floats.
Open Data: Why the Crowd Can Be Your Best Analytics Tool. Sean Gorman is the president and founder of FortiusOne, which brings data and mapping solutions to the mass market through its location analysis software. With FortiusOne's GeoIQ platform, geo-enabled data is easily shared, visualized and analyzed for more collaborative and better-informed decisions. The web will continue to generate data at an explosive rate. Should Companies Play it Safe in Social Media? 85+ Resources: Educator Guide for Integrating Social Media. Us Intel Wikileaks. Everybody's Doing It: How Marketers Are Utilizing Social Media In 2010. Mashable.
5 Free and Easy Listening Tools for Social Media Monitoring. Blogging. The Different Ways We Can Keep Up With Evolving Technologies. Twitter. HOW TO: Optimize Your Content for Social Discovery.
---