Document Sharing
Get flash to fully experience Pearltrees
An email message has remained the most convenient way to get in touch and share anything with people that really matter to you. Email conversations are less cluttered than any other method of online conversations. More often than not, it is free of any type of self-promotion (because the conversation is private), it is only between people who already know each other well and thus are able to really help each other and prove useful. Most of us have had some really great email correspondence that could benefit more people than just the participating recipients.
nice tool for collaboration on texts BUT I miss categories for my pads! tends to be confusing after you created a number of pads. by anne_u Oct 1
Remember EtherPad , the nifty real-time document collaboration tool which attracted a lot of attention and was then eventually acquired by Google and shut down? TitanPad aims to bring it back for those who loved the tool. Like EtherPad, this tool also lets different people join a text pad and contribute to it in real time. Your text will have a unique color to it, and you can see what changes others are making to the document in real time. You can start immediately with a public pad without signing up, invite people, import/export documents and also chat with users individually on the sidebar while working on the document. There's also a nice time slider feature available if you want to see all the changes made to the document.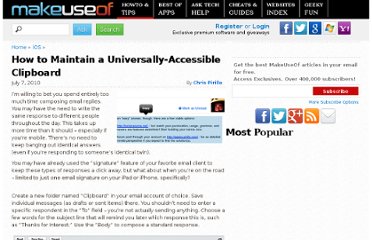 You may have already used the "signature" feature of your favorite email client to keep these types of responses a click away, but what about when you're on the road – limited to just one email signature on your iPad or iPhone, specifically? Create a new folder named "Clipboard" in your email account of choice. Save individual messages (as drafts or sent items) there. You shouldn't need to enter a specific respondent in the "To" field – you're not actually sending anything.
Have you heard of EtherPad ? EtherPad is an online document collaboration tool which works in real time. In other words, EtherPad has allowed multiple people to work on the same document at the same time over the Internet. Real time collaboration could have many benefits such as collaborative note taking during meetings, have a team draft a document together in real time, and even allow for team programming. Recently EtherPad announced that they have been acquired by Google in order to help develop Google Wave . One step they've taken is to open source the code so others can run their own Etherpad servers allowing the functionality to live on ( instructions ).