Collaboration Platforms
Flowr. Real-time Collaboration, knowledge exchange and smart inf. Elgg Open Source Social Networking Platform. 7 Fabulous Gmail Labs Extensions You Must Check Out. These extensions are Gmail features that may not yet be ready for mass adoption or may entice only the power users.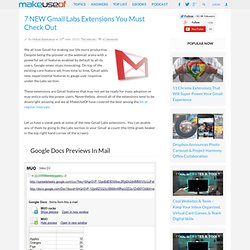 Nevertheless, almost all of the extensions tend to be downright amazing and we at MakeUseOf have covered the best among the lot at regular intervals. Let us have a sneak peek at some of the new Gmail Labs extensions. You can enable any of them by going to the Labs section in your Gmail account (the little green beaker in the top right hand corner of the screen). Kohive. Kohive: A Cloud Based Collaboration Tool. Today's work environment takes place remotely far more often that it used to.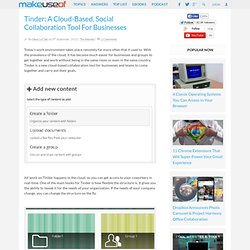 With the prevalence of the cloud, it has become much easier for businesses and groups to get together and work without being in the same room or even in the same country. Tinder is a new cloud-based collaboration tool for businesses and teams to come together and carry out their goals. Collabtive - Open Source collaboration. Collabtive – A Free Open Source Project Management Software. Managing projects can be tricky, time-consuming and confusing.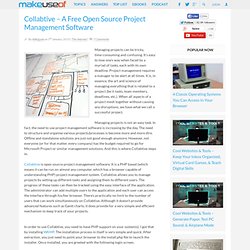 It's easy to lose one's way when faced by a myriad of tasks, each with its own deadline. Project management requires a manager to be alert at all times. Organize and Execute Your Collaborative Projects With Google App. If your project needs to have the cooperation of two or more people, here is your free solution.
For personal project/task management, I recommend you have a look at GTD and the many applications that support implementing the GTD methodology. Google Apps Standard Edition is free and includes Gmail, Google Calendar, Google Docs and Google Sites – everything you need to collaborate with Google. With the free account you also get up to 50 user accounts and 7 GB of storage. The Commentor — collaborate on visuals. The Commentor- A Visual Online Collaboration & Annotation Tool. There are several tools on the net for written online collaboration.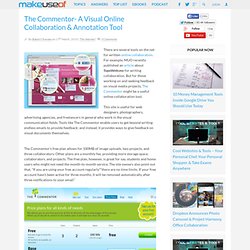 For example, MUO recently published an article about TypeWith.me for writing collaboration. But for those working on and seeking feedback on visual media projects, The Commentor might be a useful online collaboration tool. This site is useful for web designers, photographers, advertising agencies, and freelancers in general who work in the visual communication fields. Tools like The Commentor enable users to get beyond writing endless emails to provide feedback; and instead, it provides ways to give feedback on visual documents themselves. Dimdim. Scrumy. EGroupware - Online Groupware, CRM: Startseite.
---