Blogging
Add Google Analytics Social Tracking to WordPress Website or Blog. If you're not on the HyperArts Blog, CLICK HERE!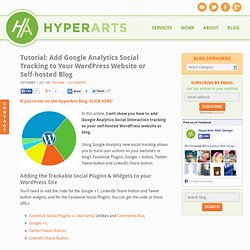 In this article, I will show you how to add Google Analytics Social Interaction tracking to your self-hosted WordPress website or blog. Using Google Analytics new social tracking allows you to track user actions on your website's or blog's Facebook Plugins, Google + button, Twitter Tweet button and LinkedIn Share button. Adding the Trackable Social Plugins & Widgets to your WordPress Site You'll need to add the code for the Google +1, LinkedIn Share button and Tweet button widgets, and for the Facebook Social Plugins. 6 Practices That Make Your Blog Look Less Professional. In the heat of managing a blog, which includes everything from writing great content, to working with advertisers, to moderating comments, to promoting the site, one can overlook certain aspects of the site – from little things like broken links, to big ones like intrusive advertising and an overly crowded design.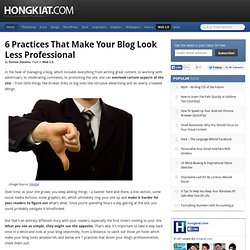 (Image Source: Fotolia) Over time, as your site grows, you keep adding things – a banner here and there, a link section, some social media buttons, some graphics etc, which ultimately clog your site up and make it harder for your readers to figure out what's what. 11 Pro Tips for Better Business Blogging. Scott Gerber is a serial entrepreneur, syndicated columnist, public speaker and author of Never Get a "Real" Job.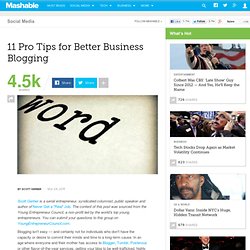 The content of this post was sourced from the Young Entrepreneur Council, a non-profit led by the world's top young entrepreneurs. You can submit your questions to this group on YoungEntrepreneurCouncil.com. Blogging isn't easy — and certainly not for individuals who don't have the capacity or desire to commit their minds and time to a long-term cause. In an age where everyone and their mother has access to Blogger, Tumblr, Posterous or other flavor-of-the-year services, getting your blog to be well-trafficked, highly syndicated and massively popular is no easy task. Know this before you consider blogging as a marketing option for your business: Even though you can write a blog, doesn't mean you should. HOW TO: Transfer Your Blog From WordPress.com to WordPress.org. The Web Development Series is supported by Rackspace, the better way to do hosting.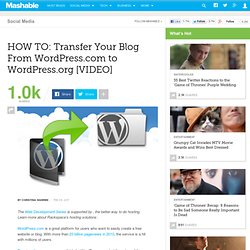 Learn more about Rackspace's hosting solutions here. WordPress.com is a great platform for users who want to easily create a free website or blog. With more than 23 billion pageviews in 2010, the service is a hit with millions of users. Premium themes are now available for WordPress.com, but the nature of the system still limits what plugins can be used and how deeply customized a design and overall site structure can be. HOW TO: Make Your WordPress Blog More Like Tumblr. The Web Development Series is supported by Rackspace, the better way to do hosting.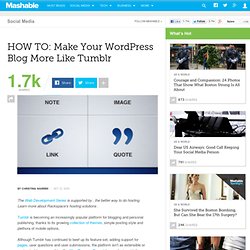 Learn more about Rackspace's hosting solutions here. Tumblr is becoming an increasingly popular platform for blogging and personal publishing, thanks to its growing collection of themes, simple posting style and plethora of mobile options. Although Tumblr has continued to beef up its feature-set, adding support for pages, user questions and user submissions, the platform isn't as extensible or customizable as something like WordPress or Drupal.
In a perfect world, there would be a way to combine the simplicity of Tumblr's posting types and styles with some of the deeper customizations and options of WordPress. We might not have reached the Holy Grail of Tumblr Meets WordPress harmony, but we're a lot closer, thanks to a new plugin and iPhone app from WooThemes, a WordPress theme development firm. 10 Fresh Blogger Templates for Any Application [PICS] I'll be the first to admit that Blogger isn't the sexiest publishing platform out there.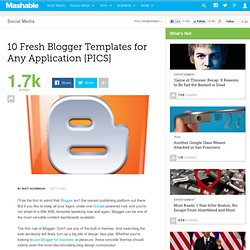 But if you like to keep all your logins under one Google-powered roof, and you're not afraid of a little XML template tweaking now and again, Blogger can be one of the most versatile content dashboards available. The first rule of Blogger: Don't use any of the built-in themes. And searching the web aimlessly will likely turn up a big pile of design faux pas. 5 Hot Design Trends for Aspiring Bloggers. So you want to start a blog.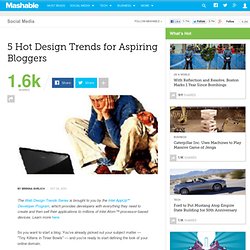 You've already picked out your subject matter — "Tiny Kittens in Tinier Bowls" — and you're ready to start defining the look of your online domain. Well, there are tons of blog design trends out there just clamoring for your attention — some more advanced than others — and depending on the style, content and theme of your blog, there are a lot of factors to take into account. In fact, sometimes the plethora of choices you have at your disposal can be overwhelming, especially if your only experience blogging was on LiveJournal back in 2003. Do Freelancers Do Best on WordPress, Drupal or Joomla? Some very interesting stats have just emerged about the freelance and contract market for CMS developers and designers.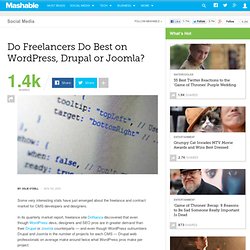 In its quarterly market report, freelance site DoNanza discovered that even though WordPress devs, designers and SEO pros are in greater demand than their Drupal or Joomla counterparts — and even though WordPress outnumbers Drupal and Joomla in the number of projects for each CMS — Drupal web professionals on average make around twice what WordPress pros make per project. The full report, called the State of the Work-From-Home and Freelancing Economy, looked at CMSes used by various professionals in a range of web-work specializations. It also ranked the most requested job skills right now. On average, all CMS projects in DoNanza's universe grew almost 50% quarter over quarter. Why Designers Should Adapt to Minimalistic Design. There are many new web design methods or techniques out there in the world today.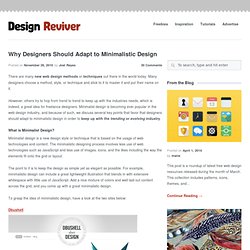 Many designers choose a method, style, or technique and stick to it to master it and put their name on it. However, others try to hop from trend to trend to keep up with the industries needs, which is indeed, a great idea for freelance designers. Minimalist design is becoming ever popular in the web design industry, and because of such, we discuss several key points that favor that designers should adapt to minimalistic design in order to keep up with the trending or evolving industry. What is Minimalist Design? Minimalist design is a new design style or technique that is based on the usage of web technologies and content.
---