Social media Strategy
Social network ad spending is one again on the rise, argues a recent study by eMarketer, which predicts that US advertisers will spend nearly $1.7 billion on social sites this yea. This estimate is a noticeable increase from initial 2010 projection made by eMarketer, which forecasted $1.3B for this year, as well as a 20% increase from 2009 spending. Of this spending, Facebook is expected to receive about half of all social network ad spending, at least in the US, with Myspace losing ground to the now preeminent social networking site.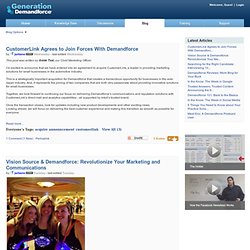 The Rise of Social Network Ad Spending
In This Article Sidebar: Twitter responses from our readers Exhibit 1: Web 2.0 is the next wave of corporate-technology adoption. Exhibit 2: Participatory technologies can be categorized into five groups.
Six ways to make Web 2.0 work - McKinsey Quarterly - Business Technology - Application Management
You're likely on Twitter.