Social evolutions
Твиттер / Поиск - Санкт-Петербург
By Spencer E.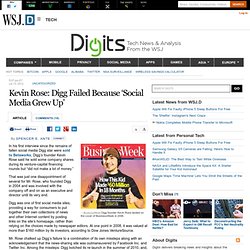 Kevin Rose: Digg Failed Because 'Social Media Grew Up' - Digits
Scalable Living: changes you can make to be more productive
I've been going through lots of changes behind the scenes that is leading me down a new path I call "scalable living."
They can't buy a celebratory bottle of champagne, but they're hoping to start a new business.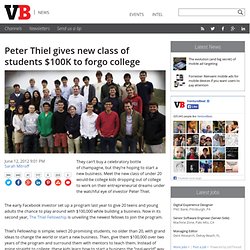 Peter Thiel gives new class of students $100K to forgo college
Publishing is Dead, Long Live Publishing
I've discovered that " Something is Dead " headlines attract a lot of attention so I couldn't resist using one myself today.
Subscribe The Most Important Profession in the World # Saturday, March 14, 2009 The Wharton School of Business has created a list of the top 30 innovations in the last 30 years.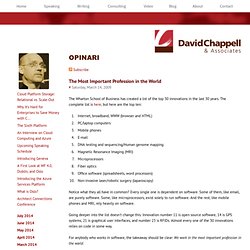 The most important profession in the world
Viral darwinism
Search is broken – really broken. | luckyrobot.com - Gerry Campb
Google Next Victim Of Creative Destruction? (GOOG) - Mozilla Fir
Anatomy Of "Connect"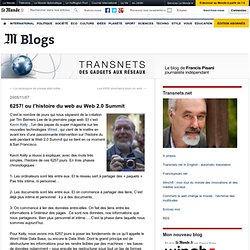 C'est le nombre de jours qui nous séparent de la création par Tim Berners Lee de la première page web. Et c'est Kevin Kelly , l'un des papas du super magasine sur les nouvelles technologies Wired , qui vient de le mettre en avant lors d'une passionnante intervention sur l'histoire du web pendant le Web 2.0 Summit qui se tient en ce moment à San Francisco. Kevin Kelly a réussi à expliquer, avec des mots très simples, l'histoire de ces 6257 jours. En trois phases chronologiques : 1- Les ordinateurs sont liés entre eux.
6257! ou l'histoire du web au Web 2.0 Summit - Transnets - Blog
Je vous laisse apprécier le rÝole de Pearltrees dans l'histoire du Web telle qu'elle est présentée by Patrice Mar 1
What does Web2 do for us? - SlideShare - Mozilla Firefox
Nice pearl. I take it with me.... if you agree ;-) by Patrice Mar 1
Thanks - continuing my shopping... by Patrice Mar 1
mobile search groove
Trés bonne présentation d'un concept compliqué via un outil simple - la BD - et une approche : problème / solution / explication du fonctionnement by Patrice May 5
Le programme numérique de Barack Obama : nommer un directeur tec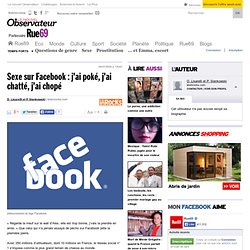 Sexe sur Facebook : j'ai poké, j'ai chatté, j'ai chopé
Détournement du logo Facebook. « Regarde la meuf sur le wall d'Alex, elle est trop bonne, j'vais la prendre en amie. » Que celui qui n'a jamais essayé de pécho sur Facebook jette la première pierre. Avec 250 millions d'utilisateurs, dont 10 millions en France, le réseau social n° 1 s'impose comme le plus grand terrain de chasse au monde. Un jour, un homme racontera à son fils ému comment il a d'abord poké sa mère un jeudi soir de disette avant de la baratiner sur le chat et de la croiser « par hasard » (c'est ça, ouais) à un event auquel ils étaient tous deux « attending ». La suite de l'histoire, on la connaît. « In a relationship », « Engaged » et le tragique « It's complicated ». Qu'on se rassure, il n'y aura pas que des unions bénies par le Seigneur sur Facebook : support privilégié de toutes les relations sociales contemporaines (amicales, sentimentales, familiales, professionnelles), le site inaugure un marivaudage 2.0 de masse.
A host of reasons conspire against the general population in whether or not they use a cell phone - smart or otherwise - to use the Internet. According to research by UK-based Essential Research , 76% of mobile phone users don't use their mobile to access the Internet, and there are several barriers keeping them from doing so, whether actual or perceived.
Combatting the Hype: 76% Don't Access the Mobile Internet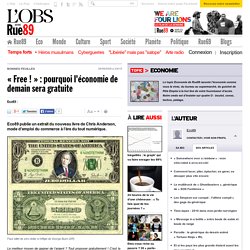 Eco89 publie un extrait du nouveau livre de Chris Anderson, mode d'emploi du commerce à l'ère du tout numérique. Le meilleur moyen de gagner de l'argent ? Tout proposer gratuitement ! C'est la thèse surprenante de Chris Anderson, rédacteur en chef de Wired , le magazine de référence du web et du numérique. Idéaliste ou visionnaire ? Pour en juger, Eco89 vous propose un extrait de son livre, Free !