Social evolutions
Твиттер / Поиск - Санкт-Петербург... LinkedIn Marketing. Cannabis. Library of Congress Home. Khan Academy. Yslad. Kevin Rose: Digg Failed Because 'Social Media Grew Up' - Digits. Scalable Living: changes you can make to be more productive. I've been going through lots of changes behind the scenes that is leading me down a new path I call "scalable living."
To get there, over the past year, I've unfollowed about 10,000 people on Instagram. Then I did the same on Quora. I deleted hundreds of apps from my iPhone. Peter Thiel gives new class of students $100K to forgo college. They can't buy a celebratory bottle of champagne, but they're hoping to start a new business.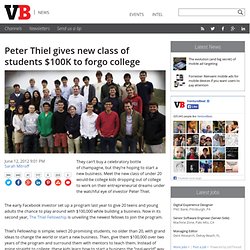 Meet the new class of under 20 would-be college kids dropping out of college to work on their entrepreneurial dreams under the watchful eye of investor Peter Thiel. The early Facebook investor set up a program last year to give 20 teens and young adults the chance to play around with $100,000 while building a business. Now in its second year, The Thiel Fellowship is unveiling the newest fellows to join the program. Publishing is Dead, Long Live Publishing. I've discovered that " Something is Dead " headlines attract a lot of attention so I couldn't resist using one myself today.
With Seth Godin announcing that he's going to ditch his traditional publisher (Portfolio part of Penguin), does it mean that book publishing as we know it is dead? I find this topic especially interesting as its something that I discussed at length when I spoke at the Digital Book World Conference back in January. Here's my take. Viral darwinism. Google Next Victim Of Creative Destruction? (GOOG) - Mozilla Fir.
Anatomy Of "Connect" 6257! ou l'histoire du web au Web 2.0 Summit - Transnets - Blog. C'est le nombre de jours qui nous séparent de la création par Tim Berners Lee de la première page web.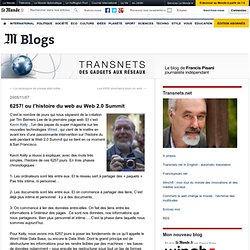 Et c'est Kevin Kelly , l'un des papas du super magasine sur les nouvelles technologies Wired , qui vient de le mettre en avant lors d'une passionnante intervention sur l'histoire du web pendant le Web 2.0 Summit qui se tient en ce moment à San Francisco. Kevin Kelly a réussi à expliquer, avec des mots très simples, l'histoire de ces 6257 jours. En trois phases chronologiques : 1- Les ordinateurs sont liés entre eux. What does Web2 do for us? - SlideShare - Mozilla Firefox. Mobile search groove. Topic: Search | Author: Peggy Anne Salz | Date: May 4, 2009 Judging from the high level of interest in social search-related companies and concepts – such as Taptu, abphone, and people-powered answers search from ChaCha – expressed by participants at conferences where I have spoken, I am confident social search is more than just another hot topic.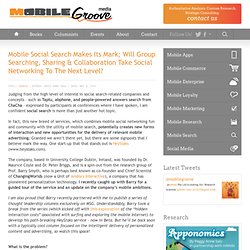 In fact, this new breed of services, which combines mobile social networking fun and community with the utility of mobile search, potentially creates new forms of interaction and new opportunities for the delivery of relevant mobile advertising. Le programme numérique de Barack Obama : nommer un directeur tec. Sexe sur Facebook : j'ai poké, j'ai chatté, j'ai chopé. Détournement du logo Facebook. « Regarde la meuf sur le wall d'Alex, elle est trop bonne, j'vais la prendre en amie. » Que celui qui n'a jamais essayé de pécho sur Facebook jette la première pierre.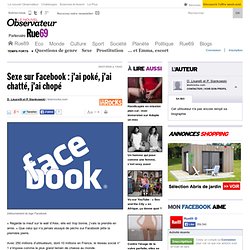 Avec 250 millions d'utilisateurs, dont 10 millions en France, le réseau social n° 1 s'impose comme le plus grand terrain de chasse au monde. Un jour, un homme racontera à son fils ému comment il a d'abord poké sa mère un jeudi soir de disette avant de la baratiner sur le chat et de la croiser « par hasard » (c'est ça, ouais) à un event auquel ils étaient tous deux « attending ». Combatting the Hype: 76% Don't Access the Mobile Internet. A host of reasons conspire against the general population in whether or not they use a cell phone - smart or otherwise - to use the Internet.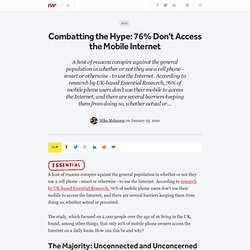 According to research by UK-based Essential Research, 76% of mobile phone users don't use their mobile to access the Internet, and there are several barriers keeping them from doing so, whether actual or perceived. The study, which focused on 2,000 people over the age of 16 living in the UK, found, among other things, that only 10% of mobile phone owners access the Internet on a daily basis. GénérationY. "Free !" : pourquoi l'économie de demain sera gratuite. Eco89 publie un extrait du nouveau livre de Chris Anderson, mode d'emploi du commerce à l'ère du tout numérique.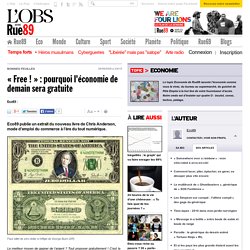 Le meilleur moyen de gagner de l'argent ? Tout proposer gratuitement ! C'est la thèse surprenante de Chris Anderson, rédacteur en chef de Wired , le magazine de référence du web et du numérique. Idéaliste ou visionnaire ? Pour en juger, Eco89 vous propose un extrait de son livre, Free !
---