FIDELISATION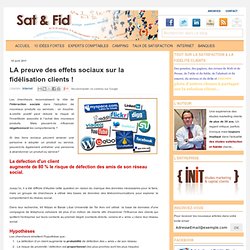 Les chercheurs reconnaissent le rôle de linteraction sociale dans ladoption de nouveaux produits ou services : un bouche-à-oreille positif peut réduire le risque et lincertitude associés à l'achat des nouveaux produits. Mais peuvent-ils influencer négativement les comportements ? Si des liens sociaux peuvent amener une personne à adopter un produit ou service, peuvent-ils également entraîner une personne à abandonner un produit ou service? La défection dun client augmente de 80 % le risque de défection des amis de son réseau social. Jusqu'ici, il a été difficile détudier cette question en raison du manque des données nécessaires pour le faire, mais un groupe de chercheurs a utilisé des bases de données des télécommunications pour explorer le comportement du réseau social.
Preuve des effets sociaux sur la fidélisation clients
Amazon : l'industrialisation de la fidélisation
Amazon vient de lancer un service de prêt de livres numériques baptisé : Kindle Lending Library. Le système est assez simple : les propriétaires de Kindle pourront accéder à une bibliothèque de prêt de livres, leur permettant d'emprunter gratuitement un titre à la fois et par mois (voir les explications détaillées d'eBouquin.fr). On est loin de la réinvention de la bibliothèque, comme le suggérait Ecrans.fr (quelle horreur, une bibliothèque qui ne vous permettrait d'accéder qu'à un titre à la fois et par mois !)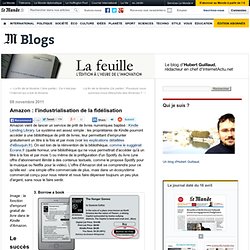 Top 10 Social Loyalty Initiatives by Airlines
Social Media and Customer Loyalty: The Importance of Great Content — and Lots of It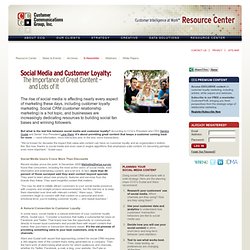 The rise of social media is affecting nearly every aspect of marketing these days, including customer loyalty marketing. Social CRM (customer relationship marketing) is a hot topic, and businesses are increasingly dedicating resources to building social fan bases and winning followers. But what is the real link between social media and customer loyalty? According to CCG's President and CEO Sandra Gudat and Senior Vice President Lane Ware, it's about providing great content that keeps a customer coming back for more — more information, more interaction and, in the end, more transactions. "We've known for decades the impact that value-add content can have on customer loyalty and an organization's bottom line.
Loyalty Programs are Passé, how about Customer Advocacy Program? | Partager sur LinkedIn
Would online loyalty cards improve your quality of life? Social CRM thinks so. « The Social Bazaar
Preuve des effets sociaux sur la fidélisation clients
Social media can boost customer loyalty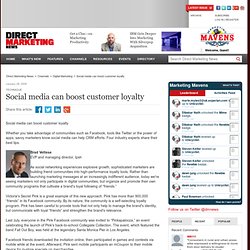 January 26, 2009 Social media can boost customer loyalty Whether you take advantage of communities such as Facebook, tools like Twitter or the power of apps, savvy marketers know social media can help CRM efforts. Four industry experts share their best tips.
One of the strengths of social media is its ability to connect you directly to your customers and provide an open dialogue for conversation, customer service and awareness. It allows you to build loyalty by giving your customers an inside view of your business and giving them something that not only excites them, but that they can also relate to. Or at least that's what happens when social media is used correctly.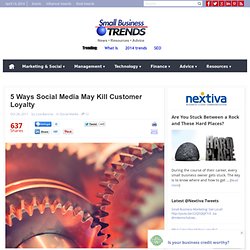 5 Ways Social Media May Kill Customer Loyalty
Les médias sociaux : de la communication au marketing relationnel Les entreprises comprennent aujourd'hui que les médias sociaux ne peuvent pas juste être des nouveaux espaces de promotion de leur marques et de communication sur leurs services ou supports existants dans une vision orientée génération de trafic et visibilité des offres. Pour autant, ces deux objectifs sont les deux premiers cités par les entreprises dans leur tactique de présence sur les médias sociaux. Selon l'étude Internet Retailer de février 2010 (Quels sont les objectifs recherchés par les entreprises sur les médias sociaux ?), la fidélisation n'était vue par les entreprises US que comme le 5ème objectif prioritaire dans une stratégie social media.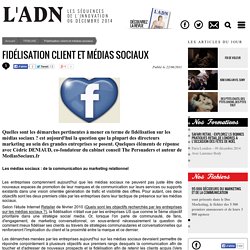 TRIBUNE - Fidélisation client et médias sociaux