AMBASSADEURS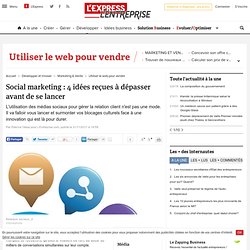 Social marketing : 4 idées reçues à dépasser avant de se lancer
Depuis dix ans le rééquilibrage entre l'entreprise et ses clients est en marche.
Stefana Broadbent : « 80 % de nos échanges se font toujours avec les mêmes 4-5 personnes »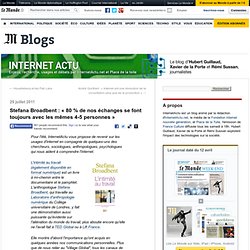 Pour l'été, InternetActu vous propose de revenir sur les usages d'internet en compagnie de quelques-uns des chercheurs, sociologues, anthropologues, psychologues qui nous aident à comprendre l'internet. L'intimité au travail ( également disponible en format numérique ) est un livre à mi-chemin entre le documentaire et le pamphlet.
4 manières de récompenser votre communauté

Il est facile de voir que les médias sociaux et d'autres technologies numériques influent de plus en plus dans la façon dont les marques interagissent avec les clients et comment ceux-ci perçoivent l'image d'une marque.
Facebook Pages Can Now Be Personalized Based on Klout Score
Social CRM and Customer Advocacy Programs: Case Study
9 Reasons Your Company Should Use Brand Advocates: New Research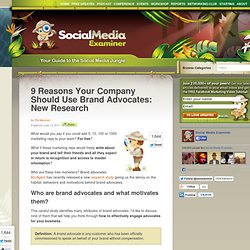 What would you say if you could add 5, 10, 100 or 1000 marketing reps to your team?