Social Content Marketing
Content Marketing 101 / Content Marketing: How to Build an Audience that Builds Your Business. Do Improved Social Signals Cause Improved Rankings? The author's posts are entirely his or her own (excluding the unlikely event of hypnosis) and may not always reflect the views of Moz.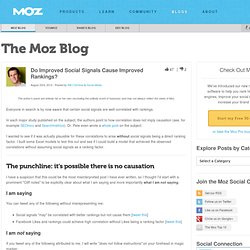 Everyone in search is by now aware that certain social signals are well-correlated with rankings. In each major study published on the subject, the authors point to how correlation does not imply causation (see, for example SEOmoz and Searchmetrics). Dr. 10 Content Marketing Tips to Take into 2013. This year has very much been the year of content marketing.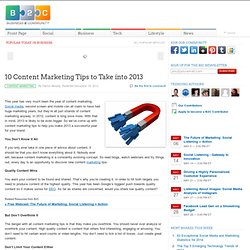 Social media, second screen and mobile can all claim to have had huge marketing years, but they're all just strands of content marketing anyway. In 2012, content is king once more. How to Build a Content Marketing Machine. Content Marketing is hot.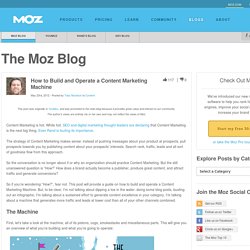 White hot. SEO and digital marketing thought leaders are declaring that Content Marketing is the next big thing. Even Rand is touting its importance. The strategy of Content Marketing makes sense: instead of pushing messages about your product at prospects, pull prospects towards you by publishing content about your prospects' interests. Search rank, traffic, leads and all sort of goodness flow from this approach. Social Shares The New SEO. 6 Tips for Creating Content That Spreads Naturally. We've all been there -- you hit publish on a blog post and expect the social shares, page views, and agreeable comments to start rolling in.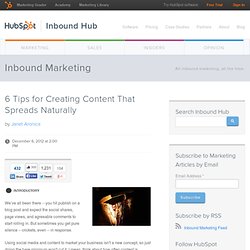 But sometimes you get pure silence -- crickets, even -- in response. Using social media and content to market your business isn't a new concept, so just doing the bare minimum won't cut it. I mean, think about how often content is shared across the web -- there are one billion Facebook users, and according to Twitter itself, there are about one billion tweets sent every two and a half days. That means there's a lot of content ... and also, a ton of noise.
So it takes more effort than simply publishing content and doing your typical marketing to reach your audience and generate leads. Business Owners - Stop Being Scared of Social Media. We have all read it and we have all heard it coming from all angles especially since Penguins and Pandas caused havoc with so many online businesses: It's all about social signals.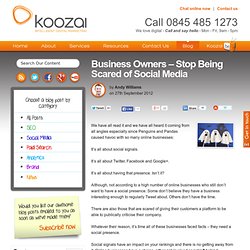 It's all about Twitter, Facebook and Google+. How SEO Has Changed in 2012. My name is Berrie Pelser, since 1999 co-owner of Ber|Art Visual Design V.O.F.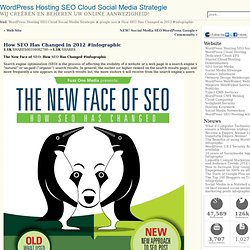 Our company is been grown to a full service bureau for complete managed business internet sites that we are hosting in our own secure and fast Cloud. We are specialized in WordPress, search engine optimization, social media integration and social media strategy. I co-founded my company, Ber|Art Visual Design, in 1999 as a web design firm. It has since grown into a full-service agency for maintaining complete corporate websites hosted by Ber|Art in a secure and fastcloud environment. How to Master Content Marketing In a Month. Do you want to attract a steady stream of new customers?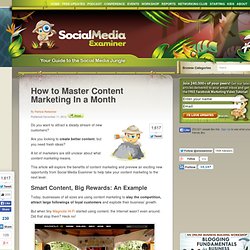 Are you looking to create better content, but you need fresh ideas? A lot of marketers are still unclear about what content marketing means. This article will explore the benefits of content marketing and preview an exciting new opportunity from Social Media Examiner to help take your content marketing to the next level. Neil Ferree - Google+ - It takes some time (but) having your social tools + social…
DIY Content Marketing.
---