Social Content Marketing
Content Marketing 101 / Content Marketing: How to Build an Audience that Builds Your Business
Do Improved Social Signals Cause Improved Rankings?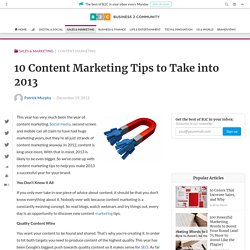 This year has very much been the year of content marketing . Social media , second screen and mobile can all claim to have had huge marketing years, but they're all just strands of content marketing anyway. In 2012, content is king once more.
10 Content Marketing Tips to Take into 2013
How to Build a Content Marketing Machine
See on Scoop.it – Google Plus and Social SEO Neil Ferree 's insight: As Social Shares and Social Signals continue to impact search rankings the ability to create amazing content and promote it on social media is becoming the most important skill an internet marketer can have. In 2013, social signals will likely eclipse link building as a key ranking factor. See on jnferree.visibli.com
Social Shares The New SEO « Social Local Video SEO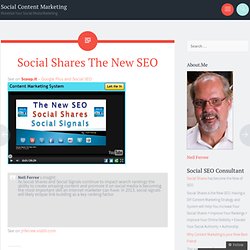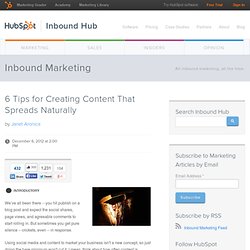 6 Tips for Creating Content That Spreads Naturally
We've all been there -- you hit publish on a blog post and expect the social shares, page views, and agreeable comments to start rolling in. But sometimes you get pure silence -- crickets, even -- in response. Using social media and content to market your business isn't a new concept, so just doing the bare minimum won't cut it. I mean, think about how often content is shared across the web -- there are one billion Facebook users, and according to Twitter itself , there are about one billion tweets sent every two and a half days. That means there's a lot of content ... and also, a ton of noise. So it takes more effort than simply publishing content and doing your typical marketing to reach your audience and generate leads.
Business Owners - Stop Being Scared of Social Media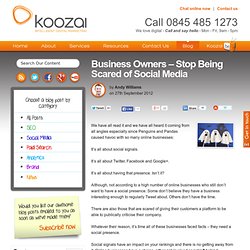 We have all read it and we have all heard it coming from all angles especially since Penguins and Pandas caused havoc with so many online businesses: It's all about social signals. It's all about Twitter, Facebook and Google+.
How SEO Has Changed in 2012 #infographic
Do you want to attract a steady stream of new customers? Are you looking to create better content , but you need fresh ideas? A lot of marketers are still unclear about what content marketing means. This article will explore the benefits of content marketing and preview an exciting new opportunity from Social Media Examiner to help take your content marketing to the next level.
How to Master Content Marketing In a Month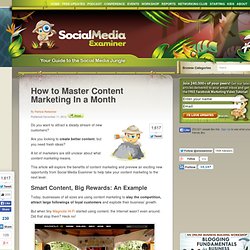 Neil Ferree - Google+ - It takes some time (but) having your social tools + social…
DIY Content Marketing
Http://www.ferreemoney.com Social Sites, Tools and Apps mentioned DIY Content Marketing System for SMB Images can be viewed on Flickr via http://bit.ly/SocialSharesTheNewSEO