Social business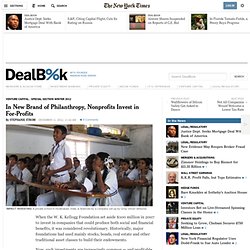 IMPACT INVESTING A private school in Hyderabad, India, is financed by a company set up by Gray Ghost Ventures. When the W. K. Kellogg Foundation set aside $100 million in 2007 to invest in companies that could produce both social and financial benefits, it was considered revolutionary. Historically, major foundations had used mainly stocks, bonds, real estate and other traditional asset classes to build their endowments. Now, such investments are increasingly common — and profitable.
In New Brand of Philanthropy, Nonprofits Invest in For-Profits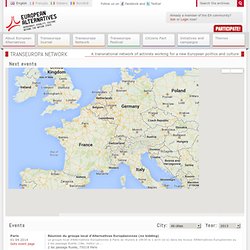 Transeuropa Network Events - European Alternatives
A transnational network of activists working for a new European politics and culture City: Year: Réunion du groupe local d'Alternatives Européennnes (no kidding) Le groupe local d'Alternatives Européennes à Paris se réunira à 19h30 le 1 avril (si si) dans les locaux d'Alternatives Européennes au 2 bis passage Ruelle (18e, métro La ... 2 bis passage Ruelle, 75018 Paris Réunion du groupe local d'Alternatives Européennnes Le groupe local d'Alternatives Européennes à Paris se réunira à 19h30 le 19 mars dans les locaux d'Alternatives Européennes au 2 bis passage Ruelle (18e, métro La Chapelle). ... 2 bis passage Ruelle
Accueil
http://bag943.com/partnershipybh/ ; When Anton Mari H. Lim read about the story of BAG943 Founder, Josh Mahinay on Rappler, the Yellow Boat of Hope Foundation co-founder immediately contacted Mahinay, then a returning overseas Filipino worker from USA. " The story of Josh really inspired me. He is an example of what we hope to see in the future from the kids that we are helping in our communities. Sometimes you question if all that you are doing are making sense, or if it is really making any difference, then you have this young kid who overcame poverty through the generosity of other people, and now is giving back to his root is just very inspiring.", Lim said.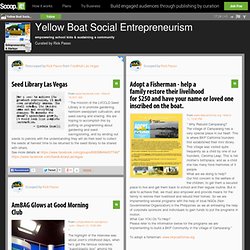 Yellow Boat Social Entrepreneurism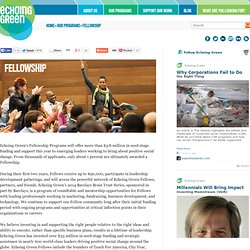 Fellowship
Echoing Green's Fellowship Programs will offer more than $3.8 million in seed-stage funding and support this year to emerging leaders working to bring about positive social change. From thousands of applicants, only about 1 percent are ultimately awarded a Fellowship. During their first two years, Fellows receive up to $90,000, participate in leadership development gatherings, and will access the powerful network of Echoing Green Fellows, partners, and friends.
Social Entrepreneurship Open Database
When: Summer 2012Credits: AshokaU Badges & Certificate of CompletionLocation: Online, globalOnline meeting times: Monday, 7:30-8:30pm (US EST / GMT -05:00) Wednesday, 7:30-8:30pm (US EST / GMT -05:00) Note: We understand many students are not able to log into class sessions at these times due to time zone differences. Consequently, we will be recording all class sessions. These recordings will be accessible to enrolled students and auditors for the duration of the course. We will also set up a set of office hours (Google+ Hangouts) at alternate times. Details on this process to follow.)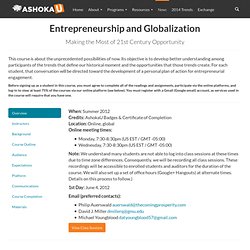 Entrepreneurship and Globalization | AshokaU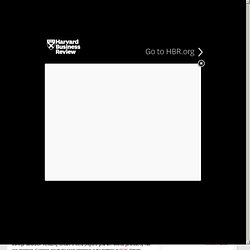 How to Take a Social Venture to Scale - Paul Bloom
by Paul Bloom | 8:30 AM June 18, 2012 For a social entrepreneur with an innovative solution, the holy grail is scaling it—that is, taking it to a level where the new approach operates efficiently and effectively to achieve significant mitigation of a social problem. Indeed, many are under real pressure to scale as their supporters, not unlike investors in commercial ventures, clamor for higher social returns on their investments. But for every Habitat for Humanity, Mothers Against Drunk Driving, and Teach for America that has managed to scale, there are thousands that have stagnated or failed.
Hitrecord
Hi everyone, As we discussed in THIS VIDEO, we will be posting replies to the community's Profit Proposal feedback for each episode of HITRECORD ON TV. The community will then have one week to review our replies and include any additional feedback. After this additional round of feedback has concluded, we will post Final Profits. In some instances feedback was already replied to in the original threads or in separate text records. Thanks!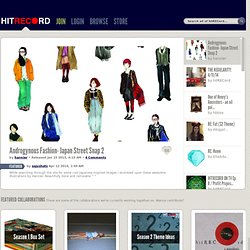 "Gawad Kalinga," translated in English means to "give care", is a Philippine-based movement that aims to end poverty by first restoring the dignity of the poor. It employs an integrated and holistic approach to empowerment with values-formation and leadership development at its core. Established in 2003, The Foundation currently works with over 2,000 communities and has been recognized as the 2006 Ramon Magsaysay Awardee & 2012 Skoll Awardee for Social Entrepreneurship.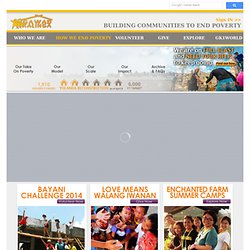 Welcome to Gawad Kalinga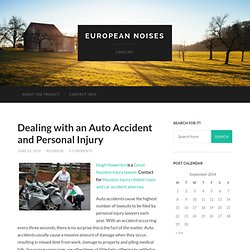 Des « Noisers » dans le forum de l'école ouvrent un stand, ça y est, THE RISE, le challenge solidaire étudiant est lancé ! Créé par Babyloan et la Fédération des Etudiants pour l'entrepreneuriat Social (FEDESS), the RISE est un évènement… The Noise of the World, le 16/11/2013 par Raphaëlle Deveaud et Léopold Deumié. Direction le Palais Brongniart : c'est la rentrée des classes pour la promo 2013 d'Ashoka ce 16 octobre. L'organisation présente ses nouveaux « fellows », entrepreneurs sociaux… The last wednesday of the month is coming… with an arty & surprising BimBamBoom just for you !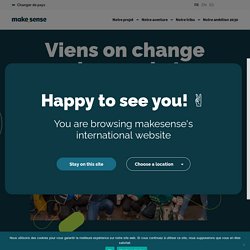 The first Hold-up in Bordeaux 'll be organized on July, 3rd, from 18 to 20 pm in Darwin offices, Bastide Niel, rive droite. Sylvain needs us to find a business model for a new service! Toulouse crew organized a hold-up for help the project Capstreet founded by supercool students from Supinfo ! CapStreet is a software solution allowing the calculation of an adapted itinerary for people with reduced mobility , according to their degree of difficulty getting around. CapStreet uses Open Data initiatives and the project OpenStreetMap and to have geographical data. This data is enhanced by community to adapt the solution for people with reduced mobility.
Destination Changemakers
Jonas Guyot et Matthieu Dardaillon, 24 ans. Nous nous sommes rencontrés à l'ESCP Europe en septembre 2009. En deuxième année à Londres, nous commençons à nous poser des questions sur notre avenir. Tous les deux à la recherche d'une carrière porteuse de sens, nous souhaitons contribuer à la résolution de grands défis économiques, sociaux et environnementaux de notre époque. Nous avons l'intuition que l'entreprise a un pouvoir immense pour changer les choses.