Socap Europe Conference
JustDigIt
EU Digital Strategy. Investability 2011. Invalid quantity.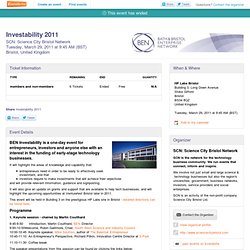 Please enter a quantity of 1 or more. The quantity you chose exceeds the quantity available. Please enter your name. Please enter an email address. Please enter a valid email address. Kill Copyright, Create Jobs. The copyright industry's lobby has — again — claimed that unless strong measures are taken to enforce copyright, jobs will be lost across Europe.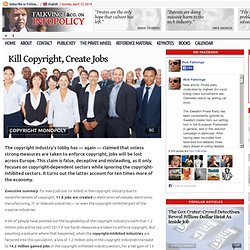 This claim is false, deceptive and misleading, as it only focuses on copyright-dependent sectors while ignoring the copyright-inhibited sectors. It turns out the latter account for ten times more of the economy. Executive summary: for every job lost (or killed) in the copyright industry due to nonenforcement of copyright, 11.8 jobs are created in electronics wholesale, electronics manufacturing, IT, or telecom industries — or even the copyright-inhibited part of the creative industries. A lot of people have pointed out the laughability of the copyright industry's claim that 1.2 million jobs will be lost until 2015 if not harsh measures are taken to enforce copyright.
The Malcolm Gladwell Book Generator. The Conversity Model is ready! Book launch event 16 March 13:00 Ghent. Observation « Conversity.be. The Observation layer in the Conversity Model helps companies listen and accumulate lots of data on who makes up the community at large, but most of all: who makes up your specific marketplace.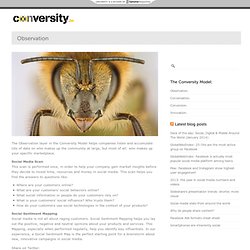 Social Media Scan This scan is performed once, in order to help your company gain market insights before they decide to invest time, resources and money in social media. This scan helps you find the answers to questions like: Where are your customers online? What are your customers' social behaviors online? NYSE Euronext merging with Deutsche Borse. Consolidation of the world's financial markets took another big step Tuesday with the announcement that NYSE Euronext and Deutsche Borse are merging.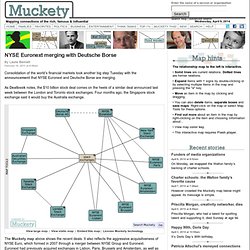 As Dealbook notes, the $10 billion stock deal comes on the heels of a similar deal announced last week between the London and Toronto stock exchanges. Four months ago, the Singapore stock exchange said it would buy the Australia exchange. The Muckety map above shows the recent deals. It also reflects the aggressive acquisitiveness of NYSE Euro, which formed in 2007 through a merger between NYSE Group and Euronext. Euronext had previously acquired exchanges in Lisbon, Paris, Brussels and Amsterdam, as well as the London International Financial Futures & Options Exchange.
The Royal Society of Medicine, innovation and ColaLife : ColaLife. The Medical Innovations Programme, Royal Society of Medicine It is a great honour to be invited to contribute to the Royal Society of Medicine's innovations programme on 24 February.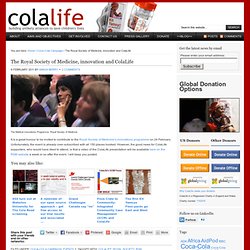 Unfortunately, the event is already over-subscribed with all 150 places booked. However, the good news for ColaLife supporters, who would have liked to attend, is that a video of the ColaLife presentation will be available here on the RSM website a week or so after the event. About SOCAP/Europe | SOCAP Europe. Why the Sharing Economy is Here to Stay By: Haiz Oppenheimer As of March 2014, Airbnb has...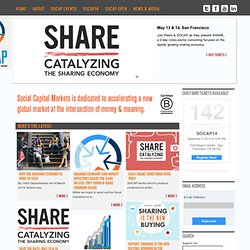 Sharing Economy and Impact Investors Share the Same Values; They Should Make Common Cause. Collaborative Consumption Groundswell Video. Talking back to your intelligent city. Future Agenda: Welcome. The next decade will see more people and constrained resources but better connectivity and a shift in economic power to Asia.
How will this affect the world we live in? What are the other big issues for the next decade?
Multidimensional story telling frameworks
TEDxAmsterdam - Jorne Langelaan - 11/30/10. Data Dependent Journalism - Open Data. Colalife - Progress of a brilliant idea. Welcome to Rhodes University - Rhodes University. Plan Cruncher. David Rose on intelligent pill boxes.... Ugandan IT Successes - Jonathan Gosier. Preferred Futures for African IT Projects - Erik Hersman. Matt Flannery explains kiva.org - lending @ 25 bucks a go. Impressive progress with iHub Nairobi Kenya. Fundbreak: Crowdfunding the Australian way. April and Jerry. Mingalaba — G'day — Saluti — Bun Di — Greetings!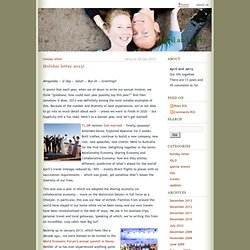 It seems that each year, when we sit down to write our annual missive, we think "goodness, how could next year possibly top this year?" And then somehow it does. 2013 was definitely among the most notable examples of this. Lunatech Ventures » About Us. Tambaroua Business Farming. Alexander Petroff - Congo Working Villages.
---