Fizziology
Ecir2012-imdb. Website-that-tracks-social-media-for-the-movie-industry-up-against-giants-at-webby-awards-91453079. HOLLYWOOD, Calif., April 19 /PRNewswire/ -- Social media research company Fizziology announced today that their site, created by independent advertising agency Bradley and Montgomery (BaM), has been nominated for Best Guides/Ratings/Reviews web site in the 14th Annual Webby Awards.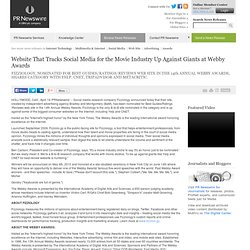 Fizziology is the only B-to-B site nominated in the category and is up against some of the biggest consumer websites on the Internet, including Yelp and CNET. Hailed as the "Internet's highest honor" by the New York Times, The Webby Awards is the leading international award honoring excellence on the Internet. Launched September 2009, Fizziolo.gy is the public-facing site for Fizziology, a tool that helps entertainment professionals, from movie studio heads to casting agents, understand how their talent and movie properties are faring in the court of social media opinion.
Fizziology mines the millions of individual thoughts and opinions expressed in social media. Variety, Fizziology Launch The Weekly Fizz10 Chart to Measure Movies' Social-Media Buzz. Variety and social-media-research outfit Fizziology will team up to create a weekly chart of feature films generating the most buzz via social media, and The Weekly Fizz10 will appear on Variety.com every Wednesday.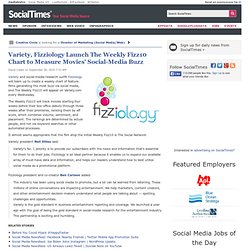 The Weekly Fizz10 will track movies starting four weeks before their box-office debuts through three weeks after their premieres, ranking them by eff score, which combines volume, sentiment, and placement. The rankings are determined by actual people, and not via keyword searches or other automated processes. It almost seems appropriate that the film atop the initial Weekly Fizz10 is The Social Network. Variety president Neil Stiles said: Variety's No. 1 priority is to provide our subscribers with the news and information that's essential for them to do their jobs.
Using Social Media to Predict Box Office. Fizziology – social media for showbiz. 4 Questions with Fizziology's Jen Handley. Jen Handley, Co-Creator and COO, Fizziology: By using a blend of technology that monitors social media buzz in real-time from Facebook, Twitter and blogs, plus human analysis, Fizziology can predict what these consumer conversations mean for sales, advertising budgets and other important factors that impact the business of movies, talent, brands and a variety of other industries.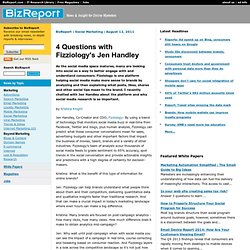 Fizziology's team of analysts scour thousands of social media feeds to grade sentiment to 95% accuracy, spot trends in the social conversation and provide actionable insights and predictions with a high degree of certainty for decision-makers. Kristina: What is the benefit of this type of information for online brands? Jen: Fizziology can help brands understand what people think about them and their competitors, delivering quantitative data and qualitative insights faster than traditional research. And that can make a crucial impact in today's marketing landscape where even hours can make a big difference.
---