SmartNetwork : Réseaux
Intel. Alcatel Lucent. Austria, Kelag "The combination of the MDM System with an OSS provided by the Alcatel-Lucent solution is an important cornerstone of a professional smart metering architecture.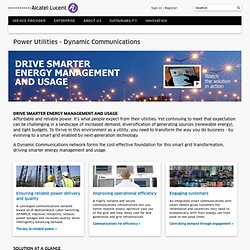 " Learn More > Canada, AltaLink "By engineering the network to support critical applications such as SCADA and teleprotection, the Alcatel-Lucent IP/MPLS solution plays a key role in our next-generation network strategy aimed at combining and improving service delivery and positions us for future growth and network expansion. " Learn More > Denmark, Energimidt A/S "Our former PON supplier announced the end-of-life of its solution, so we opted for Alcatel-Lucent because of its proven capability to re-use our already deployed customer premises equipment.
This will allow us to flexibly migrate without having to disturb our customers – all while leveraging our past investment in optical network terminals. " Cisco.
---