SmartAnalysis : Datamining, Applications
Zen'to - Informatique et développement durable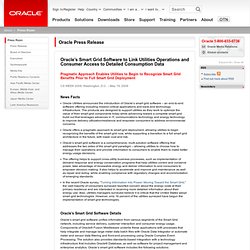 CS WEEK 2009, Washington, D.C. – May 19, 2009 News Facts Oracle Utilities announced the introduction of Oracle's smart grid software – an end-to-end software offering including mission-critical applications and back-end technology infrastructure. The products are designed to support utilities as they work to optimize the value of their smart grid components today while advancing toward a complete smart grid build out that leverages advances in IT, communications technology and energy technology to improve delivery utilization/resilience and empower consumers to address environmental concerns. Oracle offers a pragmatic approach to smart grid deployment, allowing utilities to begin recognizing the benefits of the smart grid now, while supporting a transition to a full smart grid architecture in the future, with lower cost and risk.
oracle
Solutions Overview | Telvent
HP
Concerteo
Microsoft
Alliander (Arnhem, Netherlands) Alliander, the largest network company in the Netherlands, is paving the way for increased adoption and usage of electric vehicles by working with other companies in their ecosystem to provide 10,000 charging points throughout the country by 2012. CenterPoint Energy (Houston, TX) CenterPoint Energy Houston Electric is a transmission and distribution company serving approximately 2.2 million consumers in the Houston area, the fourth largest city in the U.S, and operates in an electric deregulated market. The company's Energy InSight Center was one of the first demonstration centers in the world to show the smart meter and outage restoration benefits that can be realized through smart grid technologies.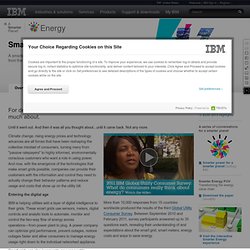 IBM
Alliance SAP - IBM