SmartAnalysis : Datamining, Applications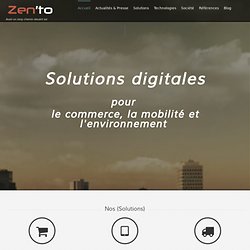 Digital In-Store Une nouvelle expérience du lieu de vente cohérente avec les autres canaux : bornes interactives, applications sur tablettes, géolocalisation Indoor... En savoir plus...
Zen'to - Informatique et développement durable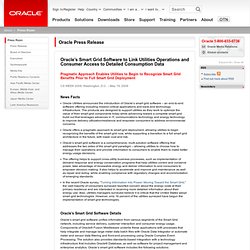 CS WEEK 2009, Washington, D.C. – May 19, 2009 News Facts Oracle Utilities announced the introduction of Oracle's smart grid software – an end-to-end software offering including mission-critical applications and back-end technology infrastructure. The products are designed to support utilities as they work to optimize the value of their smart grid components today while advancing toward a complete smart grid build out that leverages advances in IT, communications technology and energy technology to improve delivery utilization/resilience and empower consumers to address environmental concerns. Oracle offers a pragmatic approach to smart grid deployment, allowing utilities to begin recognizing the benefits of the smart grid now, while supporting a transition to a full smart grid architecture in the future, with lower cost and risk.
oracle
Solutions Overview | Telvent
HP
Concerteo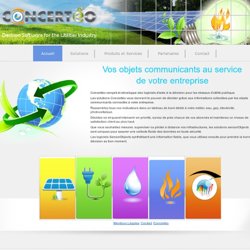 Concertéo conçoit et développe des logiciels d'aide à la décision pour les réseaux d'utilité publique. Les solutions Concertéo vous donnent le pouvoir de décider grâce aux informations collectées par les objets communicants connectés à votre entreprise. Rassemblez tous vos indicateurs dans un tableau de bord dédié à votre métier, eau, gaz, électricité, photovoltaïque. Décidez où et quand intervenir en priorité, suivez de près chacun de vos abonnés et maintenez un niveau de satisfaction client au plus haut. Que vous souhaitiez mesurer, superviser ou piloter à distance vos infrastructures, les solutions sensorObjects sont conçues pour assurer une collecte fluide des données en toute sécurité. Les logiciels SensorObjects synthétisent une information fiable, que vous utilisez ensuite pour prendre la bonne décision au bon moment.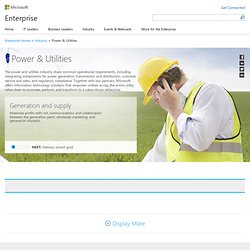 The power and utilities industry share common operational requirements, including integrating components for power generation, transmission and distribution, customer service and sales, and regulatory compliance. Together with our partners, Microsoft offers information technology solutions that empower utilities across the entire utility value chain to innovate, perform, and transform to a value-driven enterprise. Learn More Generation and supply Maximize profits with rich communications and collaboration between the generation plant, wholesale marketing, and generation dispatch.
Microsoft
Alliander (Arnhem, Netherlands) Alliander, the largest network company in the Netherlands, is paving the way for increased adoption and usage of electric vehicles by working with other companies in their ecosystem to provide 10,000 charging points throughout the country by 2012. CenterPoint Energy (Houston, TX) CenterPoint Energy Houston Electric is a transmission and distribution company serving approximately 2.2 million consumers in the Houston area, the fourth largest city in the U.S, and operates in an electric deregulated market. The company's Energy InSight Center was one of the first demonstration centers in the world to show the smart meter and outage restoration benefits that can be realized through smart grid technologies.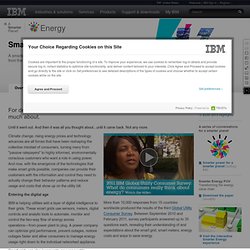 IBM