Sleeping/Dreaming
Penn study shows why sleep is needed to form memories. PHILADELPHIA – If you ever argued with your mother when she told you to get some sleep after studying for an exam instead of pulling an all-nighter, you owe her an apology, because it turns out she's right.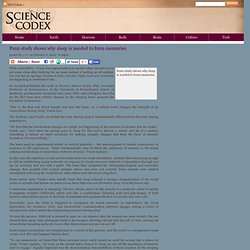 And now, scientists are beginning to understand why. In research published this week in Neuron, Marcos Frank, PhD, Assistant Professor of Neuroscience, at the University of Pennsylvania School of Medicine, postdoctoral researcher Sara Aton, PhD, and colleagues describe for the first time how cellular changes in the sleeping brain promote the formation of memories. Dreams. 5 Steps to Lucid Dreaming.
Lucid Dreaming. "It's the only way to fly."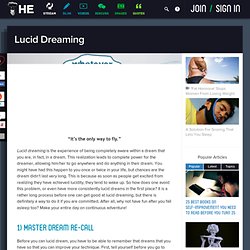 Lucid dreaming is the experience of being completely aware within a dream that you are, in fact, in a dream. This realization leads to complete power for the dreamer, allowing him/her to go anywhere and do anything in their dream. You might have had this happen to you once or twice in your life, but chances are the dream didn't last very long. Alternate Sleep Cycles. Most people only think that there is one way to sleep: Go to sleep at night for 6-8 hours, wake up in the morning, stay awake for 16-18 hours and then repeat.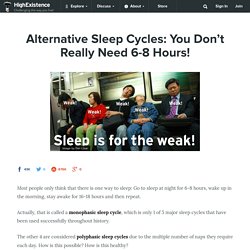 Actually, that is called a monophasic sleep cycle, which is only 1 of 5 major sleep cycles that have been used successfully throughout history. The other 4 are considered polyphasic sleep cycles due to the multiple number of naps they require each day. Bedtime calculator. LUCID DREAMING. Lucid Dream Guru.
---