Health
Nutrition Guides From Kraft Foods. Carbohydrates Carbohydrates are the body's main energy source, supplying 4 calories per gram.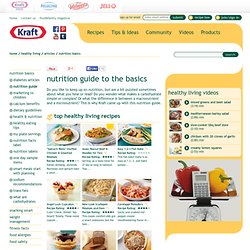 Carbohydrates are found in many foods and beverages including cereal, bread, rice, pasta, milk, vegetables, fruits, fruit juices, table sugar and honey. Nutritionflowchart.png from balanced-healthy-diet.com. Cooking Light | Find Healthy Recipes, Nutrition Tips, and Guides to Healthy... 12 Super Cheap, Super Nutritious Foods You Should Be Eating. EmailEmail Ramen noodles and store brand bologna are dirt cheap but not only are they unhealthy, the flavor is torture to most people's taste buds.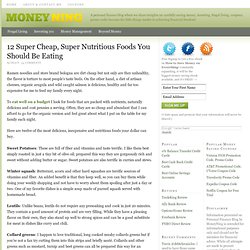 On the other hand, a diet of artisan cheeses, organic arugula and wild caught salmon is delicious, healthy and far too expensive for me to feed my family every night. To eat well on a budget I look for foods that are packed with nutrients, naturally delicious and cost pennies a serving. Often, they are so cheap and abundant that I can afford to go for the organic version and feel great about what I put on the table for my family each night. Here are twelve of the most delicious, inexpensive and nutritious foods your dollar can buy.Sweet Potatoes: These are full of fiber and vitamins and taste terrific. Over 100 Quick and Easy Healthy Foods.
---