Site Lists
99 Resources to Research &Mine the Invisible Web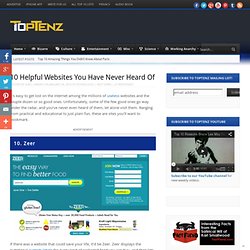 It's easy to get lost on the internet among the millions of useless websites and the couple dozen or so good ones. Unfortunately, some of the few good ones go way under the radar, and you've never even heard of them, let alone visit them. Ranging from practical and educational to just plain fun, these are sites you'll want to bookmark.
Open Source Apps: the Monster List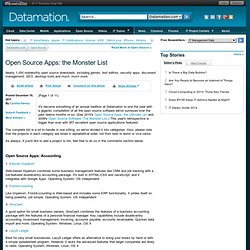 It's become something of an annual tradition at Datamation to end the year with a gigantic compilation of all the open source software we've surveyed over the past twelve months or so. (See 2010's Open Source Apps: the Ultimate List and 2009's Open Source Software: The Monster List.) This year's retrospective is bigger than ever with 957 excellent open source applications featured. The complete list is a lot to handle in one sitting, so we've divided it into categories.
Sometimes words aren't the right thing; sometimes all you need is a picture to look at. Whether it is to understand what life is like somewhere in the world, to convey a feeling that words cannot express, or just to soak in some cuteness from the universe, photo blogs can usually do the trick. Below is a selection of nine awesome blogs and photo sites that offer amazing, priceless images, each in its own way.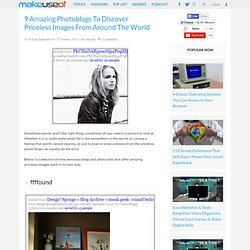 9 Amazing Photoblogs To Discover Priceless Images From Around The World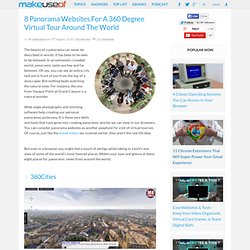 Wide angle photography and stitching software help creating our personal panoramas quite easy. It is these very skills and tools that have gone into creating panoramic worlds we can view in our browsers. You can consider panorama websites as another peephole for a bit of virtual tourism. Of course, just like the travel videos we covered earlier, they aren't the real life deal.
8 Panorama Websites For A 360 Degree Virtual Tour Around The World
I stopped using Cygwin when full virtualization became rock solid about 5 yrs ago. Cygwin always felt slow and it didn't include solid versions of the other things I needed (X/Windows), so it wasn't worth the trouble. Running a full UNIX in a VM actually feels faster than using cygwin. Found native ports of UNIX tools here [unxutils.sourceforge.net] and http://gnuwin32.sourceforge.net/ which aren't slow.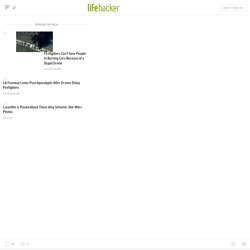 SoMa-Based StumbleUpon Provides a "Forward Button" for Discovery...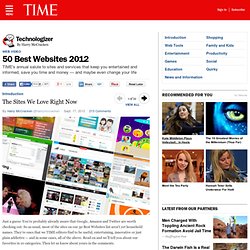 Just a guess: You're probably already aware that Google, Amazon and Twitter are worth checking out. So as usual, most of the sites on our 50 Best Websites list aren't yet household names. They're ones that we TIME editors find to be useful, entertaining, innovative or just plain addictive — and in some cases, all of the above. Read on and we'll tell you about our favorites in 10 categories. Then let us know about yours in the comments. Next LastPass
The Sites We Love Right Now | 50 Best Websites 2012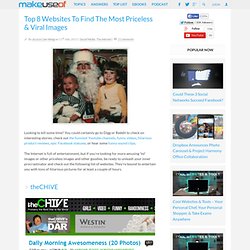 Top 8 Websites To Find The Most Priceless & Viral Images | MakeUseOf
The Internet is full of entertainment, but if you're looking for more amusing 'lol' images or other priceless images and other goodies, be ready to unleash your inner procrastinator and check out the following list of websites. They're bound to entertain you with tons of hilarious pictures for at least a couple of hours. theCHIVE theCHIVE is a booming photoblog with many recurring posts, most of which are collections of hilarious, bizarre or otherwise, potentially viral images. Some of these posts include the Daily Afternoon Randomness, which is a highly popular set of either edited or unedited, random and funny pictures, as well as the Daily Morning Awesomeness, another popular post with a variety of either inspiring, cool or sometimes, even jaw-dropping but hilarious images.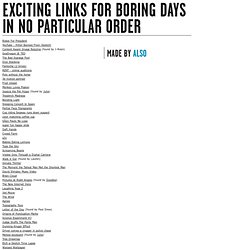 Robot For President YouTube - Hitler Banned From iSketch!Content Aware Image Resizing (found by J-Roen)SeaDragon @ TEDThe Bad Signage PoolDice StackingFantoche (2 times)RENT - online auditionsPolo without the horse3d motion portraitFruit VesselMonkey Loves PigeonJessica the Pet Hippo (found by Julia)Treadmill MadnessBending LightSleeping Concert In SpainPartial Face TransplantsCop riding Segway runs down suspectcolor matching coffee cupSão Paulo No Logosuper fun happy slide Daft HandsCrowd FarmzZzBabies Eating LemonsType the SkyScreaming BeansVisible Only Through a Digital CameraWalk it Out (found by Lauren)Inmate ThrillerThe Moment the Tallest Man Met the Shortest ManDavid Shrigley Music VideoBrain CloudPictures at Right Angles (found by Doodles)The New Internet HeroLaughing Yoga 2Jed MovieThe WindApneeTypography ToysLetter of the Day (found by Paul Drew)Origins of Punctuation Marks
Best Social Reading Sites (PHOTOS)
Spilled coffee on the keyboard?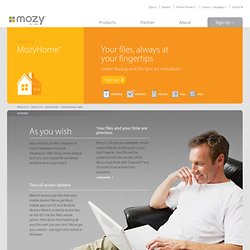 Free | Mozy > MozyHome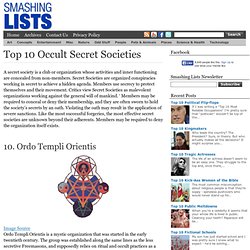 Top 10 Occult Secret Societies
A secret society is a club or organization whose activities and inner functioning are concealed from non-members. Secret Societies are organized conspiracies working in secret to achieve a hidden agenda. Members use secrecy to protect themselves and their movement. Critics view Secret Societies as malevolent organizations working against the general will of mankind. ' Members may be required to conceal or deny their membership, and they are often sworn to hold the society's secrets by an oath.
16. isnsfw.com – when you wish to share a NSFW page but with a warning. 17. e.ggtimer.com – a simple online timer for your daily needs. 18. coralcdn.org – if a site is down due to heavy traffic, try accessing it through coral CDN. 19. random.org – pick random numbers, flip coins, and more. 20. mywot.com – check the trust level of any website. 21. viewer.zoho.com – Preview PDFs and Presentations directly in the browser.
Found an awesome list of alternative and useful search engine sites and I just had to share it with you guys, its a lot of fun! Written by Charles S. Knight, SEO and edited by Richard MacManus. The original version of the Top 100 Alternative Search Engines List appeared here on Read/WriteWeb on January 29, 2007.
Interesting and Unusual Websites
If you're looking for the best websites on the web, you've come to the right place. MakeUseOf has been reviewing the best websites and the coolest websites for years now, so we've decided to offer a comprehensive list of which websites we consider to be the best of the best. All of the websites on this page are organized into categories, and we've selected only those we believe to be the best ones - those which will most likely be useful to you. We update this page frequently, so check back often and spread the word! Most popular online source for everything related to movies. Movie ratings & reviews, various top rated lists, HD movie trailers, news and lots more.
Top 100 Blogs of 2010
Around the World in 2 Billion URLs - Internet Archive Web Archive