Simulation
Get flash to fully experience Pearltrees
OrgViz™ Complexity Modeling Service Announced Santa Fe, New Mexico, September 18, 2002 - RedfishGroup ( http://www.redfish.com ) is pleased to announce its collaboration with prominent ethnographer, Dr. Michael Agar , author of Professional Stranger and Language Shock . The collaboration will take the form of a joint service offering called OrgViz™. The OrgViz™ Approach Good models, agent-based or any other kind, have to be anchored in reality.
The Centre for Research in Social Simulation (CRESS), based in the Department of Sociology in the Faculty of Arts and Human Sciences at the University of Surrey , is a multidisciplinary centre bringing together the social sciences, software engineering and agent-based computing to promote and support the use of social simulation in research in the human sciences. There is growing interest in using computer simulation to explore issues in the social sciences. Simulation is a novel research method in most parts of the social sciences, including sociology, political science, economics, anthropology, geography, archaeology and linguistics. It can also be the inspiration for new, process-oriented theories of society.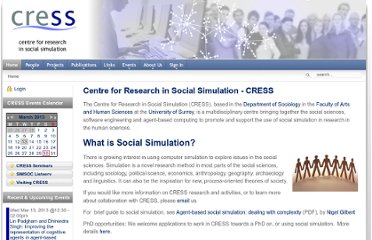 This page contains algorithms for five cellular automata. What is common to all five is as follows: A rectangular grid whose elements (positions) are specified by row number and column number. Each position in the grid is associated with a certain state, which is specified by a number. Each position is said to be occupied by a cell in a certain state, or alternatively a position with associated state zero may be said to be "empty", the other positions being occupied by cells in some (non-zero) state. A set of rules which determines how the state of a cell (or of a position in the grid) changes from one "step" or "generation" to the next, usually as a function of the state of the cells (if any) around it and its own state.