Silicon Valley Tech PR Agencies
Silicon Valley PR Firms! Send Me Your Pearltree For My Directory... Posted by Tom Foremski - July 29, 2010 The last couple of months I've been working with a very cool French startup called Pearltrees in an advisory capacity.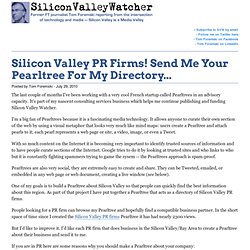 It's part of my nascent consulting services business which helps me continue publishing and funding Silicon Valley Watcher. I'm a big fan of Pearltrees because it is a fascinating media technology. It allows anyone to curate their own section of the web by using a visual metaphor that looks very much like mind maps: users create a Pearltree and attach pearls to it; each pearl represents a web page or site, a video, image, or even a Tweet.
Kaplowpr. Horngroup. Engagepr. Kaplowpr. Prxinc. Ogilvy Public Relations Worldwide. Radler. Redphlag LLC.
---
foremski Jul 30 2010

Send me your Pearltree about your business and I will place it in this directory.
---