Short-Films
It's Payback Time | Friday, 17th Oct | Channel 4. Thought of You - by Ryan Woodward. Glen Keane - Duet HD. Slimtime. Zeitgeist 2011: Year In Review. Zeitgeist 2012: Year In Review.
Google Zeitgeist | Here's to 2013. ELECTROSHOCK (HD) Brilliant Short animated Film from ESMA Students. Love recipe. Blur Studio Gentleman's Duel - 3D short animation film. Zero. Animated shorts: 10 Must Watch Short Films.
Animated shorts are great way to refresh your mind.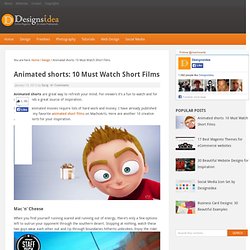 For viewers it's a fun to watch and for creative minds a great source of inspiration. Even short animated movies require lots of hard work and money. I have already published 15 best and my favorite animated short films on MachoArts. Here are another 10 creative animated shorts for your inspiration. Skhizein - short film by Jeremy Clapin. Having been struck by a 150-ton meteorite, Henry has to adapt to living precisely ninety-one centimeters from himself.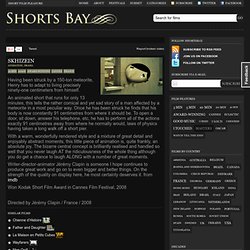 An animated short that runs for only 13 minutes, this tells the rather comical and yet sad story of a man affected by a meteorite in a most peculiar way. Once he has been struck he finds that his body is now constantly 91 centimetres from where it should be. 25 Brilliant Animated Short Movies. Advertisement Beautiful animated short movies are excellent for tedious coffee breaks and uninspiring monday mornings.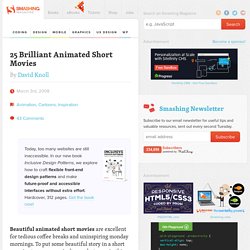 To put some beautiful story in a short 2-5 minutes sequence isn't easy, but even in this case designers and artists are quite creative and manage to come up with very surprising and unusual results. The selection below is supposed to make you cry, laugh, feel bizarre or even shocked — in every case being absolutely smashed. 15 Amazing Animated Short films - StumbleUpon.
We all love short animated films, but creating short film is very hard task.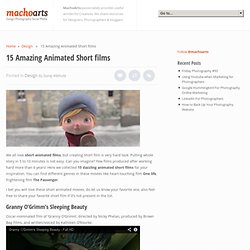 Putting whole story in 5 to 10 minutes is not easy. Can you imagine? Few films produced after working hard more than 6 years! Here we collected 15 dazzling animated short films for your inspiration. Animated Short Movies » Life-Changing Arts. Movie shorts, or short animations are a unique form of art, which can inspire and enlighten just like any other art form.
Sometimes even more so. Here is a selection of inspiring, or for some reason animated short movies, here shown in their original full length. The Scarecrow. Back to the Start. One Life - Amazing Animation by Corey Hayes (Song is "Old Man" by Neil Young) EL EMPLEO / THE EMPLOYMENT - OPUSBOU. Copia A (3D animated short film by Trexel Animation) Invention of Love (2010) - Animated Short Film.
A SHORT LOVE STORY IN STOP MOTION. Floating Soccer Pitch on Devour. The Cathedral. The Fantastic Flying Books of Mr. Morris Lessmore (2011) Refresh. RumbleSeat. The Night We Were Kings.
The Third & The Seventh. Leave Me (now on Hulu at hulu.com/leave-me) Address Is Approximate. Parallel Parking. The Artists.
---