Vetements/clothes
Centre Commercial - Bleu de Paname Veste Plage
Cultizm.com
Bench & Loom
Neighbour — Welcome
Fashion stealer | sale | discount | voucher code | promotion code | sns herning | our legacy | levis vintage | yuketen | nigel cabourn | common projects - Part 5
Fjall Raven | Clarks Originals | Folk Clothing | YMC | Mens Brands | Goodstead Clothing
F R E E / M A N — Products
Union
nanamica
CNCPTS / Welcome
Blackbird -
Kiosk 78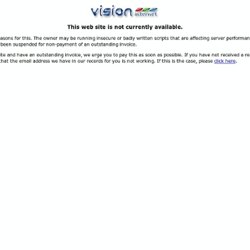 This web site is not currently available. There may be a number of reasons for this. The owner may be running insecure or badly written scripts that are affecting server performance, may have cancelled the hosting or the site may have been suspended for non-payment of an outstanding invoice. If you are the owner of this site and have an outstanding invoice, we urge you to pay this as soon as possible.
Need supply Co.
endclothing
The goodhood
Belstaff is a genuine British heritage brand, it's history can be dated back to 1924. Renowned for its legendary jackets Belstaff patrons of the past have included the revolutionary Che Guevara and the 'king of cool' Steve McQueen. A range of iconic biker jackets in original waxed cotton and leather.With a constant demand for all things retro; Belstaff has attitude, style and a commitment to sourcing the highest quality materials. Change Order : There are currently no products in this category.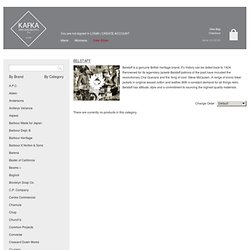 Kafka
The Bureau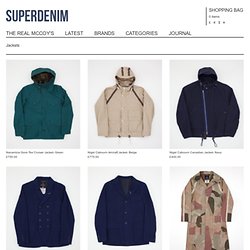 Superdenim
Jackets Nanamica Gore-Tex Cruiser Jacket- Green Nigel Cabourn Aircraft Jacket- Beige
In the middle
<ul><li>This shop requires JavaScript to run correctly. Please activate JavaScript in your browser.</li></ul>
White's Boots
LOST & FOUNDS
The sleepy coastal town of Hermosa Beach holds one of the clothing industry's best kept secrets, which is known as Meg Company, Inc. Keeping the community alive since 1989, Meg Company is connected to Hermosa Beach more than just geographically. The kind of company that can be defined as quaint or comfortable. That's because the belief in moderate growth and tight knit friendships built over years of trust and dedication. A philosophy of diligence, consistency, and fraternity within Meg Company will prevail over all things tangible. Meg Company produce the stunning Yuketen shoe line, Monitaly rugged out doors wear, Santa Domingo Boots, Epperson Mountaineering bags and Chamula South American scarfs and knits.
Couverture and The Garbstore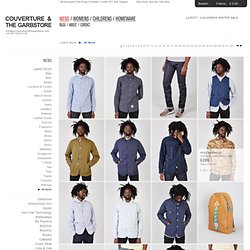 OPENING CEREMONY
MR PORTER
Yuketen - Boat Shoe Inspired by traditional american footwear but updated according to a sharp, modern aesthetic, this athletic soled boat show is a perfect match for your bare feet this summer. Every pair is unique and hand crafted. This commodity is out of stock
Norse Store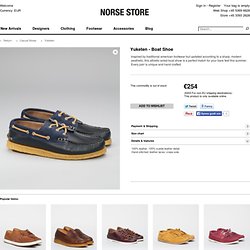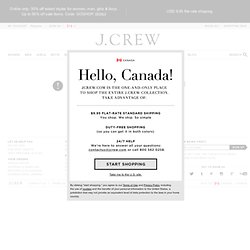 J.CREW
*Offer valid on the purchase of final sale items in J.Crew stores and at jcrew.com from January 22, 2014, 12:01am ET through January 28, 2014, 11:59pm ET. Offer not valid in the 769 Madison Avenue store, Ludlow Shops, Liquor Store, J.Crew Factory stores, at jcrewfactory.com or on phone orders. Offer cannot be applied to previous purchases or the purchase of gift cards and cannot be redeemed for cash or used in combination with any other offers. In-store discount automatically taken at the register. To redeem online, enter code BYEWINTER in the promo code box at checkout. Limit one code per order.
Albam Clothing
Self Edge
CONTEXT
TheShoeMart
• Aero Leather • Arpenteur • Atelier La Durance • Aviakit • Black Sign • Buco • Chippewa • Churchill Gloves • City Sport • Common People • Lewis Leather • Dehen • Dry Bones • East Man • Effector Sun Glaces • Filson • Fine Light Trading • Langlitz Brand • Langlitz Leather • Le Laboureur • Lee (Japan) • Levis 501XX (USA) • Lewis Leathers • Merz B. Schwanen • Mister Freedom • Mom & Pop • Nigel Cabourn • North Sea Clothing • Real Mc Coy • Red Wings • Sanders • Stetson • Sugar Cane • Sun Surf Hawaïan Shirts • Tachibana Helmets • Trophy Clothing • Wesco • White's Boots • William Lockie • Yuketen • Cast Iron Magazine • Men's file Magazine • Heritage Post Magazine • Littérature « Vintage Life style »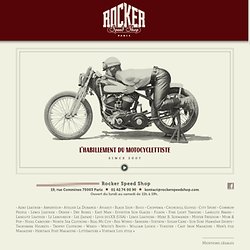 Rocker Speed Shop
Baracuta
EU | US - My account - Wishlist - Cart Shopping assistance Stores | Studio | Blog Newsletter Facebook Twitter Pinterest Google+ Surface To Air S2A News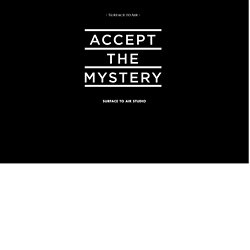 Royalcheese
Good Wear Leather Coat Company