Vetements/clothes
Centre Commercial - Bleu de Paname Veste Plage. Cultizm.com. Bench & Loom. Neighbour — Welcome. Fashion stealer | sale | discount | voucher code | promotion code | sns herning | our legacy | levis vintage | yuketen | nigel cabourn | common projects - Part 5. Jan 26, 2014 A.P.C Canada Parka.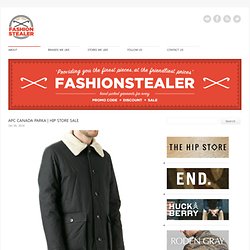 For the very coldest days during the Swedish winter, it's hard to avoid wearing a thicker jacket. You'll need that goose down and that fur collar, a slightly longer cut can also be of help. This will help to withstand temperatures well below freezing. The Canada Parka from A.P.C corresponds to all the requirements and would clearly qualify when it comes to protecting against the Scandinavian winter. Fjall Raven | Clarks Originals | Folk Clothing | YMC | Mens Brands | Goodstead Clothing. F R E E / M A N — Products. Union. Nanamica. CNCPTS / Welcome. Blackbird -
Kiosk 78. Need supply Co. Endclothing. The goodhood. Kafka. Belstaff is a genuine British heritage brand, it's history can be dated back to 1924.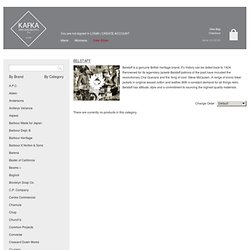 Renowned for its legendary jackets Belstaff patrons of the past have included the revolutionary Che Guevara and the 'king of cool' Steve McQueen. A range of iconic biker jackets in original waxed cotton and leather.With a constant demand for all things retro; Belstaff has attitude, style and a commitment to sourcing the highest quality materials. Change Order : There are currently no products in this category. The Bureau. Superdenim. Jackets Nanamica Gore-Tex Cruiser Jacket- Green Nigel Cabourn Aircraft Jacket- Beige.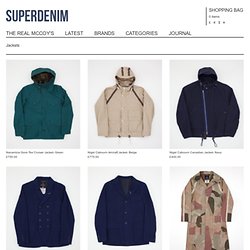 In the middle. <ul><li>This shop requires JavaScript to run correctly.
Please activate JavaScript in your browser. </li></ul> White's Boots. LOST & FOUNDS. Couverture and The Garbstore. The sleepy coastal town of Hermosa Beach holds one of the clothing industry's best kept secrets, which is known as Meg Company, Inc.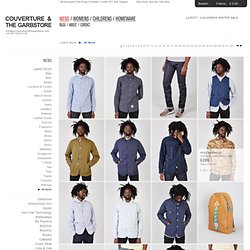 Keeping the community alive since 1989, Meg Company is connected to Hermosa Beach more than just geographically. The kind of company that can be defined as quaint or comfortable. That's because the belief in moderate growth and tight knit friendships built over years of trust and dedication. A philosophy of diligence, consistency, and fraternity within Meg Company will prevail over all things tangible. Meg Company produce the stunning Yuketen shoe line, Monitaly rugged out doors wear, Santa Domingo Boots, Epperson Mountaineering bags and Chamula South American scarfs and knits. HICKOREE'S HARD GOODS. OPENING CEREMONY. MR PORTER. Norse Store. Yuketen - Boat Shoe Inspired by traditional american footwear but updated according to a sharp, modern aesthetic, this athletic soled boat show is a perfect match for your bare feet this summer.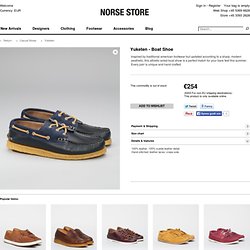 Every pair is unique and hand crafted. This commodity is out of stock. J.CREW. Albam Clothing. Self Edge. CONTEXT. TheShoeMart. Rocker Speed Shop. UNIONMADE GOODS. Baracuta. Surface to Air. ASOS. Frenchtrotters. Royalcheese. Good Wear Leather Coat Company. Oi Polloi.
---