T shirts
I'm always worried now when I have an idea for a DIY that one of the other DIY bloggers has already done it.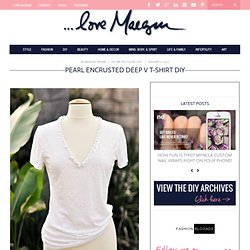 Pearl Encrusted Deep V t-shirt
Bow Back Shirt
Chains Shirt
If you saw my Santa wish list the other day, you know that I have my eyes on the Wildfox Couture heart jumper. After hours of ogling their website, I had an epiphany: I can make my own!
Heart Sweatshirt
Fringe Top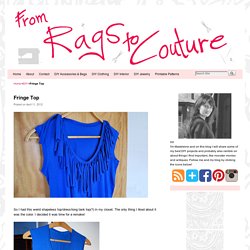 So I had this weird shapeless top/dress/long tank top(?)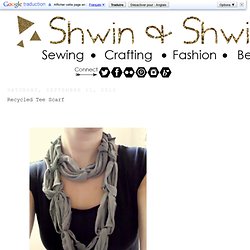 60K+ Recycle all of those tee shirts that you don't wear anymore!
Copy Your Favorite Tee - CraftStylish
Photo: Jack Deutsch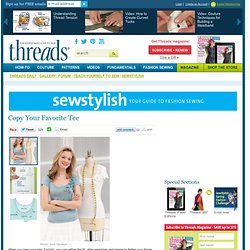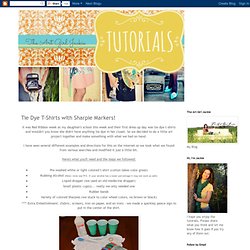 It was Red Ribbon week at my daughter's school this week and their first dress up day was tie dye t-shirts and wouldn't you know she didn't have anything tie dye in her closet.
This is the big bow pillow I made yesterday. I started with this tutorial to make the actual bow. Although I made both the bow and the middle piece much much wider. I wanted a big fatty bow. Really, it's just a big tube with a small tube wrapped around it. Super simple.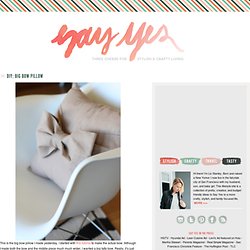 I finally convinced my boyfriend to purge his clothes! What resulted was a large stockpile of old t-shirts, work shirts, sweats, old golf shirts and more. I considered donating them - but wondered if there was anything I could do to repurpose this new-found loot.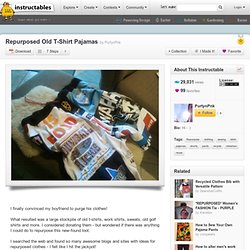 Repurposed Old T-Shirt Pajamas
February 6, 2010 1:59 pm Per popular demand, here is the Pratia tank tutorial!
This cowl neck top is quite easy to make. It has only four seams and you can create the pattern yourself. The cowl neck comes from making the neckline of the shirt wider at the front than the back – this extra fabric hangs down creating the drapey neckline. The folds in the sleeves come from extra fabric as well, which is added by angling the shoulder seam upward. You will need: Measuring tape ⅔ yard stretchy fabric (I used a cotton/lycra jersey) Matching thread Sewing machine Chalk (or pencil and large paper to make a pattern) Pins (optional) The first step in making this top is to measure yourself.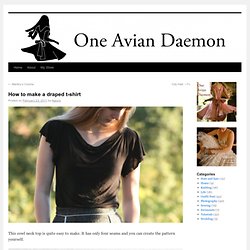 I have a lot of t-shirts.
After posting my first entry last week I have gotten a bit scissor happy! lol......If it's knit and not being used to it's full potential, it's fair game! :)
"KnotTEE" refashion tutorial....Made by Rae Spring Top challenge #2
Loose Fitted T-shirt Tutorial
May 31, 2010 8:03 am
* Shirt-gone-Headband *
Coolest Embellished T-Shirts and Tops - Photo Gallery (3 of 5)
Decorate My Home, Part 21 – Flowered Pillow Cover
Trimming bits off etc.
★ Fun T-SHIRT Crafts! Recycling | Fashion | Sewing ★
Ruffle T-Shirt Re-do
Weekend Project►►►Recycled Necklaces
How To Create Today's Embellished Tops
Use Liquid Stitch | Thirty Handmade DaysThirty Handmade Days
Untitled113
Advanced Embroidery Designs. FSL Crochet Blouses
T-Shirt Embellishment #2
Square flower embellishments for a t-shirt