Wss
Points-of-Sharing - SharePoint Blogs / SharePoint University
SharePoint on a String
Chicago Cares Volunteer for US Citizenship Exam preparation at Centro Romero. Read books with underprivileged children at Lydia Home. Help with Bingo night for seniors at Lakeview nursing home. DePaul University ASK
You may be trying to access this site from a secured browser on the server. Please enable scripts and reload this page. Turn on more accessible mode Skip Ribbon Commands Skip to main content
Home - The whole is greater than...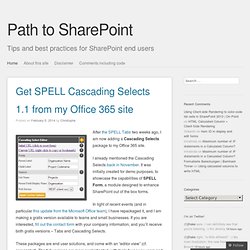 Three years ago, I published a post to clarify how scripts (and Web content in general) could be added to a page via a Web Part. It was SP 2010 at that time, and the main contenders were the Content Editor Web Part (CEWP) and the HTML Form Web Part. I concluded the post with a small note about the Page Viewer Web Part (PVWP). It's about time I explain what I meant…
Welcome to BitsOfSharePoint. I have put this site together to show some of the solutions that can be done with SharePoint. There are many sites out there that provide great information on SharePoint and some of those sites I will reference here. The premise of this site will be to show the solutions that I have used based on the many techniques found in other blogs and SharePoint sites. I wanted to create a site that will not only show you specific techniques, but to provide a place that demos the solution in a true SharePoint environment. BitsOfSharePoint is focused on the end user and utilizing the power of SharePoint to better communicate the information you have.
B i t s O f S h a r e P o i n t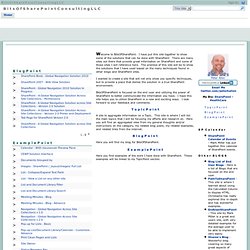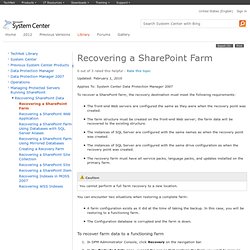 Updated: February 1, 2010 Applies To: System Center Data Protection Manager 2007 To recover a SharePoint farm, the recovery destination must meet the following requirements:
Recovering a SharePoint Farm
Free SharePoint Web Parts (3rd Party) - The Boiler Room - Mark Kruger (Moving to http:www.sharepointbloggers.com ) - SharePoint Blogs / SharePoint University
SharePointPedia