Wss
Template. Technet. Points-of-Sharing - SharePoint Blogs / SharePoint University. SharePoint on a String. Home - The whole is greater than... Path to SharePoint. B i t s O f S h a r e P o i n t. Recovering a SharePoint Farm. Updated: February 1, 2010 Applies To: System Center Data Protection Manager 2007 To recover a SharePoint farm, the recovery destination must meet the following requirements: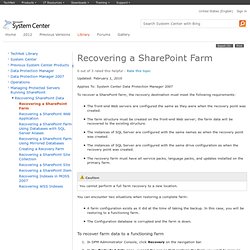 Free SharePoint Web Parts (3rd Party) - The Boiler Room - Mark Kruger (Moving to http:www.sharepointbloggers.com ) - SharePoint Blogs / SharePoint University. SharePointPedia. SharePoint Online With Office 365, SharePoint offers enhanced security technologies, is easy to manage, and can be accessed from almost anywhere.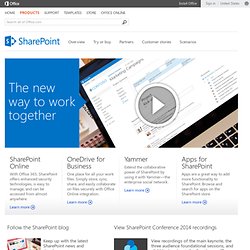 OneDrive for Business One place for all your work files. Simply store, sync, share, and easily collaborate on files securely with Office Online integration. Yammer.
---