Workflow
The Dog Ate My Task - Use SharePoint Designer to Email Daily Tas. It never fails to happen.
Your company invests in SharePoint, takes time to define business processes and automate them using workflow (with a dash of InfoPath, perhaps), tests the solution to within an inch of its life and finally launches in production. Two days later, it comes to a screeching halt . Round 1: Workflow Conductor vs. Out-of-the-Box SharePoint Workfl. So, you've heard about Workflow Conductor, and you're hoping it can help you automate some processes, but you want to know how it stacks up against Microsoft's workflow offerings in SharePoint?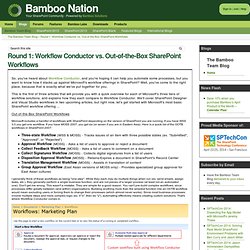 Well, you've come to the right place, because that is exactly what we've put together for you. This is the first of three articles that will provide you with a quick overview for each of Microsoft's three tiers of workflow solutions, and explains how they each compare to Workflow Conductor. We'll cover SharePoint Designer and Visual Studio workflows in two upcoming articles, but right now, let's get started with Microsoft's most basic SharePoint workflow offering ... Out-of-the-Box SharePoint Workflows Microsoft includes a handful of workflows with SharePoint depending on the version of SharePoint you are running.
Workflow How-to Videos.
---