Webpart
Dear doxtop User, During its three-year history, doxtop has helped more than 40,000 registered users share over 160,000 publications with readers across the globe at no cost. Each year we have experienced strong growth in both users and content, as well as an ever-expanding readership topping more than 1 million visitors per year. Recently, however, we have been faced with the decision of whether to continue our investment in doxtop or to consolidate our efforts on our content transformation technology business.
Sharepoint 2010 Webparts
If you take a look at our SharePoint List Filters Collection , you will see that several of the most useful filters are made available on WSS, allowing users access to the same easy, flexible filtering systems available in MOSS via list filters for Choice, Current User, Date, Query String, and Text. With list filters such as these, you can easily provide end users with a simple system to temporarily and non-destructively adjust the way Web Parts consume data. Challenge The SharePoint List Filters Collection connects to Web Parts which contain one or more sets of data and provides users with the ability to change the view of the data. The actual filter Web Part can be visible on the page (to ask for user input, such as a date or text), or they can be invisible, as is the case with the Current User filter, which filters data based on the user who is logged on to the computer. Such filters are great, but how can you create them yourself?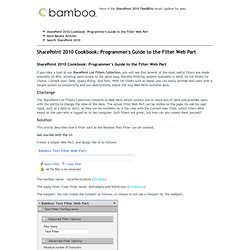 SharePoint 2010 Cookbook: Programmer's Guide to the Filter Web Part
1. Install Zone Tabs web part from http://code.msdn.microsoft.com/zonetabs/Release/ProjectReleases.aspx?ReleaseId=201 All credit goes to Bob German who developed this wonderful web part: http://blogs.msdn.com/bobgerman/archive/2008/02/19/back-in-the-zone-with-zonetabs.aspx Installation steps: a) Add Solution: (assuming you copy the .wsp file in C drive) stsadm.exe –o addsolution –filename "C:\ EasyTabParts.wsp"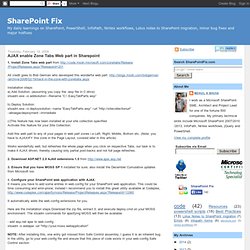 SharePoint Fix: AJAX enable Zone Tabs Web part in Sharepoint
Back in the Zone with ZoneTabs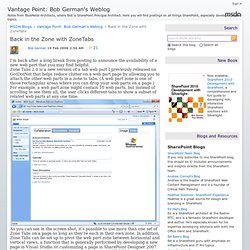 I'm back after a long break from posting to announce the availability of a new web part that you may find helpful. Zone Tabs 2.0 is a new version of a tab web part I previously released on GotDotNet that helps reduce clutter on a web part page by allowing you to attach the other web parts in a zone to tabs. (A web part zone is one of those rectangular areas where you can drop your web parts on a page.)
This is the version to use for Microsoft Office SharePoint Server (MOSS) 2007 or Windows SharePoint Services 3.0. Response to the Beta was great - however no code changes were necessary, so there is no need to upgrade if you installed the "Beta"; this released version is identical. Thanks! UPDATE: Someone requested more tabs - for source code users this is easy (change the constant in ZoneTabs Constants.cs). For convenience, there is a build w/12 tabs below called EasyTabParts 12Tabs.wsp.
Zone Tabs for SharePoint - Release: Version 2.00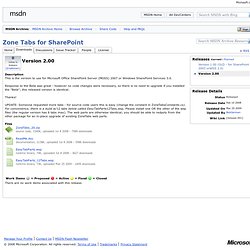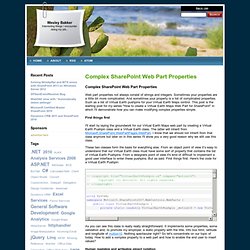 Complex SharePoint Web Part Properties Web part properties not always consist of strings and integers. Sometimes your properties are a little bit more complicated. And sometimes your property is a list of complicated properties.
Complex SharePoint Web Part Properties - Wesley Bakker