Sharepoint
If you read my last post, Creating Audiences via STSADM, then you know that I've been working on a project which requires me to be able to script out the creation of audiences via STSADM. My last post covered the creation of the audience itself, but an audience with no rules isn't all that useful, so for this post I'll be covering my next custom command, gl-addaudiencerule, which enables you to add complex rules to an audience. I'll reiterate a couple of things regarding creating rules from my last post. First off, when you create rules via the browser you are limited to just simple rules - in other words, you may have multiple rules but the boolean logic is limited to all rules matching or any rules matching - there is no combination or complex boolean logic with grouping.
Assigning Rules to Audiences via STSADM « SharePoint Automation
sharepoint-sandbox.com
SharePoint - Stack Exchange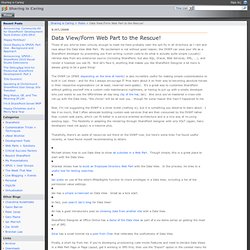 Those of you who've been unlucky enough to meet me have probably seen the spit fly in all directions as I rant and rave about the Data View Web Part. My excitement is not without good reason; the DVWP can save your life as a SharePoint developer by preventing you from writing custom code to do what is actually quite simple (usually): retrieve data from any enterprise source (including SharePoint, but also SQL, Oracle, Web Services, XML, ...), and render it however you see fit. And let's face it, anything that makes you like SharePoint Designer a lot more is always going to be a good thing!
Data View/Form Web Part to the Rescue! - Sharing is Caring
Command Index « SharePoint Automation
i Rate This Create a regular number field (or currency field) called TOTAL PROFIT (or any other name you want) in that list.Using SharePoint Designer create a workflow for your list that runs when list items are created and when list items are changed.The workflow will have only one step name it something like set TOTAL PROFIT.Leave the condition field blank.In the action section choose "Set field in the current item".Click on the word "field" and choose TOTAL PROFIT (the name of our column).Click on the word "value" and click on the "fx" button to do a lookup.Choose "Current Item" for the source.Choose "PROFIT" for the field. (This is the calculated column.)Click Finish.
Total Calculated Columns in SharePoint « SharePoint Knowledge Base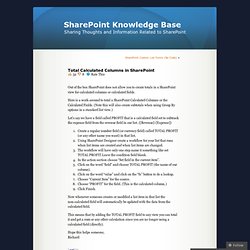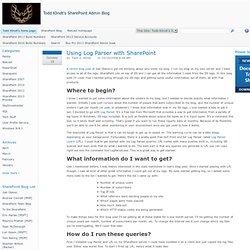 A recent blog post of Joel Oleson's got me thinking about who visits my blog. I run my blog on my own server and I have access to all of the logs. SharePoint sits on top of IIS and I can get all the information I need from the IIS logs. In this blog post I'll cover how I tackled going through my IIS logs and getting some useful information out of them, all with free products. I knew I wanted to get some information about the visitors to my blog, but I needed to decide exactly what information I wanted.
Using Log Parser with SharePoint - Todd Klindt's SharePoint Admin Blog
TS Web Access Step-by-Step Guide: Customizing TS Web Access by Using Windows SharePoint Services
Updated: February 23, 2008 Applies To: Windows Server 2008 Terminal Services Web Access (TS Web Access) is a role service in the Windows Server® 2008 operating system that enables users to access RemoteApp™ programs or the full terminal server desktop from a Web site. By default, the TS Web Access Web site enables you to point to a single terminal server or to a single terminal server farm to populate the list of RemoteApp programs that appear on the site.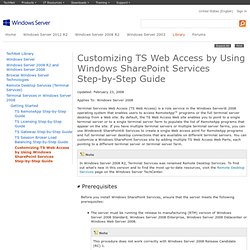 Stump the Panel: SharePoint Q&A • Index page
SUGDC is a not-for-profit... organization dedicated to providing education and informational resources for Microsoft SharePoint and its related technologies. Click here for meeting schedule... SUGDC was started in November 2005 as forum for all persons involved in SharePoint, and has grown to over 1500 members.
SharePoint Users Group of DC > Home
SharePoint Blues
Ayman El-Hattab's SharePoint Corner
SharePointHint – A community-built collection of SharePoint hints
Three years ago, I published a post to clarify how scripts (and Web content in general) could be added to a page via a Web Part. It was SP 2010 at that time, and the main contenders were the Content Editor Web Part (CEWP) and the HTML Form Web Part. I concluded the post with a small note about the Page Viewer Web Part (PVWP). It's about time I explain what I meant… Note: this article focuses on Web Parts. There are of course other ways to include html, stylesheets or scripts in a SharePoint page!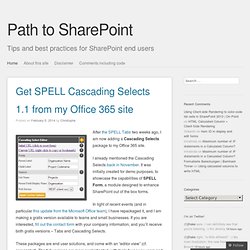 SharePoint Briefing - SharePoint for IT and Developers - www.sharepointbriefing.com
UK SharePoint Team : SharePoint and Records Management: Part 1 of 4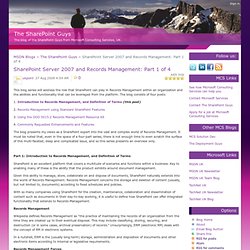 This blog series will address the role that SharePoint can play in Records Management within an organization and the abilities and functionality that can be leveraged from the platform. The blog consists of four posts: 1. Introduction to Records Management, and Definition of Terms (this post)
Use your existing skills to build apps and take advantage of familiar tools, languages, and hosting services. You can use any language, such as HTML, JavaScript, PHP, or .NET, and you can use your favorite web development tools, including Visual Studio, and a new web-based tool, "Napa" Office 365 Development Tools. Use any hosting services to run and deploy your app. You can connect your app with just about any internal or public web services. Take advantage of the new OAuth 2.0 support in SharePoint, and use the REST and JavaScript and .NET client APIs to integrate and connect your app with SharePoint. Deploy, update, and maintain your apps faster in the cloud.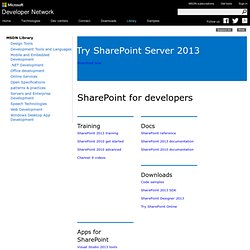 Public SharePoint Sites – My Favorite 5 - Sharing The Point (SharePoint)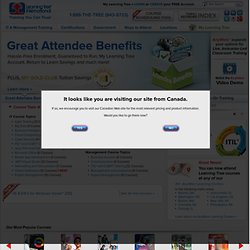 Learning Tree - Resource Library
Great News! You can now attend Learning Tree courses at any of our 40+ AnyWare Learning Centers In the following metro areas: Learn about our AnyWare Learning Centers »
Discovery Wizard for Sharepoint Freeware
SharePoint 2007 CSS Reference Chart
See also: » SharePoint 2007 Design Articles and Info The following CSS reference guide highlights the major styles used in MOSS and WSS v3 sites. The guide is organized by area of the page and include the style name, function, CSS file name and approximate line number and a sample screenshot of the style location on the screen. Additionally, there is a "Copy to Clipboard" function that will copy the source code for the style to your client machine's clipboard for use in your own CSS file.
Recently one of my clients had a requirement to go into Edit mode of a sharepoint page using a manual link displayed in quick launch. He was lazy of going to Site Actions -> Edit Page and then again going somewhere else for Exit Edit Mode :) To give some background for beginners, whenever we click Edit Page on Site Actions menu,the pages switches into a different display mode called Design Mode. Its not a feature ofSharepoint, but ASP.NET 2.0 Webparts Framework.
Code, Articles, Discussion on Microsoft Technologies : Switch the sharepoint webpart page Display Mode into Edit Mode and Vice Versa
I'm a big fan of host-named site collections. There are a couple of extra things you need to be aware of when using them, but they allow you to scale your farm to greater size, while allowing your sites to be relocated (with no impact to users or links anywhere - you can even shift an internal site to the cloud!). This is a rip from the relevant page in Microsoft's site... captured here for my own benefit. In this article: Microsoft SharePoint Server 2010 supports both path-based and host-named site collections. The primary difference between path-based and host-named site collections is that all path-based site collections in a Web application share the same host name (DNS name), and each host-named site collection in a Web application is assigned a unique DNS name.
SharePoint Spot
Point2Share : SharePoint and Querystrings
SharePoint Notes
Update a Web application URL and IIS bindings (Windows SharePoint Services)
WSSv3 FAQ - Databases: How do I move WSS 3.0 for "Windows...
Stsadm command-line tool (Office SharePoint Server)
Technical reference for Office SharePoint Server 2007
Forums
Bamboo Solutions - Web Parts and Solutions for Microsoft® SharePoint®
Microsoft FrontPage Developers Kit
PPT7: .pps Files Fail to Start in Slide Show
Copying or moving SharePoint document libraries - Windows SharePoint Services - Microsoft Office Online