Sharepoint
If you read my last post, Creating Audiences via STSADM , then you know that I've been working on a project which requires me to be able to script out the creation of audiences via STSADM.
Assigning Rules to Audiences via STSADM « SharePoint Automation
sharepoint-sandbox.com
SharePoint - Stack Exchange
XSLT get email address from person field - SharePointEduTech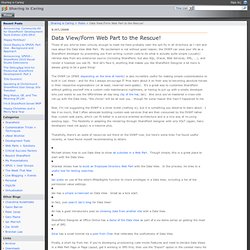 Those of you who've been unlucky enough to meet me have probably seen the spit fly in all directions as I rant and rave about the Data View Web Part. My excitement is not without good reason; the DVWP can save your life as a SharePoint developer by preventing you from writing custom code to do what is actually quite simple (usually): retrieve data from any enterprise source (including SharePoint, but also SQL, Oracle, Web Services, XML, ...), and render it however you see fit. And let's face it, anything that makes you like SharePoint Designer a lot more is always going to be a good thing!
Data View/Form Web Part to the Rescue! - Sharing is Caring
Command Index « SharePoint Automation
Total Calculated Columns in SharePoint « SharePoint Knowledge Base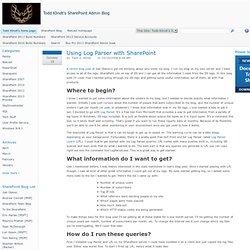 A recent blog post of Joel Oleson's got me thinking about who visits my blog.
Using Log Parser with SharePoint - Todd Klindt's SharePoint Admin Blog
TS Web Access Step-by-Step Guide: Customizing TS Web Access by Using Windows SharePoint Services
Terminal Services Web Access (TS Web Access) is a role service in the Windows Server® 2008 operating system that enables users to access RemoteApp™ programs or the full terminal server desktop from a Web site.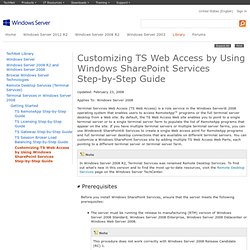 Stump the Panel: SharePoint Q&A • Index page
SharePoint Users Group of DC > Home
SharePoint Blues
Ayman El-Hattab's SharePoint Corner
SharePointHint – A community-built collection of SharePoint hints
SharePoint Briefing - SharePoint for IT and Developers - www.sharepointbriefing.com
UK SharePoint Team : SharePoint and Records Management: Part 1 of 4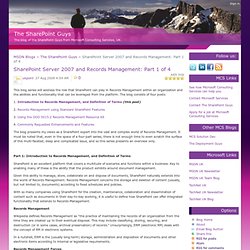 This blog series will address the role that SharePoint can play in Records Management within an organization and the abilities and functionality that can be leveraged from the platform.
Overview
Pages and User Interface Resource Center for Windows SharePoint Services | 3.0, developer, sites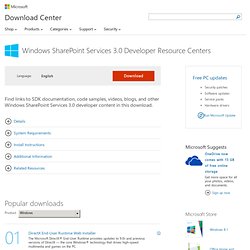 Provisioning Resource Center
Public SharePoint Sites – My Favorite 5 - Sharing The Point (SharePoint)
Learning Tree - Resource Library
Discovery Wizard for Sharepoint Freeware
SharePoint 2007 CSS Reference Chart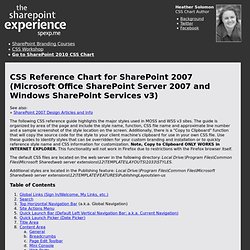 See also: » SharePoint 2007 Design Articles and Info
Recently one of my clients had a requirement to go into Edit mode of a sharepoint page using a manual link displayed in quick launch.
Code, Articles, Discussion on Microsoft Technologies : Switch the sharepoint webpart page Display Mode into Edit Mode and Vice Versa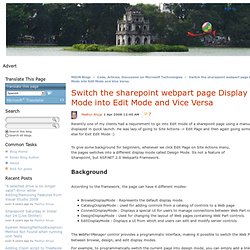 SharePoint Spot
Point2Share : SharePoint and Querystrings
Recently did a little bit of playing with querystrings (at the end of the URL, that is after the .aspx, put a '?'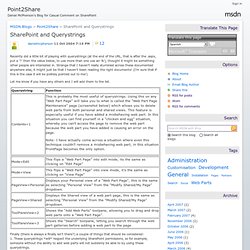 SharePoint Notes
Updated: 2009-04-23 In this article: After you have extended a Web application into a zone with a set of IIS bindings and alternate access mapping URLs, you might decide that you want to use a different URL to reach the Web application.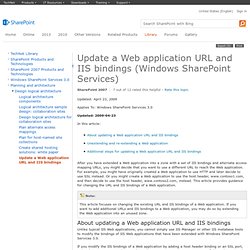 Update a Web application URL and IIS bindings (Windows SharePoint Services)
DC
WSSv3 FAQ - Databases: How do I move WSS 3.0 for "Windows...
Updated: 2006-12-01 In this article:
Stsadm command-line tool (Office SharePoint Server)
Technical reference for Office SharePoint Server 2007
Published: July 16, 2012 Summary: Technical reference articles provide information about Windows PowerShell for SharePoint 2013 and other useful reference information about general settings, security, and tools. Applies to: SharePoint Foundation 2013 | SharePoint Server 2013
Forums
Bamboo Solutions - Web Parts and Solutions for Microsoft® SharePoint®
Microsoft FrontPage Developers Kit
If you double-click a PowerPoint presentation file with a .pps extension, it may start PowerPoint in Slide view, instead of automatically starting the slide show. An incorrect Registry key written by PowerPoint 95a activates the OLE verb Edit, rather than the OLE verb Show.
PPT7: .pps Files Fail to Start in Slide Show
From time to time, you might need to copy or move the contents of document libraries from one site based on Microsoft Windows SharePoint Services to another.
Copying or moving SharePoint document libraries - Windows SharePoint Services - Microsoft Office Online