Community
In a previous mobile blog post, we briefly introduced our supported mobility scenarios in Office 2010. Those mobility functions rely on support from SharePoint 2010 mobility. Today's post describes how to setup your SharePoint server environment so you can take advantage of mobile access.
Blogs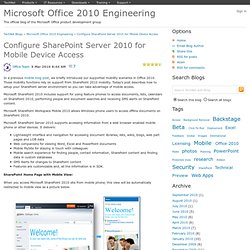 Home - The SharePoint User's Toolkit
Blogs
SharePoint..what else?
SharePoint Team Blog
Watch Our Product Demonstration Social Squared is a replacement for the SharePoint Out-of-the-Box discussion list. The SharePoint discussion list does not provide what is now expected from an internet based forum. Social Squared provides a powerful fully featured forum tool within SharePoint. Social Squared is easily branded to suit your environment and stores its content in a Microsoft SQL database to provide ultimate performance when your organization needs a Forum tool capable of handling thousands of users and posts. Creating posts is easy and powerful.
Communities for SharePoint - Social Squared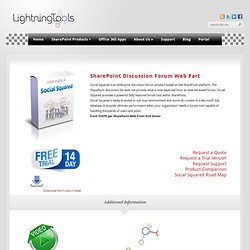 Communities: Space: SharePoint for All