Codeplex
The SPXSLT Codeplex Project – New XSL Templates « Marc D Anderso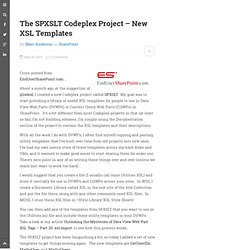 Cross-posted from EndUserSharePoint.com… About a month ago, at the suggestion of @iwkid, I created a new Codeplex project called SPXSLT. My goal was to start providing a library of useful XSL templates for people to use in Data View Web Parts (DVWPs) or Content Query Web Parts (CQWPs) in SharePoint. It's a bit different from most Codeplex projects in that (at least so far), I'm not building releases. I'm simply using the Documentation section of the project to contain the XSL templates and their descriptions. With all the work I do with DVWPs, I often find myself copying and pasting utility templates that I've built over time from old projects into new ones.
Sharepoint - Query Based Lookup Field Control
CodePlexProject Hosting for Open Source Software SharePoint Cascading Drop Down List (With Filter) Field Type UPDATE: New release uploaded (Nov 20, 2009). The release contains fixes for deployment related errors. Project DescriptionThis project is an extension of the cascading dropdown field type created by DataCogs and further enhanced by Patrick Tisseghem.DataCogs Solution Page:http://datacogs.com/datablogs/archive/2007/08/26/641.aspxPatrick Tisseghem's Page:http://blog.12thwave.com/?p=7Additional features included in this project include:- 'Required Field' validation bug fixed- Added a 'Please Select an Item' entry as the first item in each dropdown.- Functionality to filter items after databinding.Please visit my blog for additional information and configuration instructions:http://sharepointsircar.blogspot.com/2009/02/cascading-dropdownlist-custom-field.htmlYour reviews/feedback would be appreciated!
SharePoint Cascading Drop Down List (With Filter) Field Type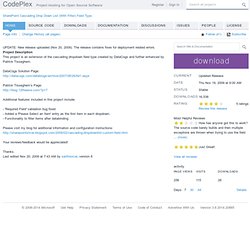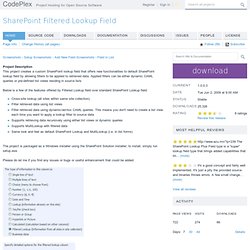 SharePoint Filtered Lookup Field
Screenshots - SetupScreenshots - Add New FieldScreenshots - Field in List Project DescriptionThis project creates a custom SharePoint lookup field that offers new functionalities to default SharePoint lookup field by allowing filters to be applied to retrieved data. Applied filters can be either dynamic CAML queries or pre-defined list views residing in source lists Below is a few of the features offered by Filtered Lookup field over standard SharePoint Lookup field: Cross-site lookup (all sites within same site collection)Filter retrieved data using list viewsFilter retrieved data using dynamic/ad-hoc CAML queries.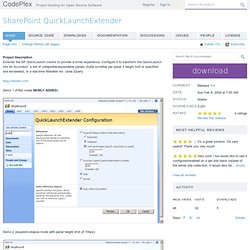 SharePoint QuickLaunchExtender
Project DescriptionExtends the SP QuickLaunch control to provide a richer experience. Configure it to transform the QuickLaunch into an Accordion, a set of collapsible/expandable panels (Adds scrollbar per panel if height limit is specified and exceeded), or a real-time filterable list. Uses jQuery blog.vossers.com Demo 1 (Filter mode NEWLY ADDED):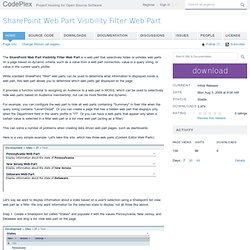 SharePoint Web Part Visibility Filter Web Part
The SharePoint Web Part Visibility Filter Web Part is a web part that selectively hides or unhides web parts on a page based on dynamic criteria, such as a value from a web part connection, value in a query string, or value in the current user's profile. While standard SharePoint "filter" web parts can be used to determine what information is displayed inside a web part, this web part allows you to determine which web parts get displayed on the page. It provides a function similar to assigning an Audience to a web part in MOSS, which can be used to selectively hide web parts based on Audience membership, but can be more flexible and dynamic. For example, you can configure the web part to hide all web parts containing "Summary" in their title when the query string contains "Level=Detail". Or you can create a page that has a hidden web part that displays only when the Department field in the user's profile is "IT".
The Ajax Control Toolkit contains a rich set of controls that you can use to build highly responsive and interactive Ajax-enabled Web applications. The Ajax Control Toolkit contains more than 40 controls, including the AutoComplete, CollapsiblePanel, ColorPicker, MaskedEdit, Calendar, Accordion, HTML Editor Extender, and Watermark controls. Using the Ajax Control Toolkit, you can build Ajax-enabled ASP.NET Web Forms applications by dragging-and-dropping Toolkit controls from the Visual Studio Toolbox onto an ASP.NET Web Forms page. The latest release of the AJAX Control Toolkit is December 2013!
AJAX Control Toolkit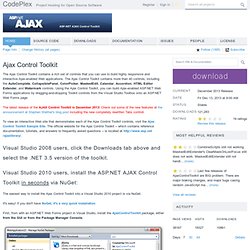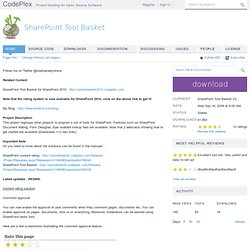 Follow me on Twitter @stephaneeyskens Related Content SharePoint Tool Basket for SharePoint 2010 : http://sptoolbasket2010.codeplex.com. Note that the rating system is now available for SharePoint 2010, click on the above link to get it! My Blog : http://www.silver-it.com/blog
SharePoint Tool Basket
Straight from Microsoft, the Silverlight Toolkit provides the developer community with new components, functionality, and an efficient way to help shape product development. Toolkit releases include open source code, samples & docs, plus design-time support for the Silverlight browser plugin. Windows Phone Toolkit – Starting October 30th 2012 – Windows Phone toolkit will have a new home under http://phone.codeplex.com to better manage Windows Phone specific codebase and issues. Silverlight Toolkit December 2011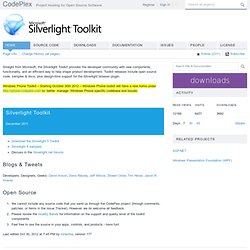 Silverlight Toolkit
The SmartTools for SharePoint project is a collection of SharePoint extensions to make your life as a SharePoint user, developer or administrator a little bit easier! Available extensions: What's New: a customizable web part that can display a list of recently added or changed items of a SharePoint site or site collectionAutocomplete Text Field: a field that allows users to pick items from a list by making use of an AJAX autocomplete text box.
SmartTools for SharePoint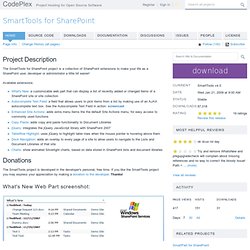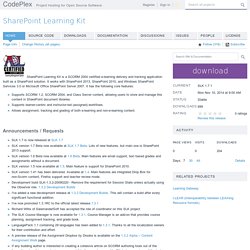 SharePoint Learning Kit
SharePoint Learning Kit is a SCORM 2004 certified e-learning delivery and tracking application built as a Windows SharePoint Services 3.0 solution. It works with either Windows SharePoint Services 3.0 or Microsoft Office SharePoint Server 2007, and has the following core features:Supports SCORM 1.2, SCORM 2004, and Class Server content, allowing users to store and manage this content in SharePoint document libraries.Supports learner-centric and instructor-led (assigned) workflows.Allows assignment, tracking and grading of both e-learning and non-e-learning content. Announcements / Requests SLK version 1.7 Beta now available at SLK 1.7 Beta.
Project Description SharePointListSearch filters data in SharePoint lists. It allows working with already filtered data and also filtering by the part of the word. DropDown menu with multiple filter is available in the product. Data sources usually contain hundreds and thousands of records; and the work with such data sources without filtering is continuous and inconvenient.
SharePointListSearch filter
SharePoint Branding Tool (Themes, Master pages, Site Logos...)
CodePlexProject Hosting for Open Source Software SharePoint Branding Tool (Themes, Master pages, Site Logos...) Project DescriptionAim:To have a tool that can help ease up the effort required to manually change branding on multiple sites.Functionality:This tool can be used modify the following for multiple sites:* Themes * CustomMasterUrl/MasterUrl (Master Page) * CSS and SiteImage Paths* ...and moreFor more information and Screen ShotsVersion 1.5.1http://sharepointsix.blogspot.com/2008/03/microsoft-sharepoint-2007-sharepoint.htmlVersion 1.6.0/1.6.3http://sharepointsix.blogspot.com/2008/03/microsoft-sharepoint-2007-sharepoint_24.htmlVersion 1.7.0http://sharepointsix.blogspot.com/2008/06/microsoft-sharepoint-2007-sharepoint.htmlInstructionsSee Release Notes:http://brandingtool.codeplex.com/Release/ProjectReleases.aspx?ReleaseId=14392