Session Occ - Project Management
Session Management de projet du 19 Mai 2011

Join in pour partager vos outils favoris

Merci de ne pas modifier la structure rlhez May 12
Get flash to fully experience Pearltrees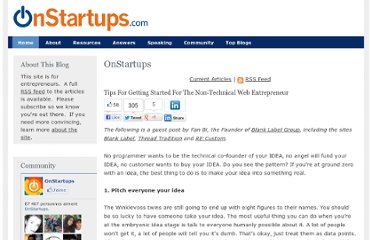 Tips For Getting Started For The Non-Technical Web Entrepreneur The following is a guest post by Fan Bi, the Founder of Blank Label Group , including the sites Blank Label , Thread Tradition and RE:Custom .
It's a known fact that seed capital is very scarce in Italy. Entrepreneurs, which by definition are stubborn entities are therefore finding creative and cheap ways to bootstrap their startups. Tipsandtrip was born from an idea of social media consultant Juliette Bellavita and Blogo.it CEO Marco Magnocavallo .
Gamification, the practice of adding game-like mechanics to non-game applications to improve engagement, is going through a hype cycle.
Even if you're not quite ready to show the public your product, you can still create a good website and a solid online presence for your startup.
Services utilisés par le site Web