Session Occ - Project Management
Session Management de projet du 19 Mai 2011

Join in pour partager vos outils favoris

Merci de ne pas modifier la structure
Pricing. Simple Installation No Commitment.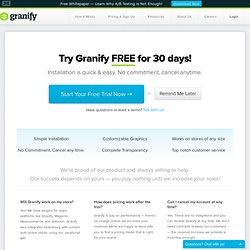 Cancel any time. Customizable Graphics Complete Transparency Works on stores of any size Top notch customer service We're proud of our product and always willing to help. Our success depends on yours — you pay nothing until we increase your sales! Beautiful live chat software pricing for sales and support. In-browser Chat Our in-browser Olark chat makes connecting with your customer as easy as launching a browser!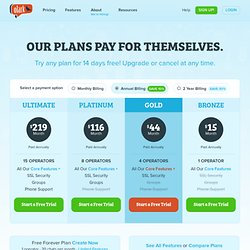 You can also connect using your favorite IM client. Tips For Getting Started For The Non-Technical Web Entrepreneur. Some good tips, but two comments.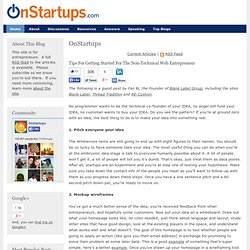 First when you write for entrepreneurs, loose the buzz words like "Wireframes"? Perspective means knowing who your audience and speaking to that level. Second, with regard to your advice about sites like oDesk for design, sites like thoes devalue professional creatives. Entreprenuers don't simply need design, they need professional consulation that goes along with creating a brand. If you are serious, do it right from the beginning. The seven tricks everyone can learn from game designers. Gamification, the practice of adding game-like mechanics to non-game applications to improve engagement, is going through a hype cycle.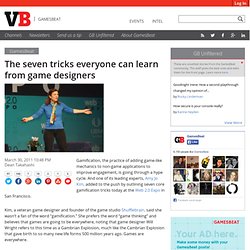 And one of its leading experts, Amy Jo Kim, added to the push by outlining seven core gamification tricks today at the Web 2.0 Expo in San Francisco. Kim, a veteran game designer and founder of the game studio Shufflebrain, said she wasn't a fan of the word "gamification." She prefers the word "game thinking" and believes that games are going to be everywhere, noting that game designer Will Wright refers to this time as a Gambrian Explosion, much like the Cambrian Explosion that gave birth to so many new life forms 500 million years ago. Getting Your Startup Website Ready, Pre-Launch. Even if you're not quite ready to show the public your product, you can still create a good website and a solid online presence for your startup.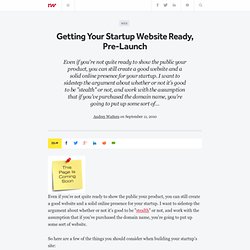 I want to sidestep the argument about whether or not it's good to be "stealth" or not, and work with the assumption that if you've purchased the domain name, you're going to put up some sort of website. So here are a few of the things you should consider when building your startup's site: 1. Your Product Needs to be 10x Better than the Competition to Win. Here's Why: Last night I had the great privilege to interview Bill Gross, one of the Internet's true pioneers.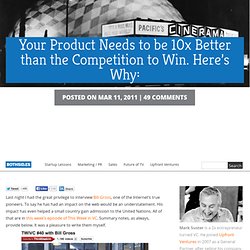 To say he has had an impact on the web would be an understatement. His impact has even helped a small country gain admission to the United Nations. All of that are in this week's episode of This Week in VC.
---