Series
Threadless on the Behance Network. 25 Cartoons You Never Knew Were Voiced By Celebrities: Pics, Videos, Links, News. Dear Photograph. DEAR BLANK, PLEASE BLANK - Pìcame – Visual arts smugglers. Un progetto ironico e geniale di Jared Wunsch e Hans Johnson.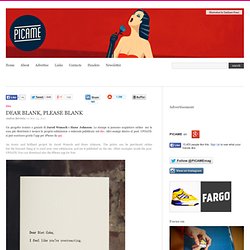 Le stampe si possono acquistare online ma la cosa più divertente è inviare le proprie submission e vedersele pubblicate sul sito. Altri esempi dentro al post. UPDATE: si può scaricare gratis l'app per iPhone da qui. An ironic and brilliant project by Jared Wunsch and Hans Johnson. The prints can be purchased online but the funniest thing is to send your own submission and see it published on the site. Gallery of Light calligraphy - No Photoshop on Photography Served. Couples on Photography Served. The Meta Picture - Part 9. Photos: Chile's Puyehue volcano. Lightning is seen amid a cloud of ash billowing from Puyehue volcano near Osorno in southern Chile, 870 km south of Santiago, on June 5, 2011.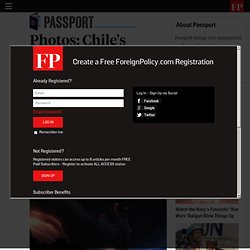 Puyehue volcano erupted for the first time in half a century on June 4, 2011, prompting evacuations for 3,500 people as it sent a cloud of ash that reached Argentina. The National Service of Geology and Mining said the explosion that sparked the eruption also produced a column of gas 10 kilometers (six miles) high, hours after warning of strong seismic activity in the area. More info here. CLAUDIO SANTANA/AFP/Getty Images. Set of Musical Glasses. Real Life Disney Princesses. It's the childhood dream of many girls to become a Disney princess… and now photographer Ryan Astamendi is giving a few grown women the chance.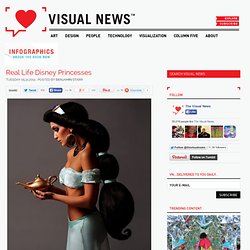 His series of surprisingly accurate photographs puts models into pitch perfect costume, makeup and hair to create what looks like the movie screen come to life. As you will see in the photographs below, the models vary in their real-life likeness to the characters, proving that Astamendi is skillful at creating the look he desires. See Also CHINA'S FAKE DISNEYLAND: THE PARK THAT NEVER WAS Astamendi says of the sleeping beauty photo shoot, "I put between 30 and 40 hours of work into this, which seems to be the norm for these Disney character projects." What really surprised him about the project? Making buildings in foamboard. Miniature building construction in foamboard by Emmanuel Nouaillier Emmanuel Nouaillier shows how to scratch build and age miniature structures.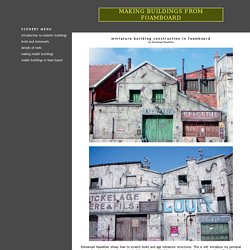 This is will introduce my personal approach and techniques for scratch building and ageing buildings, pertaining to the typical northern French urban landscape of the 1940s and early 50s. 59 Amazing Street Art collected by @themadray | Designerscouch #thecritiquenetwork. Stockholm Metro. 100 Striking Examples Of Conceptual Photography. Best Cosplay Ever (This Week) - 06.06.11. Although cosplay has been present for decades within the comics, anime, and sci-fi/fantasy fandoms, social media has played an integral role in the thriving community of costuming that exists today and cosplay communities such as Cosplay.com and the Superhero Costuming Forum.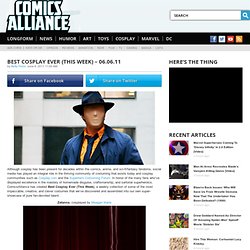 In honor of the many fans who've displayed excellence in the mastery of homemade disguise, craftsmanship, and sartorial superheroics, ComicsAlliance has created Best Cosplay Ever (This Week), a weekly collection of some of the most impeccable, creative, and clever costumes that we've discovered and assembled into our own super-showcase of pure fan-devoted talent.
Zatanna, cosplayed by Meagan Marie. An Honourable Photoshop Master- BaoJun Yuan. Crystal River - The most beautiful river on earth [Pics] Cano Cristales - Crystal River.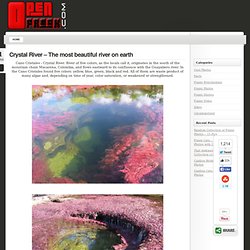 River of five colors, as the locals call it, originates in the south of the mountain chain Macarena, Colombia, and flows eastward to its confluence with the Guayabero river. In the Cano Cristales found five colors: yellow, blue, green, black and red. 30 Awesomely Nerdy Costumes From Halloween 2010 (Page 3) 32 Pictures You Need To See Before You Die: Pics, Videos, Links, News.
BACK TO THE FUTURE : Irina Werning - Photographer. I love old photos.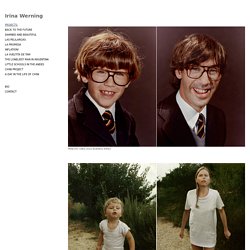 I admit being a nosey photographer. As soon as I step into someone else's house, I start sniffing for them. Most of us are fascinated by their retro look but to me, it's imagining how people would feel and look like if they were to reenact them today… Two years ago, I decided to actually do this. Drowning Beautiful | Crazy Illustrations By Chow Hon Lam. Early 1900s in Colour - All around the world.
All around the world - Franny Wentzel - Thursday, May 6th, 2010 : goo [previous] :: [next] In the early part of the 20th century French-Jewish capitalist Albert Kahn set about to collect a photographic record of the world, the images were held in an 'Archive of the Planet'.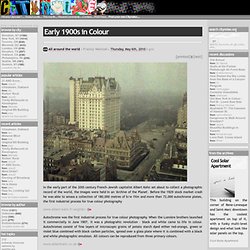 Before the 1929 stock market crash he was able to amass a collection of 180,000 metres of b/w film and more than 72,000 autochrome plates, the first industrial process for true colour photography. Fotók Budapestről - Régen és most (77 kép) [Fényképezte: Kerényi Zoltán] - Azt adom! The Girl Who Loves to Levitate (14 photos) Natsumi Hayashi is a sweet-looking Japanese girl who, one day, decided to take self-portraits..of herself levitating.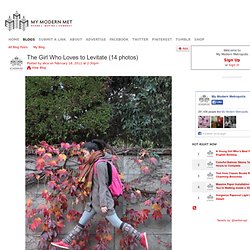 She can be spotted in and around Tokyo, equipped with her SLR and her self-timer. When she feels the moment strike, she presses the shutter button down and then, quite literally, "jumps" into place. What I love most about her shots is that they don't feel forced. Natsumi has a way of making us feel as though she naturally levitates throughout life. When I asked her how others react to her jumping around Tokyo, here is a funny story that she shared. Skeleton Squadron « Ancient Shore. La Galerie de paléontologie et d'anatomie comparée, Part 1 The Gallery of Comparative Anatomy, as seen from near the entrance ...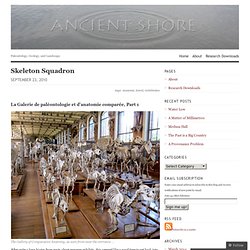 After quite a long hiatus from posts about museum exhibits, this seemed like a good time to get back into the subject. We have visited some strange and wondrous museums in the past few months, but the strangest and most wondrous of all has to be this old museum close to the Gare d'Austerlitz in Paris. ... and from above. The Galerie de paléontologie et d'anatomie comparée opened for the 1900 Paris world's fair, as did many other exhibit venues.
Your beautiful eyes on Photography Served. 10 Best Ad Campaigns "Life's too short for the wrong job". Novartis "Reflections" Campaign on Photography Served. The year 2000 as envisioned in the year 1910. Old Garage turned Mini Dream Home! | Hello there! It's been a busy week with a trip to Seattle for the Picasso exhibition and a drive out to the coast but I knew I had to share this amazing remodel with you before the week came to a close. Everyone loves good makeovers and the ones involving tiny spaces, creative design and ingenious solutions are my all time favorites!
---