Tools
20 plugins Firefox indispensables aux référenceurs - Florian Karmen - Florian Karmen.
Firefox
Text To Code Ratio :: Website Development and SEO. It is important to build optimised web sites, not just on the back end, but on the front end too.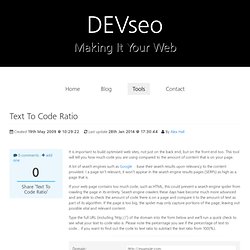 This tool will tell you how much code you are using compared to the amount of content that is on your page. A lot of search engines such as Google base their search results upon relevancy to the content provided. I a page isn't relevant, it won't appear in the search engine results pages (SERPs) as high as a page that is. Copyscape Plagiarism Checker - Duplicate Content Detection Software.
PageRank
Free Webmaster Tools. WooRank.
---