Tools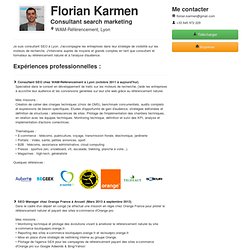 Spécialisé dans le conseil en développement de trafic sur les moteurs de recherche, j'aide les entreprises à accroître leur audience et les conversions générées sur leur site web grâce au référencement naturel. Mes missions : Création de cahier des charges techniques (choix de CMS), benchmark concurrentiels, audits complets et expressions de besoin spécifiques. Etudes d'opportunité de gain d'audience, stratégies éditoriales et définition de structures / arborescences de sites. Pilotage de l'implémentation des chantiers techniques, en relation avec les équipes techniques. Monitoring technique, définition et suivi des KPI, analyse et implémentation d'actions correctrices.
It is important to build optimised web sites, not just on the back end, but on the front end too. This tool will tell you how much code you are using compared to the amount of content that is on your page. A lot of search engines such as Google base their search results upon relevancy to the content provided. I a page isn't relevant, it won't appear in the search engine results pages (SERPs) as high as a page that is.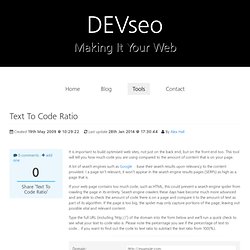 Text To Code Ratio :: Website Development and SEO
All fields are mandatory Invalid email address All fields are mandatory Forgot your password? Don't have an account?