Tools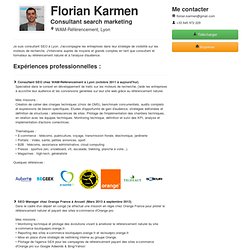 Spécialisé dans le conseil en développement de trafic sur les moteurs de recherche, j'aide les entreprises à accroître leur audience et les conversions générées sur leur site web grâce au référencement naturel. Mes missions : Création de cahier des charges techniques (choix de CMS), benchmark concurrentiels, audits complets et expressions de besoin spécifiques. Etudes d'opportunité de gain d'audience, stratégies éditoriales et définition de structures / arborescences de sites. Pilotage de l'implémentation des chantiers techniques, en relation avec les équipes techniques. Monitoring technique, définition et suivi des KPI, analyse et implémentation d'actions correctrices.
Text To Code Ratio :: Website Development and SEO
All fields are mandatory Invalid email address All fields are mandatory Forgot your password? Don't have an account?