SEO
Lorsque je pratique l'audit d'un site, je suis souvent confronté au problème de cannibalisation de mots-clés entre deux pages d'un même site. Comment, les pages web sont cannibales ? Oui ! Parmi les premières recommandations d'audit que mes clients détestent, il y a souvent une mise à plat de l'objectif de positionnement par page. C'est long, mais basique, évite la cannibalisation des mots-clés entre pages, et surtout cela va permettre de clarifier ses objectifs et de créer une feuille de route de netlinking à long terme.
Cannibalisation de pages web : cas pratique SEO » Blog Axe-Net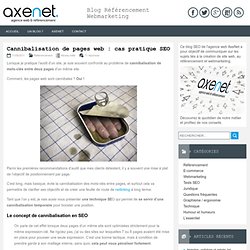 Méthodologie de positionnement de site web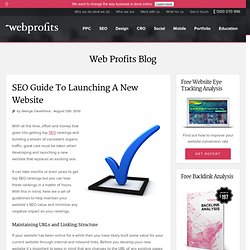 by George Cleanthous, August 12th, 2010 With all the time, effort and money that goes into getting top SEO rankings and building a stream of consistent organic traffic, great care must be taken when developing and launching a new website that replaces an existing one. It can take months or even years to get top SEO rankings but you can lose these rankings in a matter of hours.
SEO Guide To Launching A New Website
You hear the term all the time, but how do you actually rank higher in the search engines? I know when I first heard the term, it sounded like some voodoo magic that only a few people understood how to use. The reality is, SEO isn't rocket science. Some gurus would have you believe it takes years of dedicated study to understand it, but I don't think that's true. Sure, mastering the subtle nuances takes time, but the truth is that you can learn the fundamentals in just a few minutes. So, I got to thinking, "Why don't I lay out the basics, all in one post?"
SEO: A Comprehensive Guide for Beginners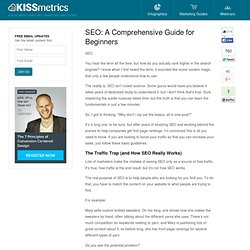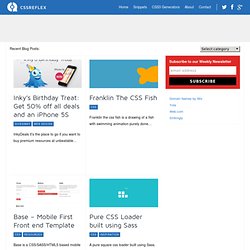 In this post you will find a huge list of Free SEO (Search Engine Optimization) Web Tools and Softwares for SEO Specialist and Web developers. This roundup of SEO Web Tools should help speed up the SEO process of a website . I hope these essential SEO Web Tools which will come in handy. Please feel free to suggest some of the Web tools or softwares I did not mention.
130+ Free SEO Web Tools and Search Engine Optimization | CSSRefl
How To Use The Best Keywords To Dominate Your Niche | BloggingPr
Written by Robyn-Dale Samuda in In addition to traffic generated from marketing through social media sites and community building activities such as guest blogging, blog commenting and blog contests, etc., we should always remember that search engines are not abolished and still provide a rich source of traffic as long as your blog is properly optimized and continuously produces content that is useful and keyword rich. Search Engine Optimization was once a topic only the experts would talk about and hiring an SEO professional was the only option for most businesses aspiring to venture online. This is no longer the case and below I will show you some simple SEO techniques as well as the importance of using the right keywords when marketing your blog. Your Targeted Keywords Should Represent Your Blog's Services & Goals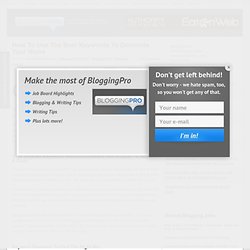 Guide-Webmaster: guide et outils pour reussir votre site web
Actualités référencement: Blog de référencement gratuit et SEO,
Strongest Links - Directory list
Blog conseils en creation et referencement site sur Google gratu
Référencement organique, SEO | Rank My Day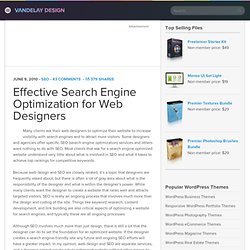 Published in SEO Many clients ask their web designers to optimize their website to increase visibility with search engines and to attract more visitors. Some designers and agencies offer specific SEO (search engine optimization) services and others want nothing to do with SEO. Most clients that ask for a search engine optimized website understand very little about what is involved in SEO and what it takes to achieve top rankings for competitive keywords. Because web design and SEO are closely related, it's a topic that designers are frequently asked about, but there is often a lot of gray area about what is the responsibility of the designer and what is within the designer's power. While many clients want the designer to create a website that ranks well and attracts targeted visitors, SEO is really an ongoing process that involves much more than the design and coding of the site.
Effective Search Engine Optimization for Web Designers | Vandela
I've been reading Matt McGee's Small Business SEM blog with greater frequency in recent months and recommend that other small business owners invest a few hours to take a look as well. In addition to some great posts on practical search engine optimization strategies for small businesses, Matt usually recaps the search engine related conferences that he is in attendance for (I actually found the Small Business SEM site while browsing Flickr for SES NY conference photos). His recent post, " How to SEO Your Site in Less Than 60 Minutes " gives website owners a nice checklist of things to look for when evaluating the "SEO Quality" of their website (or they're competitors). I'm frequently asked to evaluate a website owner's strategy for search engine optimization or asked comparable SEO related questions from small business owners that I meet on a regular basis.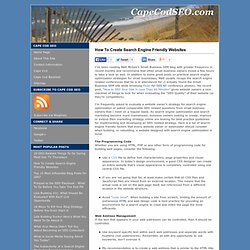 How To Create Search Engine Friendly Websites | Cape Cod SEO
W3C Validation & SEO - Yoast - Tweaking Websites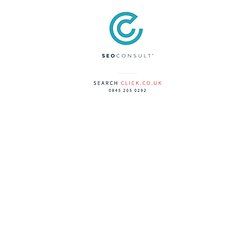 Are You Focusing Your SEO Efforts On Rankings? | SEO Consult - C
If you are running an online business, you are aware of the great importance of good rankings in the search results. Being ranked highly in the search results provided by a search engine such as Google can be hugely beneficial in many ways. If your website is ranked in a top spot for relevant keywords and search terms you will enjoy a massive amount of exposure and a great deal of relevant traffic visiting your web pages. The more internet users aware of your business and being directed to your website, the greater the potential for an increase in sales and this is a primary objective for all online businesses. It is undeniable that rankings play a significant role in online business and therefore are of significance when running a search engine optimisation campaign. There are numerous SEO techniques which can benefit a company in terms of their rankings in the search results.
Search engine optimization is a complex subject , especially when you consider all the information and misinformation readily available online. Unfortunately it's often hard to tell which is which. Does the latest tactic you're reading about work? Does it work for all sites?