Seo
There's a lot that you can do with an htaccess file, and of course, things can get pretty advanced in a hurry.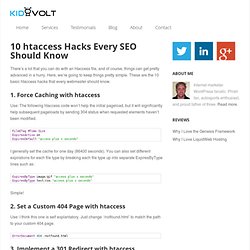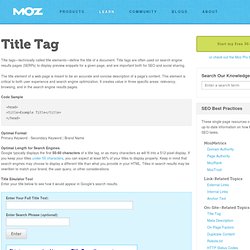 Title tags—technically called title elements—define the title of a document. They are required for all HTML/XHTML documents. Code Sample <head> <title>Example Title</title> </head> Optimal Format Primary Keyword - Secondary Keyword | Brand Name or Brand Name | Primary Keyword and Secondary Keyword
Creating a Sweet High Value Keyword List in 5 Minutes : SEO Book.com
One of the best SEO resouces around. by leighabaer Jan 7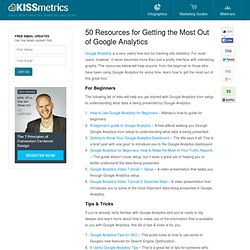 Google Analytics is a very useful free tool for tracking site statistics. For most users, however, it never becomes more than just a pretty interface with interesting graphs. The resources below will help anyone, from the beginner to those who have been using Google Analytics for some time, learn how to get the most out of this great tool.
We recently discussed the 15 Key Elements All Top Web Sites Should Have. This post focused on elements relating to design, content and development. This time, we'll move onto the important issue of Search Engine Optimization (SEO). SEO is such a hot topic these days. How do you get your web site within the first page or two of the search engines?
10 SEO Techniques All Top Web Sites Should Use | Freelance Folder | The Blog For Freelancers And Web-Workers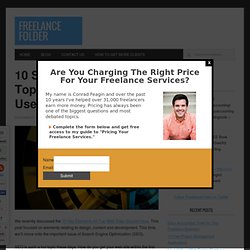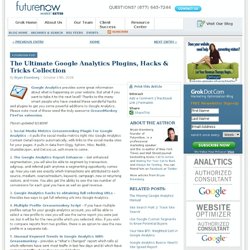 Google Analytics provides some great information about what is happening on your website. But what if you want to take it to the next level? Thanks to the many smart people who have created these wonderful hacks and plugins to get you some powerful additions to Google Analytics. Please note most of these need the truly awesome GreaseMonkey FireFox extension .
Google Analytics Plugins, Hacks and Tips Collection | FutureNow's GrokDotCom / Marketing Optimization Blog
The author's posts are entirely his or her own (excluding the unlikely event of hypnosis) and may not always reflect the views of Moz. Updated to Version 2.1: We've uploaded a brand new version of the PDF. It now includes best practices for pagination. It is my honor and privilege today to introduce the brand-new version of The Web Developer's SEO Cheat Sheet. This free and downloadable document covers all of the important SEO code and best practices that are needed by online marketers and developers. This is another one that comes into my Google Reader. Great information here! by leighabaer Jan 7
A quick word about Googlebombs
Co-written with Ryan Moulton and Kendra Carattini We wanted to give a quick update about "Googlebombs." By improving our analysis of the link structure of the web, Google has begun minimizing the impact of many Googlebombs. Now we will typically return commentary, discussions, and articles about the Googlebombs instead. The actual scale of this change is pretty small (there are under a hundred well-known Googlebombs), but if you'd like to get more details about this topic, read on.