Wireless Sensors
Exosite
Highly economical wireless EMG acquisition system using conventional disposable electrodes *Must be connected to the Shimmer platform to be operational
Wireless EMG Sensor
Wockets - home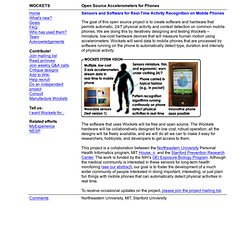 Sensors and Software for Real-Time Activity Recognition on Mobile Phones The goal of this open source project is to create software and hardware that permits automatic, 24/7 physical activity and context detection on common mobile phones. We are doing this by iteratively designing and testing Wockets -- miniature, low-cost hardware devices that will measure human motion using accelerometers. Wockets will send data to mobile phones that are processed by software running on the phone to automatically detect type, duration and intensity of physical activity.
Wockets: Open Source Accelerometers for Phones
wockets.wikispaces.com/file/view/Pi-Node.pdf
Eco Sensor Concept - Future concepts - Devices and accessories - Devices and services - Environment
AmmSensor AMG1 is a wireless (Bluetooth) tri-axial MEMS digital output inertial measurement unit (IMU), six degree-of-freedom (6DOF) module which provides three axis acceleration, angular rotations an
R. Rajamani, William Robbins Compartment Syndrome is a very serious complication that occurs in a cast due to swelling and can cause ischemia, necrosis and serious nerve injuries.
Initiatives in Digital Technology (DTI): 2005–06 Funded Proposals
Building Wireless Sensor Networks Starter Pack
Get ready to create distributed sensor systems and intelligent interactive devices using the ZigBee wireless networking protocol and Series 2 XBee radios. By the time you're halfway through this fast-paced, hands-on guide, you'll have built a series of useful projects, including a complete ZigBee wireless network that delivers remotely sensed data. Radio networking is creating revolutions in volcano monitoring, performance art, clean energy, and consumer electronics. As you follow the examples in each chapter, you'll learn how to tackle inspiring projects of your own. This practical guide is ideal for inventors, hackers, crafters, students, hobbyists, and scientists.