Semiotics
1. Section 1: Semiotics, Semiology, Sign and Saussure Lecture
8. Semiotics and Structuralism
Daniel Chandler Introduction If you go into a bookshop and ask them where to find a book on semiotics you are likely to meet with a blank look. Even worse, you might be asked to define what semiotics is - which would be a bit tricky if you were looking for a beginner's guide. It's worse still if you do know a bit about semiotics, because it can be hard to offer a simple definition which is of much use in the bookshop. If you've ever been in such a situation, you'll probably agree that it's wise not to ask.
Semiotics , also called semiotic studies and including (in the Saussurean tradition) semiology , is the study of signs and sign processes ( semiosis ), indication, designation, likeness, analogy , metaphor , symbolism , signification, and communication. Semiotics is closely related to the field of linguistics , which, for its part, studies the structure and meaning of language more specifically. However, as different from linguistics, semiotics studies also non-linguistic sign systems . Semiotics is often divided into three branches: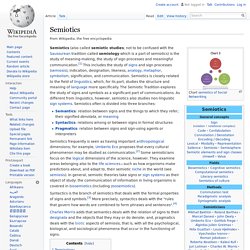 What is Semiotics Media Studies
Semiotics
Semiotics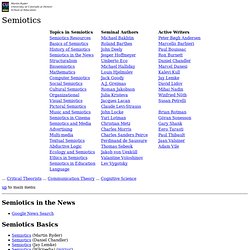 SSMS-Nack
You are here: Reports » Phase 1: media » Methods » Semiotics The saturation of images in our society through the media has been the cause of much critical comment within philosophy, politics and sociology. This examination of the image has been ongoing since the early twentieth century, as the consideration of how images are used has developed into a distinct discipline.
Semiotics - a method to study the media and how the abolition of slavery has been commemorated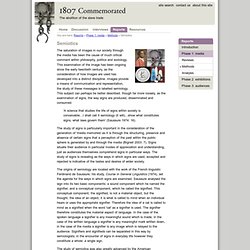 Semiotics - a method to study the media and how the abolition of slavery has been commemorated
Media Theory and Semiotics: Key Terms and Concepts Binary structures and semiotic square of oppositions Many systems of meaning are based on binary structures (masculine/ feminine; black/white; natural/artificial), two contrary conceptual categories that also entail or presuppose each other. Semiotic interpretation involves exposing the culturally arbitrary nature of this binary opposition and describing the deeper consequences of this structure throughout a culture. On the semiotic square and logical square of oppositions .
Media and Semiotic Theory: Key Terms and Concepts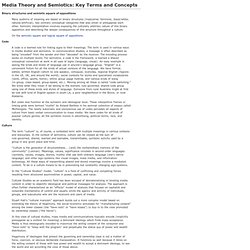 Readers of the Australian Journal of Cultural Studies shouldn't need convinc­ ing that there is a single enterprise that can be labelled "cultural studies" which has a fundamental coherence and importance, whether Australia is the object or only the unwary host of such a study. On the one hand the scope of this enter­ prise needs insisting on.
FUNCTIONAL SEMIOTICS: KEY CONCEPTS FOR THE ANALYSIS OF MEDIA, CULTURE AND SOCIETY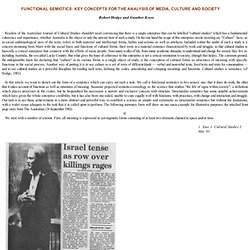 Semiotics (Documentary)