Theory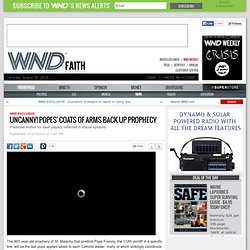 Text smaller Text bigger <object classid='clsid:D27CDB6E-AE6D-11cf-96B8-444553540000' id='ooyalaPlayer_40zxlxyzoannigfbptrnxsrv1nilcqxa' width='600' height='337' codebase='http://fpdownload.macromedia.com/get/flashplayer/current/swflash.cab'><param name='movie' value='http://player.ooyala.com/player.swf?embedCode=40ZXlxYzoAnNiGfbPTrNxsrV1nILCqXa&version=2' /><param name='bgcolor' value='#000000' /><param name='allowScriptAccess' value='always' /><param name='allowFullScreen' value='true' /><param name='wmode' value='opaque' /><param name='flashvars' value='embedType=noscriptObjectTag&embedCode=###VID###' /><embed src='http://player.ooyala.com/player.swf?
Uncanny! Popes' coats of arms back up prophecy
Off-the-shelf Red Cross preparedness kit .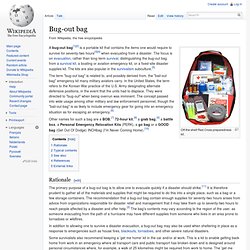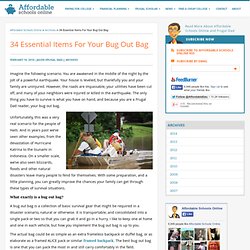 Imagine the following scenario.
Bug Out Bag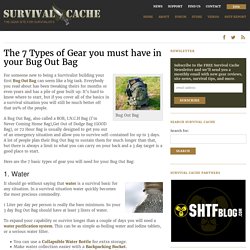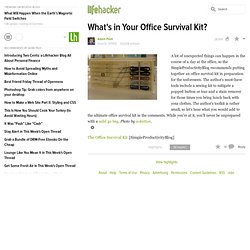 What's in Your Office Survival Kit?
A lot of unexpected things can happen in the course of a day at the office, so the SimpleProductivityBlog recommends putting together an office survival kit in preparation for the unforeseen.
Altoid Survival Kit
I love pocket-sized survival kits. For EDC situations, I prefer an easy-to-carry wallet kit , but for a wilderness survival situation, a more full-blown kit is in order. Enter the altoid survival kit. Who knows what genius initially came up with the idea of using an Altoid tin to hold a survival kit, but survivalists everywhere owe him a debt of gratitude. I'm a mildly obsessive sort, always interested in improving things in whatever that I can...so these kind of kits are right up my alley. Sourcing miniature survival gear and putting together a decent kit is waaay more fun than it should be.
Email Self-reliance is a vital key to living a healthy, productive life. To be self-reliant one must master a basic set of skills, more or less making them a jack of all trades.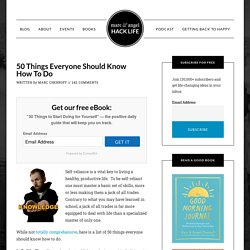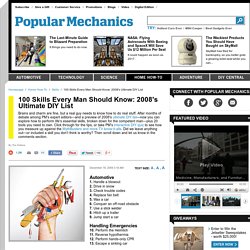 December 18, 2009 3:18 AM Text Size: A .
Expert Advice: Camping & Hiking
A Self Sufficient Life
Self Sufficiency Guides for living a more Self Sufficient Life | Self Sufficient Living
Self-sufficiency is a good way to reduce pollution while saving money. The only drawback is that it takes time, but you will get much pleasure. Benefits More time with family - for example, you can cultivate the garden together, you save money by doing things yourself, you get good exercise by doing things yourself.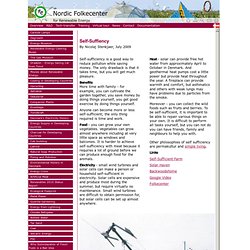 Self-Suffiency
Self-sufficiency is the state of not requiring any aid, support, or interaction, for survival; it is therefore a type of personal or collective autonomy . On a national scale, a totally self-sufficient economy that does not trade with the outside world is called an autarky .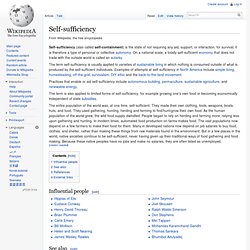 Surviving Survivalism: Free for Everyone | Self-Sufficiency
(Before It's News) Just a quickie for you today. The popular e-book, Surviving Survivalism is now a free download from the Surviving Survivalism website. Now in its 4th edition, the book provides a comprehensive look at living the off-grid lifestyle. I read the book early on when it was being sold for $5.00 and even then, if was a great deal. Getting the book does not require registration or entering your email address – just click and go to download the PDF.
survivalbiz.com
Survivalism is a movement of individuals or groups (called survivalists or preppers ) who are actively preparing for emergencies, including possible disruptions in social or political order, on scales from local to international.
Ten Simple Steps Toward Self-Sufficiency - Backdoor Survival
In a utopian world, we would be 100% self-sufficient. We would have enough food, enough water, enough power, and enough fuel, and perhaps most important, enough money to live a well-rounded, healthy and comfortable life. We would have to work hard, yes, but at the end of the day we would have the satisfaction of being able to take care of ourselves without selling out to greedsters or taking a handout from the government.
pdf books on survival
Three Words That Will Transform Your Career
Activist Post
21 Traits of an Awakening Soul
We know. Your life was just not complete without yet another post on surprising household uses for vinegar. But stay with us -- because we have other new ways to use nearly everything in your pantry. These tips, from our experts at HuffPost Home, are for those situations where you'd normally have to buy a specialty product. Such as:
19 Household Uses For Vinegar, Cooking Oil And Other Pantry Staples (PHOTOS)
This Is What Our Grocery Shelves Would Look Like Without Bees
Prepper Ideas
The Emergency Preparedness Center 7 Store