Survial
Off-the-shelf Red Cross preparedness kit . A bug-out bag[1][2] is a portable kit that contains the items one would require to survive for seventy-two hours[3][4] when evacuating from a disaster. The focus is on evacuation, rather than long-term survival, distinguishing the bug-out bag from a survival kit, a boating or aviation emergency kit, or a fixed-site disaster supplies kit. The kits are also popular in the survivalism subculture.[5] The term "bug-out bag" is related to, and possibly derived from, the "bail-out bag" emergency kit many military aviators carry. In the United States, the term refers to the Korean War practice of the U.S.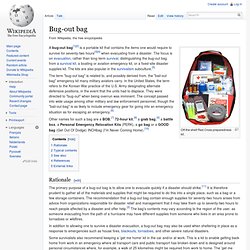 Bug Out Bag For someone new to being a Survivalist building your first Bug Out Bag can seem like a big task. Everybody you read about has been tweaking theirs for months or even years and has a pile of gear built up. It's hard to know where to start, but if you cover all of the basics in a survival situation you will still be much better off that 99% of the people. A Bug Out Bag, (also called a BOB, Get Out of Dodge Bag, GOOD, or 72 Hour Bag) is usually designed to get you out of an emergency situation and allow you to survive self-contained for up to 3 days. A lot of people plan their Bug Out Bag to sustain them for much longer than that, but there is always a limit to what you can carry on your back and a 3 day target is a good place to start.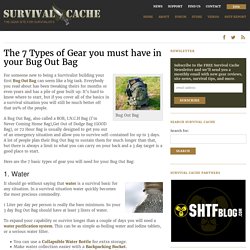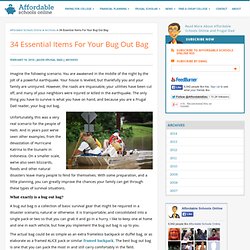 Imagine the following scenario. You are awakened in the middle of the night by the jolt of a powerful earthquake. Your house is leveled, but thankfully you and your family are uninjured. However, the roads are impassable, your utilities have been cut off, and many of your neighbors were injured or killed in the earthquake. The only thing you have to survive is what you have on hand, and because you are a Frugal Dad reader, your bug out bag.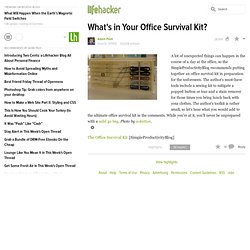 What's in Your Office Survival Kit?
My kit is a bit extreme, but it sits in my truck so it does double duty as my all around survival kit: - Medical kit with sutures, surgical instruments, and an army field surgery manual (sometimes an ambulance is too far away, and I'd rather have it and not need it...) - 2 QuikClotACS Sponges (these cause almost instant clotting of major wounds) - 2 packages of CELOX Granules (same as above but no sponge, just the clotting agent, and these work in very cold conditions) - Armalite AR7 Rifle ([en.wikipedia.org]), this is really cool, it breaks down and the whole rifle fits in the stock. - 550 round box of .22 ammo
Altoid Survival Kit
I love pocket-sized survival kits. For EDC situations, I prefer an easy-to-carry wallet kit, but for a wilderness survival situation, a more full-blown kit is in order. Enter the altoid survival kit.
Compact Survival Kit - 78 Pieces!
So after looking at numerous Altoid and other mini survival kits, I got the itch to make one of my own. One thing that seems to be prevalent is how bare minimum the contents usually are in order to not waste valuable space in the kits, but i think using the most compact kit possible is a waste of valuable pocket space. True, many of the Altoid kits can be very comprehensive for their small size, but the average pants or jacket pocket is more accomodating than we give it credit for, and can fit a bit more than your average altoids tin or pill bottle.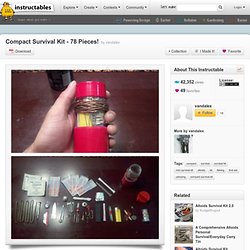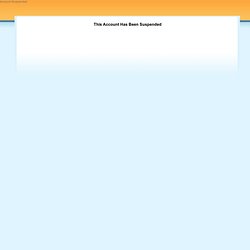 A lot of people who are just getting into survivalism, whether they're the Average Joe putting back extra groceries or a someone who just become interested in a self reliant lifestyle. A lot of these people believe that all you need to make it is an AR-15, 10,000 rounds of ammo and a bunker full of food. Nothing could be more from the truth! If you're looking to move into rural America or you planning on staying put where you are in the suburbs, there are a few skills that will become very helpful to you should the SHTF. These skills can be learned rather easily and may provide beneficial to you beyond your dreams.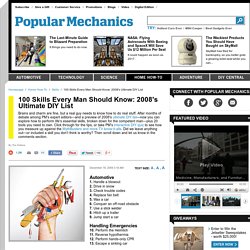 Automotive 1. Handle a blowout2. Drive in snow3. Check trouble codes4. Replace fan belt5.
Expert Advice: Camping & Hiking
A Self Sufficient Life
Self-sufficiency is a good way to reduce pollution while saving money. The only drawback is that it takes time, but you will get much pleasure. Benefits More time with family - for example, you can cultivate the garden together, you save money by doing things yourself, you get good exercise by doing things yourself. Anyone can become more or less self-sufficient; the only thing required is time and work.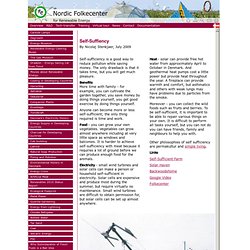 Self-Suffiency
Self-sufficiency (also called self-containment) is the state of not requiring any aid, support, or interaction, for survival; it is therefore a type of personal or collective autonomy. On a national scale, a totally self-sufficient economy that does not trade with the outside world is called an autarky. The term self-sufficiency is usually applied to varieties of sustainable living in which nothing is consumed outside of what is produced by the self-sufficient individuals.
Ten Simple Steps Toward Self-Sufficiency - Backdoor Survival
In a utopian world, we would be 100% self-sufficient. We would have enough food, enough water, enough power, and enough fuel, and perhaps most important, enough money to live a well-rounded, healthy and comfortable life. We would have to work hard, yes, but at the end of the day we would have the satisfaction of being able to take care of ourselves without selling out to greedsters or taking a handout from the government. Alas, everywhere you look there are roadblocks to achieving this state.
OutdoorSafe with Peter Kummerfeldt
You're alone in the wilderness. Stranded. Hungry. Cold. What do you do? Naivety could be your downfall, but you don't need to be an Army Ranger to survive.
Surviving Survivalism: Free for Everyone | Self-Sufficiency
(Before It's News) Just a quickie for you today. The popular e-book, Surviving Survivalism is now a free download from the Surviving Survivalism website.
survivalbiz.com
Survivalism is a movement of individuals or groups (called survivalists or preppers) who are actively preparing for emergencies, including possible disruptions in social or political order, on scales from local to international. Survivalists often acquire emergency medical and self-defense training, stockpile food and water, prepare to become self-sufficient, and build structures (e.g., a survival retreat or an underground shelter) that may help them survive a catastrophe. Anticipated disruptions may include:
pdf books on survival
19 Household Uses For Vinegar, Cooking Oil And Other Pantry Staples (PHOTOS)
Public Readiness and Emergency Preparedness Act (PREP Act) for Pandemic Influenza Medical Countermeasures Utilization Protocol & Decision Tools
Prepper Ideas
The Emergency Preparedness Center 7 Store