Self-Represented Legal
KGO-AM The Bay Area's News - Play Now. Land Change Science Program: Home. The National Land Cover Database (NLCD) serves as the definitive Landsat-based, 30-meter resolution, land cover database.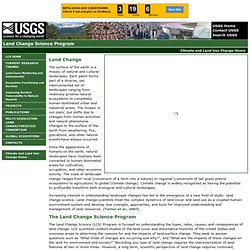 The NLCD contains spatial data and descriptive information on land cover, tree canopy cover, and impervious surface. A fish eye lens (360 °) photograph of tree canopy and sky; part of a phenology study on the timing of spring "leaf out". LawLibrary.pdf. CitizenshipWorks. JogNog is a library of more than 1,500 tests and 70,000 review questions that are aligned to state standards.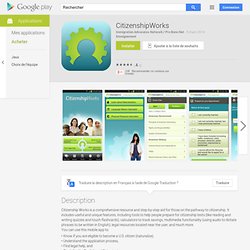 It is a perfect way to review for state tests or as a homework helper for teachers or parents. JogNog is Simple: 1. Pick a test 2. Share test with class 3. LSNC Main Site. U.S. Department of State. LawHelpCalifornia.org | A guide to free and low-cost legal aid, assistance and services in CA. Center for Computer-Assisted Legal Instruction. CACouncilofLawLibrarians. What about pro bono for rural Californians? - California. Impoverished persons living in rural areas are often overlooked in the delivery of legal services, despite the prevalence and persistence of poverty in these areas.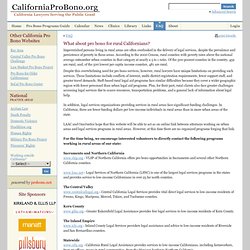 According to the 2000 Census, rural counties with poverty rates above the national average outnumber urban counties in that category at nearly a 5 to 1 ratio. Of the 500 poorest counties in the country, 459 are rural, and, of the 500 lowest per capita income counties, 481 are rural. Despite this overwhelming need for pro bono services, however, rural lawyers have unique limitations on providing such services. These limitations include conflicts of interest, multi-district registration requirements, fewer support staff, and greater travel demands. Staff-based rural legal aid programs face similar difficulties because they cover a wider geographic region with fewer personnel than urban legal aid programs.
Law Library Justice Foundation: About Us. Grayson law librarian's work published. California Association of Legal Document Assistants - About CALDA / History of CALDA. The California Association of Legal Document Assistants was established in August 1986, and was formerly known as "California Association of Independent Paralegals" (CAIP).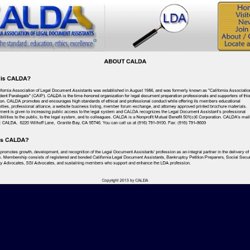 CALDA is the time-honored organization for legal document preparation professionals and supporters of this profession. CALDA promotes and encourages high standards of ethical and professional conduct while offering its members educational opportunities, professional alliance, a website business listing, member forum exchange, and attorney approved printed brochure materials. Commitment is given to increasing public access to the legal system and CALDA recognizes the Legal Document Assistant's professional responsibilities to the public, to the legal system, and to colleagues. Legal Document Assistants. Dear Members: On Wednesday, March 6, I attended the regular meeting of the State Bar Board of Trustees along with Carol Ludlow and Terri O'Connor from CALDA, and Kerry Spence from CELA (Cost Effective Legal Access).
CAPA (California Alliance of Paralegal Associations) was also represented at the meeting. The Bar voted to authorize one of its committees to study the creation of the "Limited License Legal Technician", which would be authorized to dispense limited forms of legal advice. I attended in order to represent CALDA and to provide public comment on this proposal. REPORT A LAWYER. Complaints Against Attorneys 800-843-9053 Complaint FormComplaint form (Spanish version) You should register a complaint with the State Bar if you believe that your lawyer acted improperly but not just because there is some disagreement between you or you believe he or she did a poor job.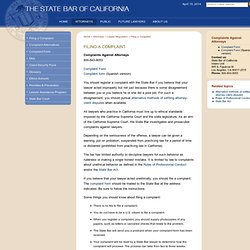 For such a disagreement, you should pursue alternative methods of settling attorney-client disputes when available. All lawyers who practice in California must live up to ethical standards imposed by the California Supreme Court and the state legislature. As an arm of the California Supreme Court, the State Bar investigates and prosecutes complaints against lawyers.
See Something? Cite Something. WHAM.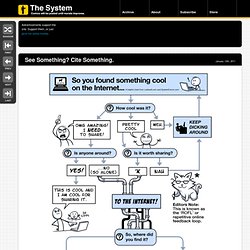 That's gotta be the biggest damn comic-chart there ever was, right? UPDATE: HELP IRONY HAPPEN! Here's today's comic on Reddit. Here it is on BoingBoing. Post it in places and let me know where or post in the comments! Law Library - Online Legal Resources. Welcome to Cornell Law Library's Online Legal Resources.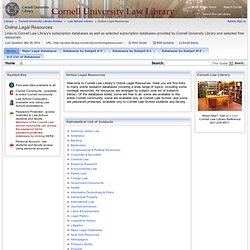 Here you will find links to many online research databases covering a wide range of topics, including some nonlegal resources. All resources are arranged by subject (see list of subjects below). Of the databases listed, some are free to all, some are available to the entire Cornell community, some are available only at Cornell Law School, and some are password protected, available only to Cornell Law School students and faculty. REPORT A JUDGE. Online Public Access. Cases and Codes. The Legal Aid Society–Employment Law Center | Free legal assistance to low-income workers throughout California. LSNC Main Site. Sac Law Library.
---
kathologist Oct 3 2011

Please let me know if you find more resources-especially for Native Americans
---