Proxies, Proxy tools
★ 4.6 Stars (289) 584 Downloads (This Week) Last Update:
PHProxy | Download PHProxy software for free at SourceForge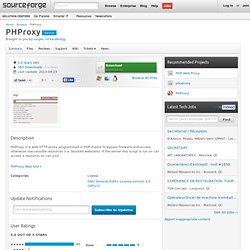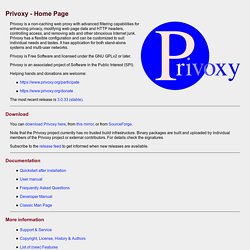 Privoxy is a non-caching web proxy with advanced filtering capabilities for enhancing privacy, modifying web page data and HTTP headers, controlling access, and removing ads and other obnoxious Internet junk. Privoxy has a flexible configuration and can be customized to suit individual needs and tastes. It has application for both stand-alone systems and multi-user networks. Privoxy is Free Software and licensed under the GNU GPLv2. Privoxy is an associated project of Software in the Public Interest (SPI). Helping hands and donations are welcome: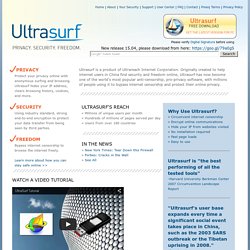 Protect your privacy online with anonymous surfing and browsing. Ultrasurf hides your IP address, clears browsing history, cookies, and more. Ultrasurf is a product of Ultrareach Internet Corporation. Originally created to help internet users in China find security and freedom online, Ultrasurf has now become one of the world's most popular anti-censorship, pro-privacy software, with millions of people using it to bypass internet censorship and protect their online privacy.
Proxifier - Bypass firewall and proxy, tunnel connections through an HTTPS and SOCKS proxy