Password Security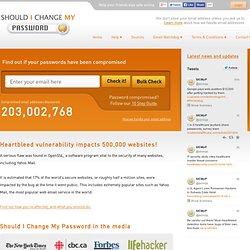 Adobe recently announced that it had been hacked, and that the hackers may have had access to approximately 38 million users' login details, including usernames and encrypted passwords. New data released by the hackers, however, shows that the actual number of accounts compromised is over 152 million! Find out if you were compromised, and what you should do. Avalanche Technology Group is proud to bring you Should I Change My Password, a service that allows you to check anonymously if your password has been compromised.
LulzSec E-mail Hack Proves We're Lousy at Picking Passwords
Whether you think LulzSec is doing us a favor for exposing our security weaknesses or think the hacker group has gone too far , a very old lesson can be learned here: we need to create stronger passwords. New analysis of the 62,000 logins LulzSec made publicly available reveals, yet again, our seriously weak password habits. This certainly isn't the first time we've seen how poor some of our passwords are. Last January, one study revealed the most typical passwords used by the 32 million accounts hacked on RockYou.com were "123456" and "password".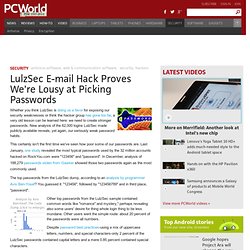 LulzSec E-mail Hack Proves We're Lousy at Picking Passwords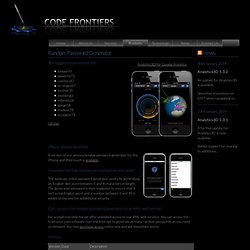 Random Password Generator
Ten suggested passwords are: embee93 pewerfel72 ceesters87 errenged67 ferther39 eveeleng3 rebestly26 geege58 chelleer78 eccepent73 refresh iPhone Version Available A version of our pronounceable password generator for the iPhone and iPod touch is available.
VaultletSuite 2 Go: Secure, Portable, Spam-free & Multilingual Protection for Your Email, Passwords andFiles, Based on Open Source 256 bit AES and 2048 bit RSA Encryption
PW-Gen v1.0 r08Mar2000