Tests sécurité
As the Web grows increasingly social in nature, inversely, it becomes less secure.
Web application security: Testing for vulnerabilities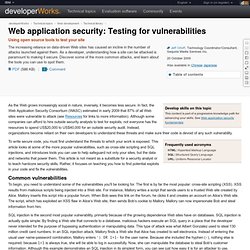 GRAUDIT Graudit is a simple script and signature sets that allows you to find potential security flaws in source code using the GNU utility grep. It's comparable to other static analysis applications like RATS, SWAAT and flaw-finder while keeping the technical requirements to a minimum and being very flexible. Graudit supports scanning code written in several languages; asp, jsp, perl, php and python.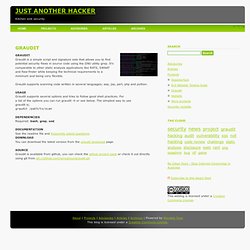 Graudit - Just Another Hacker
Web Application Security Penetration Testing :: Add-ons for Fire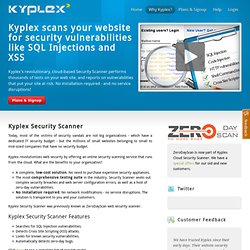 Today, most of the victims of security vandals are not big organizations - which have a dedicated IT security budget - but the millions of small websites belonging to small to mid-sized companies that have no security budget. Kyplex revolutionizes web security by offering an online security scanning service that runs from the cloud. What are the benefits to your organization? A complete, low-cost solution . No need to purchase expensive security appliances. The most comprehensive testing suite in the industry.
ZeroDayScan Web Security Scanner | Zero Day Bugs Detection| Scan
CodeScan
OpenVAS - Open Vulnerability Assessment System Community Site
SecuBat Vulnerability Scanner
RATS - Rough Auditing Tool for Security
Cloud Architecture There's nothing to install / manage. More
Guard® Security + Compliance Suite - Qualys, Inc.
Want to get in touch?
Contacts - Qualys, Inc.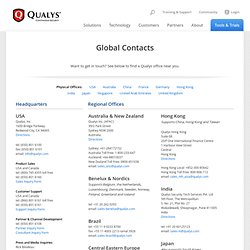 Qualys: On Demand Security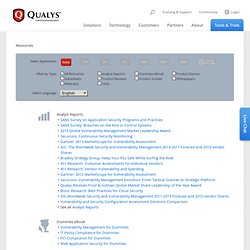 French Contacts - Qualys, Inc.
Guard® Web Application Scanning - Qualys, Inc.
Built on Qualys' new and powerful next generation SaaS platform, QualysGuard WAS brings web application security to a new level using the power and scalability of the cloud to accurately discover, catalog and scan large numbers of web applications ensuring increased productivity and a high level of protection. WAS identifies web application vulnerabilities in the OWASP Top Ten like SQL injection, cross site scripting (XSS) and URL redirection as well as emerging threats such as Slowloris.