Tests sécurité
As the Web grows increasingly social in nature, inversely, it becomes less secure. In fact, the Web Application Security Consortium (WASC) estimated in early 2009 that 87% of all Web sites were vulnerable to attack (see Resources for links to more information). Although some companies can afford to hire outside security analysts to test for exploits, not everyone has the resources to spend US$20,000 to US$40,000 for an outside security audit. Instead, organizations become reliant on their own developers to understand these threats and make sure their code is devoid of any such vulnerability. To write secure code, you must first understand the threats to which your work is exposed.
Web application security: Testing for vulnerabilities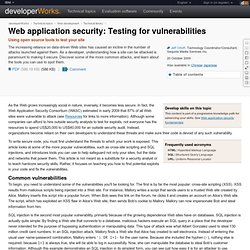 GRAUDIT Graudit is a simple script and signature sets that allows you to find potential security flaws in source code using the GNU utility grep. It's comparable to other static analysis applications like RATS, SWAAT and flaw-finder while keeping the technical requirements to a minimum and being very flexible. Graudit supports scanning code written in several languages; asp, jsp, perl, php and python.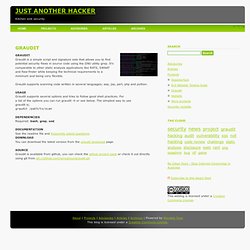 Graudit - Just Another Hacker
Want to beat the hackers at their own game? Learn how hackers find security vulnerabilities! Learn how hackers exploit web applications!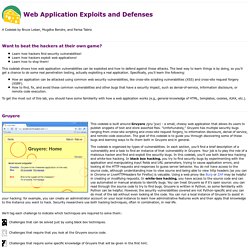 Web Application Security Penetration Testing :: Add-ons for Fire
Samurai Web Testing Framework The Samurai Web Testing Framework is a live linux environment that has been pre-configured to function as a web pen-testing environment. The CD contains the best of the open source and free tools that focus on testing and attacking websites. In developing this environment, we have based our tool selection on the tools we use in our security practice.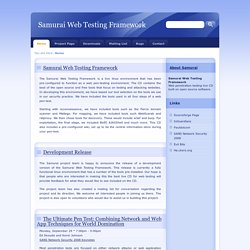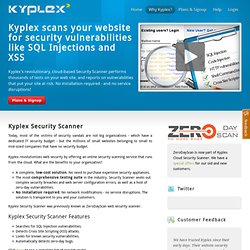 Today, most of the victims of security vandals are not big organizations - which have a dedicated IT security budget - but the millions of small websites belonging to small to mid-sized companies that have no security budget. Kyplex revolutionizes web security by offering an online security scanning service that runs from the cloud. What are the benefits to your organization? A complete, low-cost solution. No need to purchase expensive security appliances.The most comprehensive testing suite in the industry. Security Scanner seeks out complex security breaches and web server configuration errors, as well as a host of zero-day vulnerabilities.No installation required.
ZeroDayScan Web Security Scanner | Zero Day Bugs Detection| Scan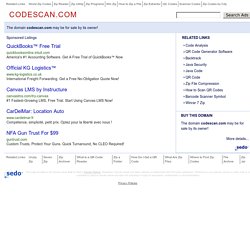 CodeScan
CodeScan is an automated Static Source Code Analysis tool developed by the team at CodeScan Labs. It is used to detect vulnerabilities in PHP, ASP and ASP.NET web applications. Its advanced vulnerability detection engine is able to detect a wide range of insecure or vulnerable code – including SQL Injection, Cross Site Scripting (XSS), File Access, Weak Encryption … and Much More!
OpenVAS - Open Vulnerability Assessment System Community Site
OpenVAS is a framework of several services and tools offering a comprehensive and powerful vulnerability scanning and vulnerability management solution. Discover OpenVAS Learn what OpenVAS is and read more about the features of our solution!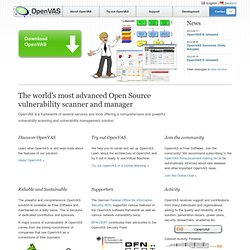 SecuBat Vulnerability Scanner
SecuBat: A Web Vulnerability Scanner As the popularity of the web increases and web applications become tools of everyday use, the role of web security has been gaining importance as well. The last years have shown a significant increase in the number of web-based attacks. For example, there has been extensive press coverage of recent security incidences involving the loss of sensitive credit card information belonging to millions of customers. Typical web application security vulnerabilities result from generic input validation problems.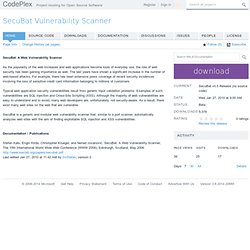 RATS - Rough Auditing Tool for Security
Unified view of your security & compliance Integrated suite of security & compliance solutions enable organizations to simplify processes and achieve compliance with internal policies and external regulations. Actionable security intelligence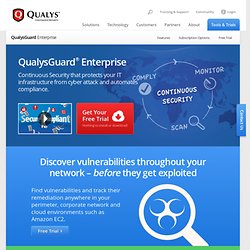 Guard® Security + Compliance Suite - Qualys, Inc.
Want to get in touch? See below to find a Qualys office near you. Headquarters Regional Offices
Contacts - Qualys, Inc.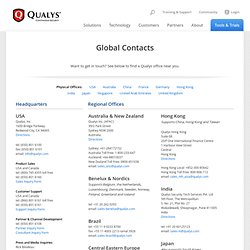 Back to top Qualys: Continuous Security Tools & Trials About Partners
French Contacts - Qualys, Inc.
Guard® Web Application Scanning - Qualys, Inc.
QualysGuard WAS is a Cloud service you use through your browser, so there's no software to install or maintain. You can accurately and efficiently test your apps, no matter where they are – on internal networks, hosted on the Internet or in Cloud platforms such as Amazon. Relied on by leading companies with some of the most demanding web apps in the world, QualysGuard WAS will help you safeguard your apps, whether you have just a few apps or many thousands. Learn more about the features of QG WAS