Ebook en ligne
La milice privée d'Hachette Livre. Le groupe d'édition Hachette Livre se paye une petite milice privée chargée de traquer les téléchargements illégaux de leurs catalogues sur Internet.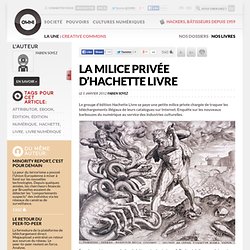 Enquête sur les nouveaux barbouzes du numérique au service des industries culturelles. En se lançant à corps perdu dans la lutte contre le piratage d'eBooks et de livres sur Internet, Hachette Livre frappe un grand coup. Ou du moins est-ce l'impression que veut donner le deuxième éditeur mondial de livres grand public, en signant un accord avec Attributor. Cette société américaine, spécialisée depuis 2005 dans la "traque de contenus copiés", est désormais chargée par l'éditeur de surveiller les réseaux pirates. Pierre Danet, directeur innovation et technologie numérique de Hachette Livre, constate : Aho/Ullman Foundations of Computer Science.
This book has been taken out of print by W.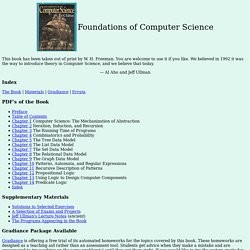 H. Freeman. You are welcome to use it if you like. We believed in 1992 it was the way to introduce theory in Computer Science, and we believe that today. --- Al Aho and Jeff Ullman. Lecture Slides and Video Archives. Lecture Slides Here are links to the PDF, PowerPoint and CSD (Classroom Presenter) files for the lecture slides.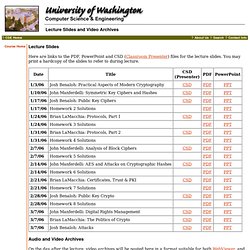 You may print a hardcopy of the slides to refer to during lecture. Audio and Video Archives On the day after the lecture, video archives will be posted here in a format suitable for both WebViewer, and Windows Media Player. Handbook of Applied Cryptography. Alfred J.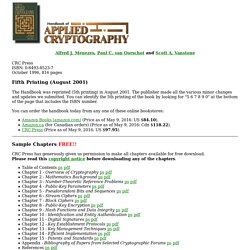 Menezes, CRC Press ISBN: 0-8493-8523-7 October 1996, 816 pages Fifth Printing (August 2001) The Handbook was reprinted (5th printing) in August 2001. The publisher made all the various minor changes and updates we submitted. You can identify the 5th printing of the book by looking for "5 6 7 8 9 0" at the bottom of the page that includes the ISBN number.
---