SEC
SEC proposes changes to money market fund rules. The portion of the money- market fund industry that suffered extreme disruptions during the financial crisis would be revamped under a plan proposed Wednesday by federal regulators, who have been struggling to address the industry's vulnerabilities for years.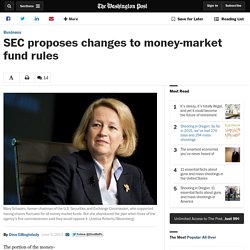 The Securities and Exchange Commission unanimously approved the proposal after what SEC Chairman Mary Jo White described was a "journey." The nearly $3 trillion industry has fiercely opposed major changes to money-market funds, but regulators persisted, citing the losses and panic they sparked during the crisis. These mutual funds have been popular with investors because they have been perceived to be as reliable as a savings account. But that perception was shattered in September 2008, when a major money-market fund "broke the buck," meaning its value fell below $1 a share. A run on money- market funds ensued, with investors withdrawing $300 billion in a week. Obama to Announce Walter New SEC Head. YouTube Bloomberg is reporting that President Obama is expected to name SEC Commissioner Elisse Walter the new head of the SEC.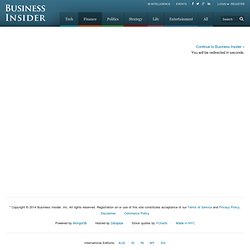 Walter is a Bush appointee who served as acting Commissioner right before Schapiro was appointed in 2009. Sallie Krawcheck. Business Insider Mary Schapiro will step down as chair of the Securities and Exchange Commission on Dec. 14, 2012, according to a release from the regulator.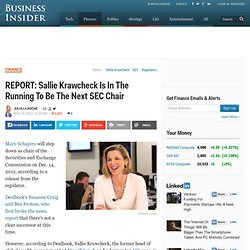 Dealbook's Susanne Craig and Ben Protess, who first broke the news, report that there's not a clear successor at this time. However, according to Dealbook, Sallie Krawcheck, the former head of global wealth management at Merrill Lynch and a former top Citi exec, is seen as a contender for the top spot at the SEC. Fox Business Network's senior correspondent Charlie Gasparino also reported earlier this month that Krawcheck was said to be interested in the position. Krawcheck declined to comment on the Fox Business report. Surprise: Banks Don't Give A SH*T About SEC Regulations. We're sorry about that thing that we don't have to admit or deny.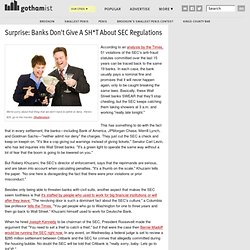 Here's $20, go to the movies (Shutterstock) According to an analysis by the Times, 51 violations of the SEC's anti-fraud statutes committed over the last 15 years can be traced back to the same 19 banks. SEC deal with Citigroup a sweetheart deal. Mario Tama/Getty ImagesCitigroup was among the companies Wall Street predicts will rise in profitability.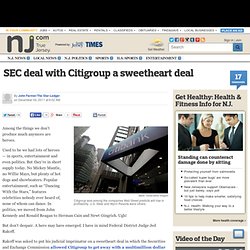 U.S. Steel and Wynn Resorts were others. Among the things we don't produce much anymore are heroes. Used to be we had lots of heroes — in sports, entertainment and even politics. But they're in short supply today. There Are Some Ridiculous Stories In The SEC Inspector General's Internal Report. Securities & Exchange Commission Inspector General David Kotz released his semi-annual report to Congress yesterday.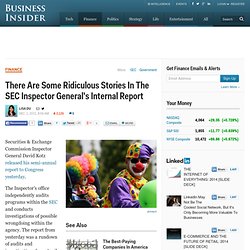 The Inspector's office independently audits programs within the SEC and conducts investigations of possible wrongdoing within the agency. The report from yesterday was a rundown of audits and investigations from April to September this year. At over 200 pages, the report is a behemoth. We went through it quickly, and picked out some of the most ridiculous ones... Judge Rejects Citigroup Settlement With SEC, And Now They're Going To Trial. Last week we found out that Judge Jed Rakoff ruled that Citigroup's $285 million settlement with the SEC over the bank's misleading subprime mortgage CDOs was too low.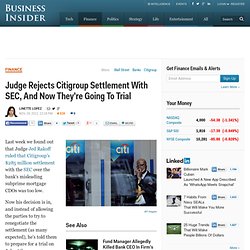 Now his decision is in, and instead of allowing the parties to try to renegotiate the settlement (as many expected), he's told them to prepare for a trial on July 16th, 2012, according to Bloomberg. This is unusual, but not totally unexpected. Legal experts who analyzed Judge Rakoff's ruling said that he has shown disdain for a common SEC practice dating back to the 1970s — allowing banks to negotiate a settlement without confirming or denying guilt. There are two reasons for it. It saves the SEC from looking weak by losing a case, and it saves the banks the bad press of a guilty admission or verdict.
Ex-Goldman Sachs director calls for insider trading testimonies. A former director at Goldman Sachs has called for executives at both the bank and the Galleon Group to be questioned when he stands trial over insider trading charges.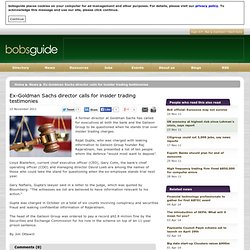 Rajat Gupta, who was charged with leaking information to Galleon Group founder Raj Rajaratnam, has presented a list of ten people whom the defence "would most want to depose". Lloyd Blankfein, current chief executive officer (CEO), Gary Cohn, the bank's chief operating officer (COO) and managing director David Loeb are among the names of those who could take the stand for questioning when the ex-employee stands trial next year. Gary Naftalis, Gupta's lawyer said in a letter to the judge, which was quoted by Bloomberg: "The witnesses we list are believed to have information relevant to his action."
Exclusive: Olympus accounting tricks queried back in 1990s. TOKYO/MIAMI (Reuters) - An investment banker raised concerns about dubious accounting at Japan's disgraced Olympus Corp as long ago as the 1990s, after he discovered it was using Bermuda-based funds to "invent" assets and patch up its balance sheet, he told Reuters.
The banker's concerns, which he says were discussed inside Wall Street bank PaineWebber, his employer at the time and the arranger of Bermuda schemes for Olympus, is one of the earliest red flags known to have been raised over the Japanese company's accounting irregularities, which continued for two more decades. "The Japanese accounting regiment at that time was very strange," said the banker, explaining he had raised questions because Olympus was exploiting a loophole in accounting rules that mislead investors about its real financial health. He said the Bermuda investments had been arranged for Olympus by two Japanese bankers then working for PaineWebber and who remain at the center of the Olympus accounting scandal.
Olympus concealment traced back to 1990s. New details have emerged indicating that Olympus Corp. was concealing securities losses back in the 1990s, widening a scandal that has already raised concerns among medical professionals who rely heavily on the company's products.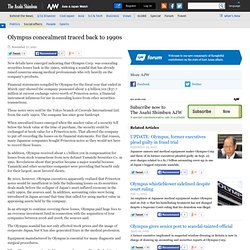 Financial statements compiled by Olympus for the fiscal year that ended in March 1997 showed the company possessed about 2.9 billion yen ($37.7 million at current exchange rates) worth of Princeton notes, a financial instrument infamous for use in concealing losses from other securities transactions. Those notes were sold by the Tokyo branch of Cresvale International Ltd. from the early 1990s.
The company has since gone bankrupt. When unrealized losses emerged when the market value of a security fell below the book value at the time of purchase, the security could be exchanged at book value for a Princeton note. That allowed the company to put off recording the losses on its financial statements. Sources: Olympus used 'tobashi' scheme to avoid new rules. Under new accounting rules, Olympus Corp. should have reported about 130 billion yen ($1.7 billion) in losses for the year that ended in March 2001.
Instead, the company posted just 900 million yen in losses, listing them as "extraordinary expenses," sources said Nov. 15. To get around the new rules, Olympus the previous year started using a different scheme to conceal the losses on its financial instruments that had continued to balloon since the collapse of the asset-inflated bubble economy. The third-party investigation committee of the camera and medical equipment maker has been scrutinizing past deals by Olympus and suspects the company deliberately omitted the huge losses from its financial statement for the year that ended in March 2001, the sources said.
Olympus Sale of Growing Unit Helped Hide Balance-Sheet Hole. Bloomberg Businessweek Continue to Businessweek Sign in with Facebook Or use your Businessweek account Forgot password? Already a Bloomberg.com user? Sign in with the same account. Exclusive: Olympus accounting tricks queried back in 1990s. Hedge Fund Linked To Olympus Accounting Scandal. Olympus Urged to Purge More Executives. Olympus Corp. (7733)'s admission that three of its top executives colluded to hide losses from investors fails to address the roles played by other officials, according to the company's biggest overseas shareholder. The Japanese camera maker's shares slumped 29 percent yesterday after it reversed weeks of denials that there was any wrongdoing in past acquisitions. The company fired Executive Vice President Hisashi Mori over his role in covering up the losses with former Chairman Tsuyoshi Kikukawa, who resigned last week, and said auditor Hideo Yamada would step down.
Big Bad Banks Part 2: The Science Of Changing Pathologically Asocial Behavior. AIG and Greece: A Comparison of Bankruptcies. The following commentary comes from an independent investor or market observer as part of TheStreet's guest contributor program, which is separate from the company's news coverage. NEW YORK (TheStreet) -- In the midst of the Greek crisis, a report was issued last week by a watchdog government agency assessing how the Federal Reserve handled the AIG crisis. Remember that one? At one point, the Feds had ponied up $182.3 billion to save AIG (AIG_). And let's put this in perspective: so far, the ECB/IMF has only agreed to a $151.5 billion bailout for Greece. But it is interesting.
Profiles in Greed: Goldman Sachs' Lloyd Blankfein. Meet the Job Creators. A Page From The Bible Of The Galtian Overlords (Photo: Alexis Mire, flickr) Well, it seems that Goldman Sachs, whose stock has lost 43% of its value since 2010 and has reported its first-ever quarterly loss, still has its priorities; mainly, stealing from everybody so a few guys can stuff their pockets with millions. Granted, they did pay a $500 million fine for defrauding investors, lost money in a game so fixed a goldfish could have won it, all the while alternately whining incessantly about being "demonized" or bragging about doing "God's work," but they did manage to step up to the plate for currently faddish "austerity" by courageously deciding to fire a thousand or so people lower on the food chain, and thus destroyed jobs, so their executives, who would have been fired for incompetence by any normal business, could continue to wipe their asses with $100 bills.
The Biggest Losers: MF Global and Netflix.