Searching
Dave Chappelle about his white friend Chip. Beaucoup! 2,000+ Search Engines, Indices and Directories. Internet Archive: Digital Library of Free Books, Movies, Music & Wayback Machine. Discover over 70,000+ databases and specially search engines. DeepPeep: discover the hidden web. Home.
IncyWincy: The Invisible Web Search Engine. ExtremeTech - Deep technology for enthusiasts and professionals. Welcome to INFOMINE: Scholarly Internet Resource Collections. Start Page | samfind | we make websites handy. Gigablast. Welcome to INFOMINE: Scholarly Internet Resource Collections. Quantum Jumping - Communicate With Your Subconscious Mind.
Bitsnoop P2P Search - 14.4 Million Valid Torrents. Ixquick Search Engine. Ask.com Web Search. Psychology Mnemonics. Psychology Mnemonics Thinking About Becoming A Psychology Student?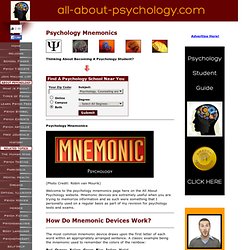 Find A Psychology School Near You Psychology Mnemonics. Study Skills - How to Study. World Atlas including Geography Facts, Maps, Flags - worldatlas.com. DeeperWeb Search - The Essential Search Engine Addon and Plugin. Dogpile Web Search. WebCrawler Web Search.
Metasearch Search Engine - Search.com. GO.com - Official Home Page. Meta search engine | Mother of All Search Engines - Mamma.com.
Mining, Mapping and Visualizing the Blogosphere. Evernote. Top 10 Ways to Find Better Answers Online (that Aren't Google) - Lifehacker. A warning about Quora: parts of it are pretty much taken over by Paleo diet... not sure what to call them, maybe 'missionaries' fits best.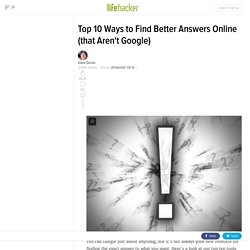 Expect it in any area involving diet, exercise, health, and even some history ("Why did people in the OT live so long? "). Wikipedia's got issues, too. It seems fine in the hard sciences, but beware in history, biography, and investing - probably others. Check out [www.wikipedia-watch.org] (clunky site design but some good points). Diigo - Web Highlighter and Sticky Notes, Online Bookmarking and Annotation, Personal Learning Network. Knowledge Hound - The Web's biggest how-to directory! Most of these articles come from my old website, Knowledge Hound.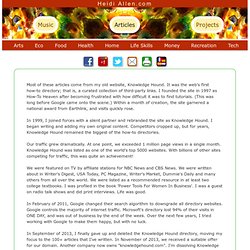 It was the web's first how-to directory; that is, a curated collection of third-party links. I founded the site in 1997 as How-To Heaven after becoming frustrated with how difficult it was to find tutorials. (This was long before Google came onto the scene.) Within a month of creation, the site garnered a national award from Earthlink, and visits quickly rose. In 1999, I joined forces with a silent partner and rebranded the site as Knowledge Hound. 20 Super Brain Foods « Zen.
We know that the foods we eat affect the body but they can have even more influence on how well our brain functions.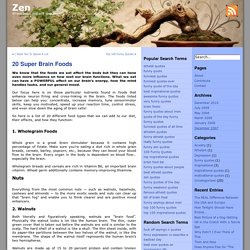 What we eat can have a POWERFUL affect on our brain's energy, how the mind handles tasks, and our general mood. Our focus here is on those particular nutrients found in foods that enhance neuron firing and cross-linking in the brain. The foods listed below can help you: concentrate, increase memory, tune sensorimotor skills, keep you motivated, speed up your reaction time, control stress, and even slow down the aging of brain cells! ODP - Open Directory Project.
Bodycard 0212
The WWW Virtual Library. World Public Library - Catalogs and Collections. A librarian's choice of the best of the Web. Cheatsheet. Internet FAQ Archives - Online Education. HowtoFinder - The search engine for Howto's and Tutorials. IceRocket real-time search. Video Search Engine - Blinkx.
Tutorial Search Engine - Search For Tutorials. HealthMash - The Best Semantic Health Search Engine and Health Knowledge Base. World Wide Web Research Tools. World Wide Web Research ToolsRobert Harris + February 17, 2014 Yes, I know that Google is the search tool of choice preferred by many people as their go-to guy when they want to know something or find a photo.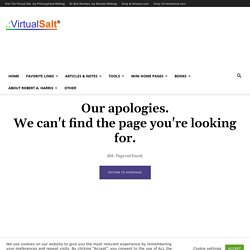 But you ought to use a variety of search tools when you need to do an in-depth look for something. Besides, just because you have a really good pair of needle nose pliers in your toolbox, you wouldn't say you don't need a pair of lineman's pliers, too, would you? Or to change metaphors, just because you already have a really good pair of shoes in your closet, you wouldn't say you don't need any more shoes, would you?
---