4SQ
Alex_F's #toptuesday places for August 16. French speaking thread for french SUs. Foursquare Day! We are on approach...! Foursquare - Paris, ID, France | 16 avr. 2011. Message from Foursquare: Join foursquare users around the world on 4/16, April 16th, to celebrate 4sqDay (4 squared = 16, hence 4/16)!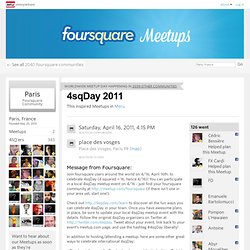 You can participate in a local 4sqDay meetup event on 4/16 - just find your foursquare community at (if there isn't one in your area yet, start one!). CHART OF THE DAY: Foursquare Users Doubled Since Facebook Launched Places. Foursquare Partners with American Express. Foursquare and American Express have entered into a partnership that will see card users getting discounts at stores, restaurants, etc. via Foursquare.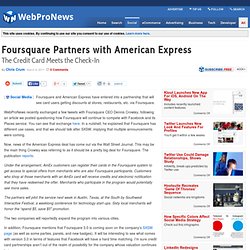 WebProNews recently exchanged a few tweets with Foursquare CEO Dennis Crowley, following an article we posted questioning how Foursquare will continue to compete with Facebook and its Places service. You can see that exchange here. In a nutshell, he explained that Foursquare has different use cases, and that we should talk after SXSW, implying that multiple announcements were coming. FourGraph.me - Instantly Create Foursquare Infographics. Social Media Week (4) : intw de Dennis Crowley (CEO Foursquare) Toujours intéressant de voir Dennis Crowley IRL (je l'ai vu la 1ère fois à San Francisco il y a deux ans...).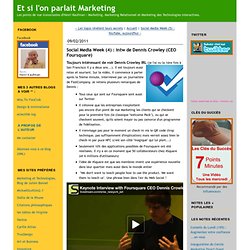 Il est toujours aussi relax et souriant. Sur la vidéo, il commence à parler après la 5ième minute, interviewé par un journaliste de FastCompany. Je retiens plusieurs remarques de Dennis : Tous ceux qui sont sur Foursquare sont aussi sur TwitterIl s'étonne que les entreprises n'exploitent pas encore d'un point de vue Marketing les clients qui se checkent pour la première fois (le classique "welcome Pack"), ou qui se checkent souvent, qu'ils soient mayor ou pas (amorce d'un programme de fidélisation.Il n'envisage pas pour le moment un check-in via le QR code (trop technique, pas suffisamment d'implication) mais verrait assez bien le check-in par puce NFC (c'est son côté "magique" qui lui plait...)Seulement 10% des applications possibles de Foursquare ont été réalisées.
[Retour sur 2010] Les campagnes Foursquare de 2010. Beyond Foursquare: The Next Generation of Customer Loyalty - Michael Schneider and Anne Mai Bertelsen - The Conversation. By Michael Schneider and Anne Mai Bertelsen | 4:24 PM October 4, 2010 Thanks to the emergence of location-based services such as Foursquare, Gowalla, and now Facebook Places, millions of users are recording their daily adventures and broadcasting digital breadcrumbs to their social graph.
However, the brand value of a check-in on a location-based service is debatable, and its ROI unclear. Many brands have been trying to find value in experimental promotions, mostly based on frequency of visit. Ben and Jerry's offered three scoops of ice cream for three bucks (when it's normally north of five dollars) and a free scoop for the mayor on Foursquare.
Foursquare's days are numbered… I have said it once and I will say it again, Foursquare will not survive this year (yes, 2010).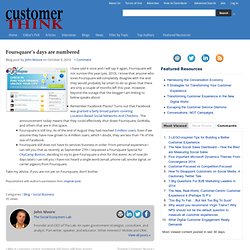 I know that anyone who loves Foursquare will completely disagree with me and they would probably be smart to do so given that there are only a couple of months left this year. However, beyond the outage that the blogger I am linking to below speaks about: Remember Facebook Places? Turns out that Facebook was granted a fairly broad patent covering Location-Based Social Networks And Checkins . KLM Surprise. L'actu media web - Le Printemps Haussman se met à Foursquare. Qui a dit que les professionnels français étaient en retard dans leur exploitation des réseaux sociaux ?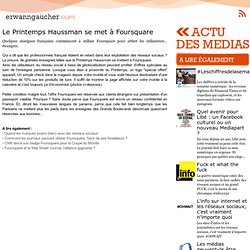 La preuve, de grandes enseignes telles que le Printemps Haussman se mettent à Foursquare. Ainsi les utilisateurs du réseau social à base de géolocalisation peuvent profiter d'offres spéciales au sein de l'enseigne parisienne. Lorsque vous êtes à proximité du Printemps, un logo "special offert" apparaît. Un simple check dans le magasin depuis votre mobile et vous voilà heureux destinataire d'une réduction de 10% sur les produits de luxe. Il suffit de montrer la page affichée sur votre mobile à la caissière et c'est toujours ça d'économisé (photos ci-dessous). Avis consommateurs + Foursquare + Gowalla + Yelp + Google Maps = Fourwhere - Social Media, Social CRM, Community Management, Stratégie Internet par Cédric Deniaud. L'équation est longue... mais exacte.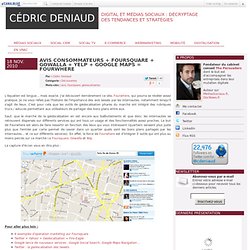 J'ai découvert dernièrement ce site, Fourwhere, qui pourra se révéler assez pratique. Je ne vous refais pas l'histoire de l'importance des avis laissés par les internautes, notamment lorsqu'il s'agit de lieux. Check-in : à quoi ça sert vraiment ? Foursquare a beau être décrié comme le nouveau jouet le plus « hot » du moment, à force de l'utiliser, j'ai tendance à croire le contraire.
J'ai aussi pu utiliser Brightkite ou Gowalla, mais vraiment, fondamentalement, j'accroche pas. Pourtant je crois au potentiel de telles applications, et à leur système de « rémunération »… mais à l'heure actuelle, bien honnêtement, chaque fois que check-in, c'est un peu comme si je pétais au beau milieu d'un ouragan. Et en termes de rémunération, un badge virtuel, j'ai pu voir mieux comme incitation. 4SQ + Starbuck mayorship reward. Foursquare a dépassé récemment les 600.000 « ckeck-ins » par jour, son utilisation se répand de plus en plus aux Etats-Unis.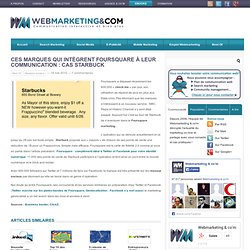 Pas étonnant que les marques s'intéressent à ce nouveau service : NBC, Pepsi et History Channel s'y sont déjà essayé. Aujourd'hui c'est au tour de Starbuck de s'aventurer dans le Foursquare marketing… L'opération qui se déroule actuellement et ce jusqu'au 28 juin est toute simple : Starbuck propose aux « mayors » de chacun de ses points de vente une réduction de 1$ pour un Frappucinos. Simple mais efficace, Foursquare est la carte de fidélité 2.0 comme je vous en parlai dans l'article précédent : Foursquare : complément idéal à Twitter et Facebook pour votre identité numérique. 11.000 des points de vente de Starbuck participent à l'opération et font ainsi un pont entre le monde numérique et le brick and mortar.
Starbucks FAILS to Deliver on Foursquare Mayorship Promotion « Legends of Aerocles. Ask 50 people what the number 1 rule in business is and you'll likely get 50 different responses.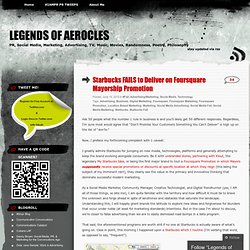 Regardless, I'm sure most would agree that "Don't Promise Your Customers Something You Can't Deliver" is high up on the list of "don'ts." Now, I preface my forthcoming complaint with 1 caveat: I greatly admire Starbucks for jumping on new media, technologies, platforms and generally attempting to keep the brand evolving alongside consumers. Be it with unbranded stores, partnering with Klout, the legendary My Starbucks Idea, or being the first major brand to tout a Foursquare Promotion in which Mayors supposedly receive special promotions or discounts at specific location at which they reign (this being the subject of my imminent rant), they clearly see the value in the primacy and innovative thinking that dominate successful modern marketing.
La stratégie de Starbucks sur Foursquare est elle à revoir ? | Blog de nuit : créativité et publicité, marketing, médias sociaux. J'utilise Foursquare tous les jours. De plus en plus, je constate que les notifications pour des promotions apparaissent lorsque je sors mon téléphone pour efectuer mon sacro-saint check-in quotidien. Oui mais voilà : je suis aussi réactif aux promotions sur Foursquare qu'aux feuillets de coupons qui traînent devant ma porte. Pourquoi ? Parce que 90% du temps, les seules promotions qui apparaissent sont celles de Starbuck et celles de Ben & Jerry. Foursquare's Starbucks Mistake: Five Ways Foursquare Advertising Is Getting Less Interesting. Foursquare, the geolocation social tool, has been a media darling as of late. Not only is it growing, but people innately understand the monetization model, which is not something you can say about every social site and tool.
As people "check in," or report where they are to their networks, Foursquare serves them offers from nearby businesses. It's a win-win-win situation: Businesses can market to people who are able to immediately take action; Foursquare earns revenue; and users get valuable offers they can use. Discounts For Foursquare Mayors Causing Headaches For Starbucks?
---