Bear
Bear's Birthday
7 May 2011Last updated at 11:53 ET Mr Grylls became Chief Scout in 2009 The TV adventurer and Chief Scout, Bear Grylls, has visited Cornwall to meet with local scouts and volunteers. He met about 1,000 people after flying by helicopter into the Nine Ashes scout camp site, near Bodmin, to meet children who were at a scout fun day. The scouts have been taking part in an adventure day trying out activities such as archery and circus skills. The Scout Association has about 4,000 young people and volunteers signed up to it in the county.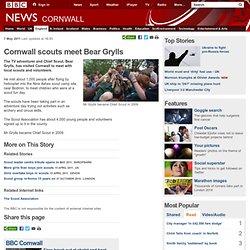 Cornwall scouts meet Bear Grylls
SCOUTING FOR GIRLS BEAR GRYLLS STYLE « Broadstone Scout ... | Scouting
EPIC WIN for Bear Grylls - Moronail.net - Ars gratia hilaris. | Scouting
Bear Grylls: How climbing Everest was a perfect cure for my BROKEN BACK | Family Health Corner | Scouting
Bear Grylls and Peter Duncan Handover - Gilwell 24 - Scouting 2009
Leading questions: Bear Grylls, chief Scout | Society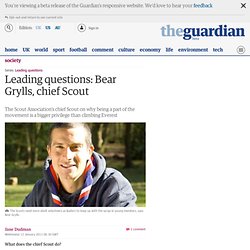 What does the chief Scout do?
'I agree with Bear', says Minister
Bear Grylls: Survival camp 2011