Simulation & Visualization
The Cell: An Image Library. Virtual Human Embryo. Microscope Imaging Station. Biomedical Beat: May 20, 2009 - National Institute of General Me. IN THIS ISSUE . . .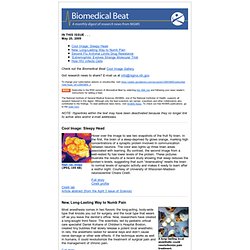 May 20, 2009 Check out the Biomedical Beat Cool Image Gallery. Got research news to share? We are not alone. Photomicrography Competition. Bio-Alive Biology and Life Science Video Search Engine. Microscope Imaging Station. Wellcome-images. Science Photo Library | Stock science images. Images of life on Earth.
FlowingData | Data Visualization, Infographics, and Statistics. Various ways to rate a college. There are a bunch of college ratings out there to help students decide what college to apply to (and give something for alumni to gloat about).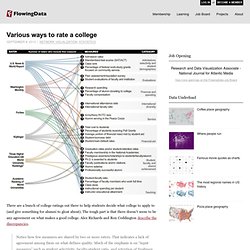 The tough part is that there doesn't seem to be any agreement on what makes a good college. Alex Richards and Ron Coddington describe the discrepancies. Notice how few measures are shared by two or more raters. That indicates a lack of agreement among them on what defines quality. Much of the emphasis is on "input measures" such as student selectivity, faculty-student ratio, and retention of freshmen.
Information Is Beautiful | Ideas, issues, knowledge, data - visualized! Hans Rosling shows the best stats you've ever seen. BioVisions. Hans Rosling: Let my dataset change your mindset. Protein Data Bank. BioVisions. Molecular Animation - Where Cinema and Biology Meet.
Fire and Water on a Hot, Turbulent Planet - Dot Earth Blog. The Earth Observatory Web site of NASA is a vital portal, not only providing data that help scientists clarify global conditions and trends but also reminding people, once in awhile, of the special nature of this pale blue (and green) dot.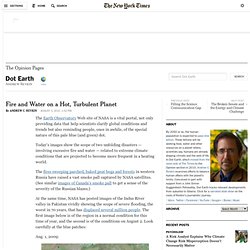 Today's images show the scope of two unfolding disasters — involving excessive fire and water — related to extreme climate conditions that are projected to become more frequent in a heating world. The fires sweeping parched, baked peat bogs and forests in western Russia have raised a vast smoke pall captured by NASA satellites. (See similar images of Canada's smoke pall to get a sense of the severity of the Russian blazes.)
SciVee: Pioneering New Modes of Scientific Dissemination | Pione. Idee und Klang - BMW Museum - BWM INSPIRATION - Kinetic Sculpture. Gizmos! Online simulations that power inquiry and understanding. Java Boids Simulator - Demonstrating Bird Flocking using jogl.
---