School Administration
As students work to master the complex reading and writing standards demanded by the Common Core, Mrs. Montecuollo and Mrs. Westbrook collaborated to create writing scaffolds that address the diverse academic needs of their 9th grade students. These teachers believe that differentiation is about access points.
Wearethesolution.net
Master of Arts in Teaching Online | Masters in Teaching | MAT@USC
Teacher Certification Map | Become a Teacher
The PrincipalsPage.com Blog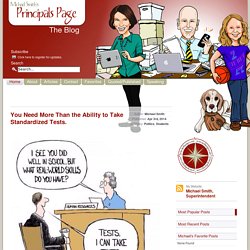 The Evil Spawn doesn't have a phone. She has two parents who work, eat, and sleep technology but she doesn't have a phone. Why? One, she doesn't have a job.