Scenari
Index of /files/ipad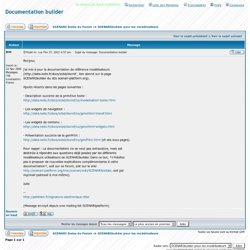 SCENARI :: Voir le sujet - Documentation builder
Bonjour, j'ai mis à jour la documentation de référence modélisateurs (http://data.kelis.fr/docs/scbd/docref , lien donné sur la page SCENARIbuilder du site scenari-platform.org). Ajouts récents dans les pages suivantes : - Description succinte de la primitive texte : http://data.kelis.fr/docs/scbd/docref/co/modelisation-texte.html - Les widgets de navigation : http://data.kelis.fr/docs/scbd/docref/co/genxhtml-transf.html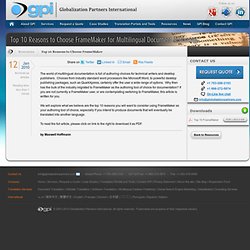 Share on TwitterLinked InEmail The world of multilingual documentation is full of authoring choices for technical writers and desktop publishers. Choices from industry standard word processors like Microsoft Word, to powerful desktop publishing packages, such as QuarkXpress, certainly offer the user a wide range of options. Why then has the bulk of the industry migrated to FrameMaker as the authoring tool of choice for documentation? If you are not currently a FrameMaker user, or are contemplating switching to FrameMaker, this article is written for you. We will explore what we believe are the top 10 reasons you will want to consider using FrameMaker as your authoring tool of choice, especially if you intend to produce documents that will eventually be translated into another language.
Top 10 Reasons to Choose FrameMaker for Multilingual Document Authoring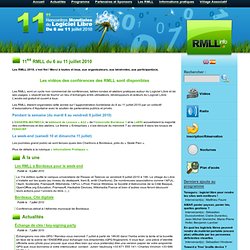 Accueil
Les RMLL 2010, c'est fini ! Merci à toutes et tous, aux organisateurs, aux bénévoles, aux participant(e)s. Les RMLL sont un cycle non commercial de conférences, tables rondes et ateliers pratiques autour du Logiciel Libre et de ses usages.
data.kelis
Le site Optim est édité et hébergé par l'Université de Technologie de Compiègne (UTC), Centre Pierre Guillaumat, BP 60319, Rue du Docteur Schweitzer, 60203 Compiègne Cedex, France. Licence des contenus Sauf mention contraire, les contenus éditoriaux du site, réalisés par les membres de la communauté scenari-platform.org, sont publiés sous licence Creative Commons Paternité : ils sont librement réutilisables, pour autant que leur source soit citée. Accès aux données nominatives Conformément à la Loi « Informatique et Libertés » n° 78-17 du 6 janvier 1978, les adresses mails et coordonnées vous concernant sont destinées à l'Université de Technologie de Compiègne, responsable du traitement.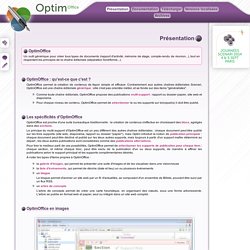 Scenari - OptimOffice