Scenari
Index of /files/ipad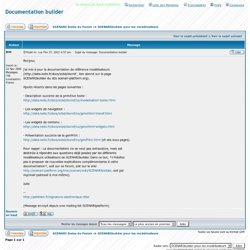 SCENARI :: Voir le sujet - Documentation builder
Bonjour,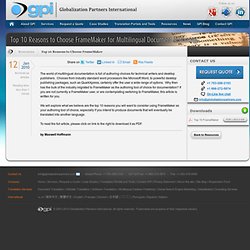 Share on Twitter Linked In Email The world of multilingual documentation is full of authoring choices for technical writers and desktop publishers.
Top 10 Reasons to Choose FrameMaker for Multilingual Document Authoring
Le problème avec Scenari, c'est que c'est un ensemble de logiciels surtout, qui se ressemblent, certes, mais qui peuvent être très différents : pédagogie, gestion documentaire, rédaction technique, etc. Vous pouvez mettre Opale/Dokiel/Topaze dans un pearltree TICE, mais SCENARIbuilder sera dans les IDE, Process dans les outils de gestion de projet, WebMedia dans WEBCAST, etc. by juliakarolina Dec 20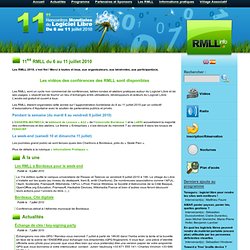 Accueil - 11es RMLL du 6 au 11 juillet 2010
Les RMLL 2010, c'est fini ! Merci à toutes et tous, aux organisateurs, aux bénévoles, aux participant(e)s. Les RMLL sont un cycle non commercial de conférences, tables rondes et ateliers pratiques autour du Logiciel Libre et de ses usages.
data.kelis
I don't know the answer for everybody, but I can't simply use MS office because I'm under Ubuntu/linux. (If I had the choice I would use also OOo because I want my softwares to be opensource) by juliakarolina Aug 3
Le site Optim est édité et hébergé par l'Université de Technologie de Compiègne (UTC), Centre Pierre Guillaumat, BP 60319, Rue du Docteur Schweitzer, 60203 Compiègne Cedex, France. Licence des contenus Sauf mention contraire, les contenus éditoriaux du site, réalisés par les membres de la communauté scenari-platform.org, sont publiés sous licence Creative Commons Paternité : ils sont librement réutilisables, pour autant que leur source soit citée. Accès aux données nominatives Conformément à la Loi « Informatique et Libertés » n° 78-17 du 6 janvier 1978, les adresses mails et coordonnées vous concernant sont destinées à l'Université de Technologie de Compiègne, responsable du traitement.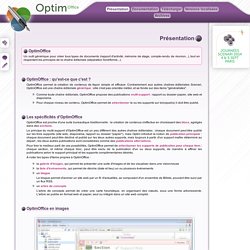 Scenari - OptimOffice