BW - Technical
Copying queries across infoproviders which is done using RSZC is a well discussed topic and available on help.sap.Similary, copying queries across infoproviders which are not alike is a widely discussed topic too.Some of the solutions for this are as below: Method 1: Setting debug point as in this wiki.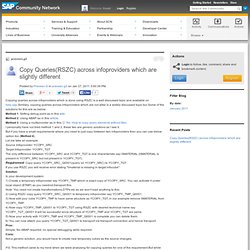 Copy Queries(RSZC) across infoproviders which are slightly differentetwork Blogs
Summary of BI 7.0 performance improvements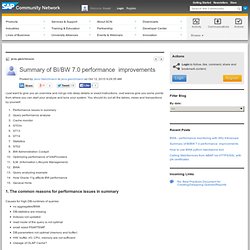 I just want to give you an overview and not go into deep details or exact instructions.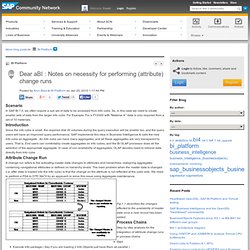 Why Attribute Change Run in SAP BI 7.0 i
Scenario
This blog describes about the requirement to run the process chains on specific days of the week. For example, if you want to run finance process chain only for 6 days of the week and would not like to run finance process chain on saturday of the week, you should be able to achieve this by following this blog.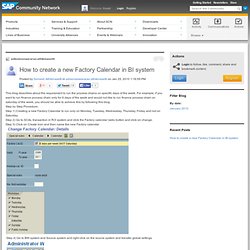 How to create a new Factory Calendar in
Why is Oracle writing out so many archivelogs in m
Sometimes support messages have go a rather long way to finally get a solution. The following problem came up in a support message recently and since neither the analysis steps nor the solution were obvious, I decided to make a blog out of it. Ok, so the problem statement was something like this: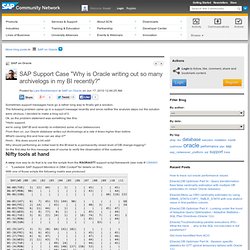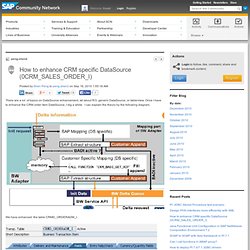 There are a lot of topics on DataSource enhancement, all about R/3, generic DataSource, or table/view.
How to enhance CRM specific DataSource (0CRM_SALES_ORDER_I)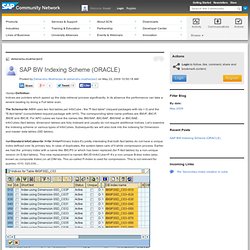 SAP BW Indexing Scheme (ORACLE)
<body>Definition: Indices are pointers which speed up the data retrieval process significantly. In its absence the performance can take a severe beating by doing a Full table scan.
I read recently some great articles about the new enhancement framework from Thomas Weiss. You can find the series in the SDN wiki here. I got an idea, how easy it is to extend SAP classes or function modules for customers without making modifications! In my article I want to show you how you can restrict the hierarchies for profit center if user presses F4 help on a hierarchy variable in the Bex variable screen with the enhancement framework. I created a few very simple hierarchies on profit center.
HowTo restrict F4 Help Values for hierarchies in Bex variable screen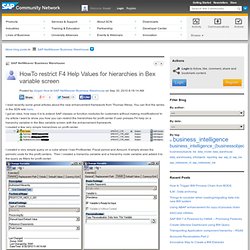 Network Blog: How to Debug InfoPackages in BW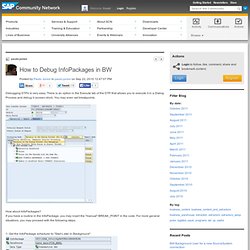 Debugging DTPs is very easy.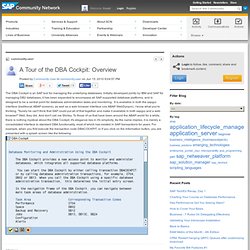 Currently Being Moderated
A Tour of the DBA Cockpit: Overview
A Treatise on Logistics Data Extraction for Business Information
Size of master data can be as large as 40 millions or even more. One of our Utility Client has ~ 6 millions of master data records.
BI Master Data Partitioning
DataStore Objects for Direct Update
DataStore Object - DataStore Object is used to store consolidated and cleansed transaction data in transparent, flat database tables.